I've Got A Mind To Ramble
Harping Hand
I rarely visit the aptly named Thunderdome unless it is an extraordinary blues event, like an appearance by Buddy Guy or Koko Taylor. The cavernous room with its concrete floors and minimal seating makes it a no-nonsense place for concerts. It's like being inside a huge woofer, with the fabric lid acting as speaker cone.
However, there was an extraordinary event Sunday, November 16, with the outpouring of the Who's Who of Louisville blues performers and legions of fans, all for Jim Rosen's benefit.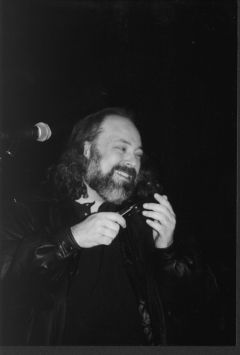 Jim Rosen. Photo by Keith Clements
Rosen has been a stalwart at Musician's Emergency Relief Fund (MERF), both in helping stage the events and playing the events. When his medical debts rose too high, his fans were invited to help and were rewarded by more than eight hours of music, all donated. There was a spirit of camaraderie among all the musicians and supporters.
The last benefit for Rosen was October 4, 1995, at the Butchertown Pub, but this time a larger place was necessary to handle the crowd.
With so much talent in the house, there was no telling what was going to happen next, as when Tim Krekel took the stage before Rusty Ends' set to do a few solo numbers on guitar and harp. Suddenly, Jim appeared and played a duet on several of Krekel's originals.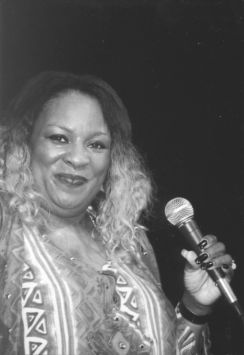 Tanita Gaines. Photo by Keith Clements
Later in Rusty's set, Sue O'Neil, Robbie Bartlett and Tanita Gaines, the three divas of Louisville blues, came on stage to sing "Rock Me Baby," and rock they did. When it comes to putting on the moves, Gaines had Bartlett and O'Neil beat. Sue later said it was the first time the three had sung together.
It was good to see Sue O'Neil reunited with the Mudcats, doing their former standard "Let the Good Times Roll" and "They Call Me the Voodoo Woman." Rosen founded da Mudcats (later the Mudcat Blues Band) with O'Neil and Gene Wickliffe in 1985 after he played a short stint with the Bluebirds.
Mudcat drummer Gene Wickliffe was behind the drums most of the evening, keeping the beat solid, while Wayne Carver, who has been the Mudcats' bassist since February, added vocals. Rob Pickett's guitar solos demonstrated that he is one of the most progressive rock/blues musicians in the city.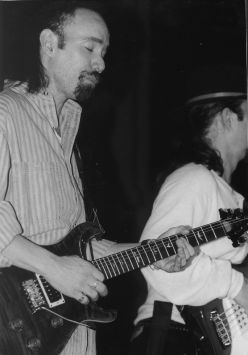 Rob Pickett of the Mudcats. Photo By Paul Moffett
Rosen has put his mighty mark on Louisville's blues scene, going all the way back to when Jim's father Al Rosen ran Joe's Palm Room. His mastery of the harmonica has evolved over the years from a sound like Little Walker to the outer limits of Sugar Blue
Other highlights of the benefit included jazz guitarist Ron Hayden's blues solos with Robbie Bartlett's band. The Accused Blues Band invited Chuck Sharp and other members of Sweet Soul Vibe up to show their mutual respect for each other. They collaborated on "Sweet Home Chicago" and "Ain't Enough Coming In."
Dennis Ervin's intense staccato guitar work was balanced by Rick Malone's driving sax on "I've Got A Woman" and "Hey Joe. Following his appearance at Rosen's benefit, Ervin left to attend his own benefit, following the death of his wife.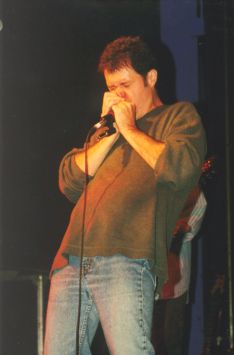 Rodney Hatfield. Photo By Paul Moffett
Thanks to Gene Wickliffe and Ann Haneys, who organized the benefit and to the film crew, who were shooting a documentary of the event.
Walnut St. on Beale St.
The Walnut St. Blues Band has been rehearsing hard since they won the recent KBS Amateur Blues Contest. They are gearing up for the International Blues Talent Contest in Memphis on November 21 & 22. All the 40 to 50 entries are winners of contest held by other blues societies. Five bands will be chosen from this field to play 20-minute sets on Saturday, from whom the 1st, 2nd and 3rd place winners, plus the Albert King award for the most promising guitarist.
The winner receives $1000, a recording contract, a chance to play at next year's Handy Awards ceremony and opportunities to play at several other blues festivals.
Good luck, Michael, Greg, Jerry, Dennis, George, Marcus and Artie.