Cowboy Corner
Johnny Cash Diagnosed With Shy Dragers
Country music legend Johnny Cash, known as the "Man in Black," has canceled his national book tour promoting his new autobiography, simply titled Cash: An Autobiography, due to his recent diagnosis with Shy Dragers, a form of Parkinson's disease. In addition to his book tour, Johnny has had to postpone an upcoming concert tour. Johnny's manager says, "Johnny feels confident that once his Parkinson's is medically stabilized, he can resume his normal work schedule." Johnny and his wife, June Carter Cash, are sorry to have to postpone personal appearances.
In recent weeks, Johnny has been hospitalized for pneumonia. Doctors at Nashville's Baptist Hospital have been using a ventilator to clear Johnny's lungs.
Billy Ray Has A Big Heart
Flatwoods, Ky. native Billy Ray Cyrus has a big heart when it comes to charity work to help the less fortunate. Billy Ray recently met a handful of children from Memphis, Tenn.'s St. Jude Children's Research Hospital at the Car Collectors Hall of Fame in Nashville to pose for a poster to be sent to radio stations to promote the annual St. Jude radiothon. He and the children posed with his antique car named "Judy," which he has donated to be auctioned for St. Jude.
Billy Ray was also on hand for the grand opening of Pikeville, Ky.'s brand new super Wal-Mart store recently. The store has agreed to donate a percentage of sales from the Friday after Thanksgiving, the biggest shopping day of the year, to the Billy Ray Cyrus Charities Foundation.
Tracy Lawrence Charged
Las Vegas police have filed a misdemeanor charge against singer Tracy Lawrence for domestic violence and battery for physically abusing his wife, Stacie Drew during a September argument. Tracy's lawyer says, "On Dec. 2nd, I will go to court for him to enter a plea of not guilty because that's what he is."
What Can't LeAnn Rimes Do?
She took country music by storm with her smash debut single titled "Blue" when she was a mere 14-years-old. She has won major music awards, including the Country Music Association's coveted Horizon Award. Her first two albums each topped the country album charts for several weeks and have both been certified multi-platinum. And her brand new album, titled You Light Up My Life, has made musical history as being the first album to ever debut at the #1 spot simultaneously on the country, Pop, and Christian album charts. All of this success and diversity makes one wonder, "Just what CAN'T LeAnn Rimes Do?"
Well, there's not too much this 15-year-old bundle of talent can't do. Two more abilities that LeAnn has mastered are writing a novel and acting. LeAnn's debut novel, which is titled Holiday In Your Heart and was co-written by Tom Carter, has just hit stores and LeAnn will make her acting debut in the movie version of the book at 9:00 PM EST Dec. 14th on ABC. LeAnn will star as an aspiring country music singer, alongside of Broadway and film star Bernadette Peters, who must make the tough decision to continue touring or cancel her concerts to head home for Christmas to visit her ailing grandmother.
Paycheck Becomes Opry Member
Country music legend Johnny Paycheck, best known for his smash hit "Take This Job And Shove It," became the 72nd member of the legendary Grand Ole Opry just last month. Opry President and General Manager Bob Whittaker, who surprised Johnny with the invitation to become a member during his Sept. 20th performance, did the honors of inducting Johnny into this premier country club, along with the help of Opry members Porter Wagoner, Johnny Russell, and Steve Wariner.
When speaking of the honor, Johnny says, "I'm so honored and proud that I'm going to be a member of the Grand Ole Opry. After a lifetime of work, this is one of the most wonderful honors bestowed on me in my entire career. As long as I live, I'll always have a place to present my music."
Garth's New Album Collector's Item
If you haven't already done so, you will want to rush to your favorite record store to purchase Garth Brooks' long-awaited brand new album, titled Sevens, but you had better hurry to get a collector's edition copy. The first 777,777 copies of Garth's new album have been specially marked "First Edition," making them collector's items. All copies of the album following these first editions will include different album artwork.
Sevens was originally scheduled to be released on Aug. 7th in conjunction with Garth's free concert in New York City's Central Park, but a huge turnover in his record label forced Garth to hinder its release. Garth is finally comfortable with the major changes in his label and feels they will fairly promote, not Garth, but the music.
Brand New Baby Byrd
Popular country recording artist Tracy Byrd's nest has just gotten a little bigger. Tracy and his wife Michelle, who have a three-year-old daughter Evee, welcomed a brand new baby boy into the world last month in Beaumont, Tex. Logan Lynn Byrd, weighed in at 8 pounds, 3 ounces and measured 20 inches long. Logan gets his middle name from his famous father, Tracy Lynn Byrd.
Tracy canceled concert appearances, including his show right here at Louisville's Coyote's, to spend time with his newly expanded family. He will resume his concert tour early this month, and will hopefully reschedule his cancelled concert last month for Jan.
Lorrie Morgan's Story May Be A Movie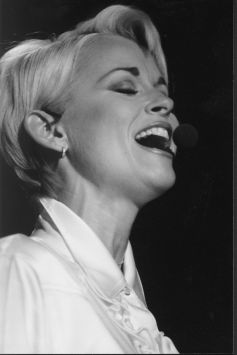 Lorrie Morgan at Louisville Gardens in Jne 1996. Photo by Michael Stout
Lorrie Morgan is in the negotiation stages of turning her life story, which she wrote about in her autobiography Forever Yours, Faithfully: My Love Story, into a television movie. Lorrie has already chosen a production company for the movie, which may appear on the small screen next year. The movie will focus heavily on her love for and marriage to former country singer Keith Whitley, as well as his battle with alcoholism. Keith passed away of alcohol poisoning May 9, 1989. Forever Yours, Faithfully: My Love Story is available in bookstores everywhere.
Deana Carter Sings For Anastasia
One of hot newcomer Deana Carter's dreams recently came true. Deana has always dreamed of being part of a motion picture soundtrack, and she was recently asked to participate on the soundtrack for the animated motion picture Anastasia. Deana contributes the song "Once Upon A December" to the project.
The Buffalo Club Disbands
The hot new group The Buffalo Club, which hit the Top 10 on the country charts earlier this year with "If She Don't Love You," has unfortunately decided to disband. Drummer John Diettrich left the trio a few months ago when his former band Restless Heart decided to reunite for a special concert tour next Spring. Ron Hemby and Charlie Kelley decided to continue the group as a duo--until now. Ron and Charlie have officially disbanded The Buffalo Club stating they had musical differences. Both Ron and Charlie plan to pursue solo careers in country music.
Reba Helps Salvation Army
Reba McEntire is teaming up with The Salvation Army for their annual Christmas Kettle Fund-raising Drive. Reba and the Dallas Cowboys teamed up with Frito-Lay, Wal-Mart, and SAM'S Clubs on Thanksgiving Day for The Salvation Army's first national "Kettle Kick-off." Reba performed a special tribute called "What If" to The Salvation Army during half-time during the Dallas Cowboys' Thanksgiving Day game. Reba's All of Reba's and MCA Records' profits from the sale, as well as songwriter Diane Warren's royalties, will be donated to The Salvation Army's Christmas efforts.
Opryland To Close Doors--Temporarily
Rumors have finally been confirmed that Nashville's country music theme-park Opryland is closing its doors following this winter's Christmas in the Park Festival. The park will re-open in the year 2000 as Opry Mills, a $200 million park with over 200 stores, entertainment venues, and restaurants. Some of Opryland's rides will remain in the new complex, and fans need not fear as the Grand Ole Opry and the Opryland Hotel will NOT be affected.
Terry E. London, President and CEO of Gaylord Entertainment, who owns Opryland, the Opryland Hotel, and the Grand Ole Opry, assures country fans that "this new plan is not the end of Opryland. It is a new beginning."
George Strait Sexiest Country Male
Although actor George Clooney has been named the Sexiest Man Alive by People magazine, he's not the only George to be recognized. Country music's own George Strait was crowned the Sexiest Country Singer. The magazine feels that George's sexiness hinges on his 27 year marriage and devotion to his lovely wife, as well as his manners. Actor Dean Cain, who is engaged to hot newcomer Mindy McCready, who has recently appeared with George Strait on several concert dates, says that George's effect on women is like a drug as they go wild when he turns around and wiggles his behind.
The Lynns Make It On Their Own
Hot country duo The Lynns, which is made up of country legend Loretta Lynn's twin daughters Patsy and Peggy, may have been born into country music, but they have landed a recording contract all on their own. Warner/Reprise executive Doug Grau had no idea who Peggy and Patsy were until he was about to sign them to their own record deal. The three were sitting around a conference room table and Doug began talking about the record label when the twins stated that their Aunt Crystal had recorded on Warner for nearly 10 years. It was at that time that Doug learned their aunt was none other than Crystal Gayle, and their mother was the "Coal Miner's Daughter," Loretta Lynn.
Peggy and Patsy's first single, "Nights Like These," is getting rave reviews. This single will be included on their self-titled debut album, which hits stores in January.
Collin Embarks On First Holiday Tour
Platinum-selling country crooner Collin Raye, best known for hits like "Love, Me" and "I Think About You," fulfilled a lifelong dream as he embarked on his first ever Christmas concert tour in Nashville the day after Thanksgiving. Throughout this tour, Collin will perform tunes from his holiday album titled The Gift, which was released just last Christmas. He will perform 11 concerts in nine cities and will be backed by world-class symphonies.
Sawyer Brown Sings Christmas
After 13 long years, 1997 Academy of Country Music Top Vocal Group Sawyer Brown has released its first ever Christmas album. Titled Hallelujah He Is Born, the disc includes three classic holiday tunes and nine original numbers. To promote the album, the boys of Sawyer Brown will embark on a Christmas tour along with Kenny Rogers from Dec. 8th - 21st. Fans can also see Sawyer Brown in its first Christmas television special titled Sawyer Brown: Where Christmas Goes Dec. 9th on The Nashville Network.
Well, that's it for now. I'd like to take this opportunity to wish each and every one of you a very
Merry Christmas and a happy, healthy, safe, and prosperous New Year. If you are in a position to help, I beg that you remember the less fortunate this holiday season. Always remember, "Keep your hat on straight and your boots shined up, 'cause country music is comin' your way."