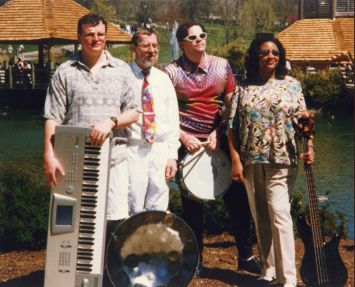 Carribean Conspiracy, from left: Todd Hildreth, Sam Harris, Paul Culligan and Anita Dane. Photo courtesy of Harris Entertainment
Front & Center: Sam Harris
By Victoria Moon
Even though the percussion and Caribbean feel tend to make you think more of waving palm trees and white-sand beaches than Christmas trees and snow, there's no mistaking that Joy, Mon!, the new release from Caribbean Conspiracy, is a Christmas album.
With Christmas carols like "Hark the Herald Angels Sing," "Silent Night," and "O Come, All Ye Faithful," this is definitely a salute to the holiday season; it just moves to the beat of a slightly different drum – a steel pan to be exact. And the moving force behind this unusual recording is none other than Sam Harris, co-owner of Harris Entertainment and the wearer of many different musical hats.
To find out a bit more about Joy, Mon!, Caribbean Conspiracy and a little bit about what Harris is doing here in Louisville, I met him for coffee at Twice Told Coffeehouse recently and got the story straight from him. What I discovered during our talk was a one-man musical force, a man who literally has lived through and for music.
It all started in Louisiana when Harris was just a child. "I started playing music when I took piano lessons at about age eight, and then sort of changed over to drums," Harris explained. He went on to tell me that the very fact that he grew up in Louisiana was a big influence of the music he is part of now.
"I don't know if you know much about the music situation in Louisiana, but you can hear just about anything there – and so I did hear just about everything there!"
"By the time I left there when I was sixteen, I had been involved for about a year-and-a-half playing with a band that essentially backed up other acts. We went around to different little towns around the region . . . and the fellow who was the promoter of all this had a couple television shows and we did those shows and went on weekend show trips and all of that. We got a lot of good experience."
When Harris was sixteen, his parents moved from Louisiana to Owensboro, Kentucky where he finished high school. He then went on to the University of Kentucky to study not music as one might expect, but engineering. Music was still in Harris' blood, however, and while at college he started playing regularly with Winston Hardy. After a while, Harris realized he couldn't fight the inevitable and changed his major from engineering to music.
After another semester at UK, he followed his parents out to Kansas City when they moved there and continued his musical studies at a conservatory there. Then, while Harris was on a summer trip across the West, his parents moved again to Louisville.
"My father really liked having me around – I'm not quite sure why," Harris jokes, "but I had planned to visit them before going back to school in Kansas City, and [my father] essentially coerced me into going to see Robert Whitney, who was at that time the musical director of the [Louisville] Orchestra and the dean of the music school [at University of Louisville]. And then [Whitney] made me that proverbial offer that was too good to be true, so I was able to come here and play as an extra in the percussion section of the orchestra."
Eventually Harris became principal percussionist of the Orchestra and completed his Master's degree in music at the University of Louisville.
Inasmuch as Harris has been a part of Louisville's music scene since 1962, you tend to believe him when he says he's seen it all. Currently, Harris still plays with Hardy occasionally as well as the Louisville Orchestra, and, as Harris modestly puts it, "I have a lot of different groups."
"In this area, you have to play a lot of different things to make a living," Harris explained. "Most of the people who play with one band aren't making a very good living." Harris and his wife, Nancy, a flautist, started Harris Entertainment, an entertainment agency that supplies music for corporate and social functions as well as private parties.
They are the orchestra contractors for the Broadway Series at Actor's Theater, and Harris has been known to occasionally show up in the orchestra pit at shows like "The Wizard of Oz." The Harrises also represent Coterie and Bob Rosenthal as well as the "5 or 6" different groups of which Harris himself is a part: Caribbean Conspiracy, a mariachi group, a jazz group, a "miniature" string band that covers big band tunes, a Dixieland group and finally a small band called Skyline that is normally booked for weddings.
"Caribbean Conspiracy is my favorite," Harris admitted.
Caribbean Conspiracy is the brain child of Harris himself. "When I was a teenager, calypso and that sort of thing was kind of big," he said, "and when you're a teenager you pick up stuff rather quickly." There was a long period when Harris put his interest in calypso music on the back burner, but then approximately ten years ago Harris Entertainment started getting calls for Caribbean music.
"Finally I decided the way to go was to learn how to play the steel drum," Harris remembered, "so I did. I borrowed an old clunker from somebody and learned to play that, and then I bought a used one from someone else in Cincinnati (which was laid out totally differently, so that was interesting), and then I had one made (that was laid out like the one I had learned because I didn't want to re-learn again), and then I wasn't happy with that one so I had another one made and that is the one I'm playing now."
Besides Harris' steel pan and percussion, the band is Todd Hildreth on keyboards, Anita Dane on bass and Paul Culligan on drums and percussion.
"The idea for the band really came from a perceived market," Harris said, "and when we decided to really try and do something with it, we began to get a pretty good number of jobs."
In 1995, the band was asked to perform during a non-profit Christmas show and Harris remembers saying, "Well, I never tried playing Christmas music as Caribbean, but okay." The band had so much fun doing the Christmas performance, they decided to go in the studio and record a CD.
"It just sort of came together, it wasn't really planned," Harris said.
While Harris admitted he had no great plans for this Christmas holiday, his quiet enthusiasm for the local music scene and his calypso-tinged Caribbean Christmas carols are a gift to the city of Louisville that will help make this season just that much merrier and brighter.