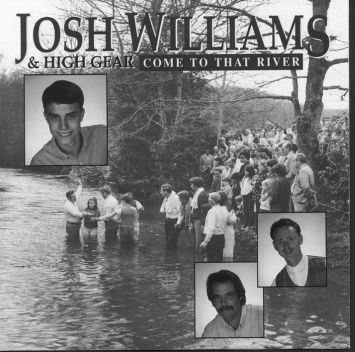 Come to That River
Josh Williams & High Gear
By Jean Metcalfe
"Harmony With the Angels" kicks off this excellent bluegrass gospel album, and its title is, well, prophetic. When Tim Harmon takes the lead on the choruses and Don Rigsby shifts to tenor, you hear bluegrass gospel at its finest. Harmon's voice is outstanding. And he can write too.
"The End of Time," a Harmon original, stands high in this album of tall-cotton selections. Harmon takes the lead, while versatile harmony singer David Oliver ably fills the baritone shoes.
"Remember me Lord" is the recurring plea of "Come to that River," and it is memorable for the youthful Williams' sincere lead vocal. The black-and-white photo of an outdoor baptismal service nicely represents the album's title.
"I'm Going to Walk Right In" gets the a cappella treatment, and it is a sparkling jewel in its bluegrass gospel setting. Thomas A. Dorsey's success as a songwriter is exemplified in this selection (he also wrote "Take My Hand, Precious Lord") and it is no surprise that he is known as the "father of gospel music." The harmonies are excellent.
It didn't hurt to include a song by the father of bluegrass music, either. Rigsby's tenor on Bill Monroe's "The Old Crossroads" does the Rosine, Ky., native proud, and Mr. Bill would certainly approve of Harmon's lead.
Fannie Crosby's "Pass Me Not," one of about 6,000 popular hymns penned by the blind writer of "Safe in the Arms of Jesus" (played at Ulysses S. Grant's funeral) is beautifully interpreted here, with Harmon's voice shining like a beacon. Williams should pay this guy really well.
There is a lot of good pickin' on Molly O'Day's "When My Time Comes to Go," and this is perhaps Williams' best effort as lead vocalist.
Solomon, in all his wisdom, couldn't have comprehended that a song about him would be written with the aid of a fax machine. A phone-and-fax collaboration between Williams and Harmon resulted in the fine "No Solomon No."
"Build My Mansion (Next Door to Jesus)" is this reviewer's favorite, among several contenders. The liner notes reveal it to be "the favorite song of every female associated with Josh Williams and High Gear." Dottie Rambo wrote it and Harmon makes it pure magic.
"Purple Robe" is the Biblical account of the mocking of Jesus prior to his crucifixion. Odell McLeod's well-written sermon is poignantly delivered by the band, who also do some good, solid picking.
The Don Reno/Charles Schroeder collaboration "I'm Using My Bible for a Road Map" was a welcome addition. (Berk Bryant will surely play it on his Sunday Bluegrass show.) Williams and company thought the song wasn't heard enough these days, and apparently decided to light a candle rather than curse the darkness. This album could well cause more bluegrass bands to add it to their play list, but they'll have to go a bluegrass mile to top this version.
The album concludes with a lively number that evokes memories of a childhood favorite songbook. It came as no surprise that the publisher of "I'll Talk it All Over with Him" is Stamps-Baxter Music. The sparse guitar and mandolin accompaniment fits just right and Barnett sings a fine bass.
After many listenings, I am still surprised when Come to that River comes to an end. The 12 songs virtually fly by, and seem even shorter than their allotted 37 minutes. Lengthy instrumental breaks aren't found here, although evidence of the band's picking expertise is plentiful. Josh Williams & High Gear well demonstrate the efficacy of the show business motto "leave 'em wanting more."