A White-Trash Boogie Party:
Southern Culture on the Skids and More at Brewery Thunderdome
By Tim Roberts
Even if it was just for one night, the owners of the Brewery Thunderdome should have removed the strip-joint purple awning from their façade and put up a huge neon sign renaming it the "Hillbilly A-Go-Go." Local showperson Elaine Ford brought us The Woggles, The Blue Moon Boys, and Southern Culture on the Skids (SCOTS) – three smoking, southern-fried guitar-powered acts – to the Thunderdome on November 11 for another of her "Elaine's Night Out" shows. The crowd loved the music and the bands had fun giving it to them.
This was Louisville's second visit from SCOTS this year. Last spring they had headlined the second Rockin' and Riverpoints concerts, which also had an appearance by The Blue Moon Boys. Over the last six months, the band from Chapel Hill, North Carolina has come up with several new tunes (from their recent release Plastic Seat Sweat), added a keyboardist to its tour (a Junior Samples-sized man named Chris B.), and now hands out spoonsful of banana pudding to the audience, along with pieces of fried chicken.
The Woggles, from Athens, Georgia, opened the Hillbilly A-Go-Go show with their mix of straight-ahead and new-wave rock. The band members were dressed in tight slacks and open-collared ruffle shirts, which - combined with the edgy music and rainbow-colored, circle-patterned lighting effects - made them appear like a badassed version of Herman's Hermits. The lead singer, Manfred (who calls himself "The Professor of Rock 'n Roll") even jumped off the stage a couple of times (once with the guitarist and bassist) to dance in the small crowd. They closed their set with a rockabilly version of the old standard "Jezebel."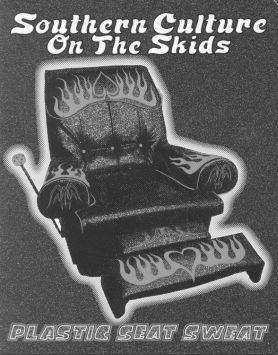 Next on stage were the Ft. Wayne, Indiana-based Blue Moon Boys, who are not just a Brylcreemed-hair, jeans, and twangy guitar tribute band from an Opryland "music of our life" revue. They are sweaty, high-energy, man-sized, mythic rockabilly. The kind that would have made Elvis blush. And they were the perfect lead-in for SCOTS, who took the stage just a few minutes later.
The SCOTS musicians wore their most appropriate white-trash fashions: guitarist Rick Miller in a checkered shirt and lemon yellow Sans-a-Belt trousers; bassist Mary Huff in an ice-blonde wig (normally she's a redhead), black top and white leather mini skirt; drummer Dave Hartman in a baggy v-neck t-shirt and jeans, and keyboardist Chris B. in overalls. They opened with "Daddy Was a Preacher and Mamma Was a Good Ol' Girl," and slipped right into "Green-Tailed Fly" from their previous release Dirt-Track Date. Miller's guitar playing was the same as was back in the spring and is on their recordings: flawless picking and twanging, evident in the band's instrumental selections, "Deja Varoom," and "Theme from 'The Cheaters'," which has the same monotonous rhythm as the "Perry Mason" theme. The whole tune itself sounds like the band had time-warped back into an alternate 1960s and ripped off a TV theme song. It is a talent SCOTS has - the ability to replicate southern twangy guitar and blend it with modern rock.
Treats for the audience came with two selections. With "Banana Puddin," a pair of dancers came on stage and handed out plastic spoonsful of the famous dessert from deep aluminum pans filled with it. Then during "Eight-Piece Box," the same two dancers seductively peeled apart pieces of fried chicken and handed them to hungry audience members.
The band's two final selections were their famous "Camel Walk" and a medley of surf music, consisting of "Wipe Out," "New Cooter Boogie," and "Surfin' Bird." For an encore, SCOTS came back with "White Trash," which guitarist Miller said was "our theme song" and "Love-a-Rama," with the now-blonde Mary Huff on lead vocals.
Not one of the three bands disappointed the well-behaved crowd, who were there for some fun and got it. Thanks to Elaine Ford for bringing us the can't-miss package of SCOTS, The Woggles, and The Blue Moon Boys. They can make any place the "Hillbilly A-Go-Go."