News From The Pit
Hail to all fellow metal heads! How's everyone doing? Read on for the latest news . . .
N Hope everyone got to attend the "Farewell to the Flashback" blowout Friday and Saturday, November 14 and 15. Friday night was heavy metal night and featured E-Flat, Inhuman, and Flaw. It was a kick-butt night of metal and the pit was going strong. A good time was had by all! Thanks again to Beth and Kirk for all their support of local metal – hope to see you guys open with a new place soon!
N Inhuman and Pownd (from Frankfort) played a show on Halloween night at The Cave in Frankfort. The Cave is a cool club, but has a rather small stage for bands to play on. As I've mentioned in previous issues, if you get the chance, definitely check out Pownd – they're tops in metal and the singer has a range that is not often heard among metal vocalists.
N The band formerly known as Creed/Fail to Thrive has had some changes recently.
Singer and bassist Tim Meeks has left the band and is now a member of local band Flaw. The other three members of the band remain and will go by a different name.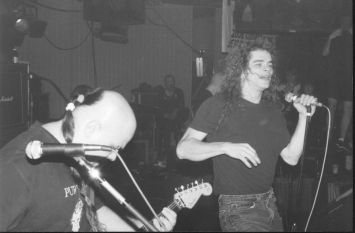 Joe Comeau, left, and Bobby Ellsworth of Overkill. Photo by Laura Spalding
Guitarist Andrew McAllister tells me the band is working on new material and plan to record a new tape soon. Be on the look out for some shows under a new name in the near future.
The band is currently looking for a bass player. For more information, call Andrew at Showcase Music at 634-8010.
N Hope everyone got to check out long-time metal gods, Overkill, at the Toy Tiger on November 18 – a cool way to spend a Tuesday night! Local bands Inhuman and Paglina opened with killer heavy sets and got the crowd moshing hard.
Overkill hit the stage around 11:00 with "It Lives," the opening tune from their new CD "From the Underground and Below." (Please see my review in this issue.)
Overkill has been playing in the metal field for a long time now, lasting through grunge, alternative and other trends in music. The band manages to stay true to the metal genre while keeping their sound fresh, which is a plus with so many bands jumping on bandwagons and such.
All and all, Overkill served up a satisfying set of metal on this night. Thanks to Perry and the Toy Tiger for their support of metal in Louisville!
Well, dudes and dudettes. That's all for me from now – more news next month. Hope everyone has a rockin' holiday season and remember to give the gift of metal – stuff some stockings with some killer music!
Support local metal . . . see ya in the pit!