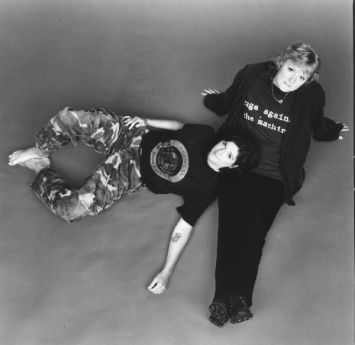 The Indigo Girls
Upcoming Live Music
By Paul Moffett
The buzz on December live music for this year is this: stick to the basics, go with the strength. After a summer and fall remarkable for both the quantity and quality of touring acts coming to town in mid-week, in all genres and venues, get ready for some familiar comfort music during the 97th (or 98th) holiday season of the Twentieth Century. In Louisville, the Ballet leads the way with the annual presentation of The Nutcracker.
Christmas Musical Events
There are lots of choices for Christmas music, some of them forced upon you by loudspeakers. Better to choose.
• Actor's Theatre has found one holiday staple in the musical adaptation of O' Henry's "The Gift of the Magi," which will runs December 3 through December 21. This will be the 16th year of production for this work.
Also at Actor's will be "A Christmas Carol," November 27 through December 27, and "A Tuna Christmas," running through December 21.
Tix and info: 584-1265
• Over at Derby Dinner Playhouse, "Silver Bells" should satiate your desire to hear Christmas carols. Read Victoria Moon's review on page 29.
Tix and info: 288-2632
• Music Theatre Louisville will present "Holiday Lights" at the Joe Huber Family Farm in Starlight, Indiana on December 7.
Tix and info: 812-923-5255
• The Crescent Hill Baptist Church will present "Olde Tyme Christmas on Frankfort Avenue" on December 6, from 1-3 p.m. There will be caroling on the front steps of the church, as well as handbell groups performing.
• The Louisville Chorus will perform at a pair of Christmas-oriented events in December. The first is "Mistletoe & Sugarplums," at the KENTUCKY CENTER FOR THE ARTS on December 6, 1 and 4 p.m. The event is promoted as a family-friendly event and children will be invited to participate.
Tix and info: 584-7777
The second event will be "Christmas at the Cathedral," on December 13, 8 p.m., at the Cathedral of the Assumption. There will be many carols sung.
Tix and info: 968-6300
• The Louisville Ballet will send characters from The Nutcracker to the Festival of Trees and Lights on December 4 at the Louisville Convention Center.
Bluegrass
• Pam Gadd will be at the Twice Told Coffeehouse on December 23, along with Shannon Lawson and most of New Horizon. It's the Twice Told Christmas part.
Tix and info: 456-0507
• On December 5, Randall Hylton will be at the Shepherdsville Country Music Place. On December 12, it's Gary Brewer & the Kentucky Ramblers and on December 19, Roy Harper will grace the Shepherdsville stage.
Tix and info: 239-8004
Blues
• Mr. Downchild will be at Stevie Ray's on December 6 and 7. Also at Stevie Ray's in December, it's Howard & the White Boys from Chicago on December 17; the Kelly Richey Band will be in on December 11; Richey has a new CD to sell, so take money. Now-Louisville resident James Peterson will play on December 12 and 13.
Tix and info: 582-9945
Christian
• Contemporary Christian doyenne Sandy Patty will be at the Palace Theater on December 4 for a respectable 7:30 p.m.
Tix and info: 583-4555
• There'll be a quadruple bill of award-winning Christian performers at Louisville Gardens on December 12, when recording artists 4 Him Point of Grace, Wayne Watson and Scott Kirppayne bring their Christmas Tour '97, presented in association with the Angel Tree Program of Chuck Colson's Prison Fellowship Ministries. (Nixon did have a few positive effects). It should be the CCM show to see in December.
Tix and Information: 361-3100
Country
• Coyote's is 5 years old. Hard to believe that the big entertainment complex at 2nd and Liberty has only been around that long, but 'tis so. To celebrate, they're staging a four-day musical extravaganza.
Kicking off the series will be a free show featuring the Fabulous Thunderbirds and Missouri roots rockers the Bottle Rockets. The Fab T-Birds have a new CD, High Water, to promote, While the show is free, you have to get a ticket in advance. CDs are extra.
Toby Keith first appeared at Coyote's in February 1993. as one third of a triple bill that included Shania Twain. Now he's got a new album, Dream Walkin', to promote and he'll do a little payback on December 2, when it'll cost you $15 to see him. David Ratterman and Lost Highway will open.
If you are a nostalgia freak, catch the show on December 3, when the Classic Rock Allstar Group will play the Hits and nothing but the Hits. What hits, you say? The band includes the lead singers from Rare Earth, Iron Butterfly and Sugar Loaf, plus Dennis Noda of Cannibal & the Headhunters. If you can name one of the hits these guys sang on, your ticket will only cost you $6. Otherwise, you'll fork for six bucks for a ticket.
On December 4, Chely Wright will sing "Shut Up and Drive," her big commercial country hit, with its unavoidable tie-ins to auto dealers, in this case, Coyle Chevrolet in New Albany. As the show is already commercial-loaded, it's a "free" show.
Experimental Music
• Celloist Craig Hultgren will be at the Twice Told Coffeehouse on December 29. Hultgren plays unaccompanied cello programs, with works by the masters to the latest avant-garde works. Misha Feigin will open the show.
Tix and info: 456-0507
Musical
• Once the Christmas flurry is over, get down to the Kentucky Center for the Arts for the Broadway Series presentation of State Fair, starring John Davidson. The show will run from December 30-January 4, 1998.
Tix and info: 584-7777
Orchestra
• The Louisville Orchestra will present "The Glory of the Russian Empire" in its MasterWorks series on December 6 at 8 p.m. The 1996 Grawemeyer Award winning "Double Concerto" by Tcherepnin will be performed, as well as Rimsky-Korsakov's "Suite from Christmas Eve" and Ravel's adaptation of Mussorgsky's "Pictures at an Exhibition." Max Bragado-Darman will conduct.
Tix and info: 584-7777
• The Louisville Orchestra will present its annual "Holiday Family Pops" at the Palace Theatre on December 19 at 8 p.m.
Tix and info: 583-4555
Pop
• Miss Patti LaBelle will instruct you at the Palace on December 9. At the these tickets prices, you better learn something.
Tix and info: 583-4555
Rock
• Here's one of those "ya shudda been there" that you can be at: the band is Susannan & the B. B.s and they'll be at the Air Devils Inn on December 13. The cast of S.& B.B. is this: Duke Robillard, Susannan Robillard, Jimmy Brown and Jeff McAllister.
How's that for a lineup to see?
• There will be a "Warrant Christmas" at Coyote's on December 15, when Warrant 96 rolls in for a "Warrant Christmas Show."
Tix and info: 589-3866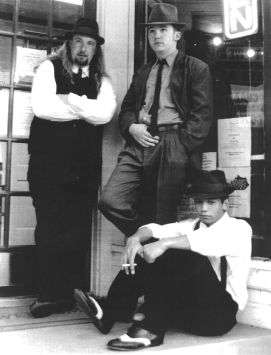 The Chip Nannies
• Elaine Ford, who may have moved to Lexington, has booked a triple bill of swing, this time into the Butchertown on December 6. The acts are Crown Electric, the Swing Rays and the Chip Nannies.
Tix and info: 583-2242
• Bill Kirchen will play his first show at the Bluegrass Brewing Company on December 20. Judging from his picture (which is all I have to go on), he probably plays roots rockabilly with a strong Buddy Holly influence. But I could be wrong.
Tix and info: 899-7070
Triple A
• It's 'Once more into the machine" for The Indigo Girls, who will be closer to fine at the Palace Theatre on December 2 at 7:30 p.m.
Tix and info: 583-4555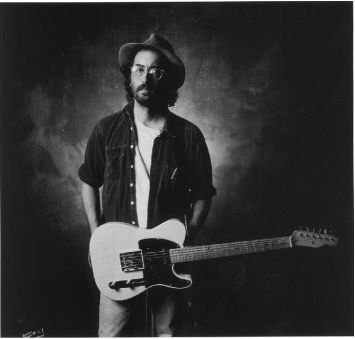 James McMurty
• James McMurty brings his songs to the Phoenix Hill Tavern on December 11, with his recent It Had To Happen album on Sugar Hill to promote. Good songwriter, take extra moola for the CD. "World Cafe" favorite Fred Eaglesmith opens.
Tix and info: 589-4957
• Nashville's Floating Men will be at the Butchertown on December 13. Jeff Holmes of the Floating Men will be there on December 18. Truth to tell, these boys have found a regular stop at the BTP, but it must be because they draw a crowd.
Tix and info: 583-2242
• Amy Kurland, owner of Nashville's Bluebird Cafe, didn't copyright the In-The-Round format for singer/songwriters, but she should have, because everyone uses it now. This time, it'll be at the Twice Told Coffeehouse on December 13, with a bill of Tim Krekel, John Jennings, guitarist for Mary Chapin Carpenter, Rounder Records artist Peter Keane and Nashville's Malcolm Holcomb.
• Also at the Twice Told, on December 15, it'll be Little Jack Melody and His Young Turks. I saw this act at the Kentucky Center for the Arts and I can't imagine how all that goes on in the Twice Told. And in German.
Tix and info: 456-0507