Q: When Is A Good Local Songwriter Hard To Find?
A: When They're Always On Tour
Tanya Savory: Counting the Green
By Cindy Lamb
If it's true when they say our life passes before your eyes, then what does it sound like? All the right flashes and dark passages are there but it seems to me there should be a soundtrack to one's life. That's Tanya Savory's job. Please remind yourself that the task of conjuring images from a page is a profoundly sacred talent in a songwriter. As we hear her life moving around us, either recorded or live on stage, we become the responsible parties for establishing the visuals: the green-eyed boy in the window by the bay, the coal train's silhouette and the groan of the trestle, stark Alaskan landscape in a rearview mirror, a cool cotton hammock between magnolias. These are the things that pass before my eyes when I listen to Savory's Better Shade of Green, her debut CD on Nashville's So Real Records. It's what spins in my mind when I saw her last weekend at an intimate gathering at Bellarmine College. Surrounded by thirty or so friends, fans and family, Savory layered her performance with events in the songs, anecdotes between them and witty exchanges with the crowd.
Joined by Kim Wohlenhaus on keyboards, percussion and backing vocals as well as a visit by Danette Rhodes to lay on some mandolin and fiddle, Savory's ballads, yarns and memories were colored in wonderfully.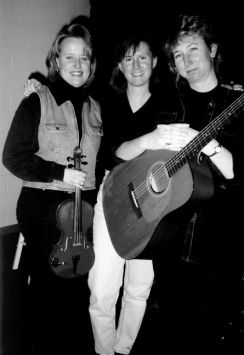 From left, Danette Rhodes, Kim Wohlenhaus and Tanya Savory
Hanging on her small, muscular frame, earned from recreational and marathon running, is a golden, Martin acoustic guitar. Donned in black, the artist strolled through such catchy tunes such as "True Train," "Call It Home" and "40, 80 or 10." Narrative intros on the songs range from the memory of a grandfather in the howl of a Southern coal train, having left the North Carolina coast for San Francisco and trading hurricanes for earthquakes or an asphalt ballad of highways traveled, some lonesome, some not.
Savory is whimsical as she is dry. Her humor is that of an accidental sage, where one is so passionate about the overlooked, serendipitous miracles that occur along the interstate or over the kitchen sink, that those moments take on a big picture. Simply put – funny and wise and quite something on that fingerboard. Savory picks, the audience grins.
Tanya and I had never met in person, so meeting her at Heine Bros. for coffee would prove a little tricky. Maybe if I just closed my eyes, she'd sing the catchy verse of "Better Shade of Green" that grabs me on the WFPK. I'd find her.
"Do you dare me to hang one of those cardboard airport signs around my neck?" I joked with her the previous day on the phone. She dared me. Right, I can just see myself standing by the cappuccino machine with a sign on my chest reading "SAVORY."
As it turned out, Tanya found me first, thanks to my signature baffled expression. Sporting a baseball cap and sweats, the diminutive singer's crescent-shaped eyes warm up our handshake. Her affable candor and youthful looks reminded me of someone that could be a pal of Charlie Brown's in Peanuts.
Joining us was Kim Wohlenhaus, who doubles on backing vocals and keyboards for Savory and triples the bill as roommate and manager. I broke into the newly designed CD, admiring the very apple-ish green laser disc (It is with no doubt a more interesting shade of green), and scanned the lyrics to the title cut:
And I'm sitting here one last time,
In a chair from a Fifties Five and Dime.
It barely holds the weight of me.
But it sure holds a memory.
Placed in the window of this old chalet
On the corner of San Francisco Bay.
Tonight it's me sitting up late,
Watching ships blow into the Golden Gate.
This song has grabbed me since I first heard it performed live on the Shine shift and put on regular rotation on the New 92. What happens to that chair throughout the song is funky, kind of bittersweet. Not bad for an inanimate object, but then again, Tanya Savory controls the pen.
Savory (yes, it's her real name) was born into the world of academia and a love of language via her English professor father. After learning to plunk out a few chords on the guitar, it was a while before she began to write songs. Breaking away from home in her late teens, Savory headed west, to the land of milk, honey and incense – San Francisco. She would find upon arriving that there were scads of lyrics waiting for her. Citing Joni Mitchell and Nanci Griffith as writing mentors, the guitar had a welcome addition.
"Oh, I had to have an Ovation!" she gushed about her second guitar. As a guitar player and a girl of the Seventies myself, I proceed to bust Tanya by figuring that it was Nancy and Ann Wilson that triggered the purchase. "Yes!" We broke out into a chorus of "Barracuda" just to show off.
Writing came from a different source. "At first, I would write as opaquely as possible," she admitted, "I was intentionally vague. A lot of songwriters insist on being that way but I just see it as kind of a waste of time."
Having tightened the reigns on her naiveté, Savory found herself behind the wheel of a car as much as behind a guitar, booking the coffeehouse circuit from California to Boston. Something must come over a person in the light of the dashboard, because Savory conjures up mighty fine traveling songs. Leaving home, coming home, being home and changing homes. To date, this road warrior racks up over a third of the year on the nightclub trail.
In 1994 she won the Napa Valley Music Festival and began touring full-time in 1995. She's enjoyed the top of the marquee at such clubs as Nashville's Bluebird Cafe, Boston's Passim, Philadelphia's The Tin Angel and Berkeley's Freight and Salvage. In 1996 she took the top honors at the prestigious Kerrville New Folk Competition (The Golden Globe Awards of folk singing, if you will.) One of the judges at Kerrville was another powerful influence of Savory's, Lucinda Williams.
"I'd given Lucinda a copy of my CD before Kerrville," Savory remembers, "And she doesn't really say much, you know, just 'Hmmm' and 'Okay, uh, thanks.'" Savory had dashed outside of a restaurant to catch Williams after she'd finished dining. Inside, Wohlenhaus timed her friend's networking dash at 90 seconds on her watch. She nabbed a photograph with Lucinda and both parties split into the night. She later saw Williams again and hoped she'd remembered their brief encounter. "Oh, yeah," Lucinda, who in my estimation is a set of country pipes in the body of a rock star, "I really liked the artwork on your CD." Obviously she appreciated it beyond the design -- Savory took Kerrville by a mellow storm.
Back from Kerrville and God knows where else, Savory does call Louisville home. "I love it here, " she stated, "I think that while it may be subtle now, the venues and interest in songwriters will take off here. Artists like Ellis Paul wouldn't have been able to cause such a scene like the sell-out at the Rudyard Kipling without the support of WFPK. That, alone, is going to make a difference in Louisville."
Running the carpet thin between her Crescent Hill abode and Nashville, Savory and Wohlenhaus enjoy the best of both worlds. "It's great to take in the music industry, the 'important' clubs and showcases in Nashville," Wohlenhaus noted, "But it's great to get back to Louisville and fill up the Twice Told Coffeehouse for a show."
But don't take my word for it. Michael McCall of The Nashville Scene dubs Better Shade of Green as "a luminous debut … more than just a promising singer … the literate, detailed consistency of her songwriting craft and the uniqueness of the slants she brings to familiar themes are what make this collection so strong."
As of January 8, 1997, Better Shade of Green was declared "chart bound" as Tanya was the #4 most-added product in her first report week. I'll translate from industry to rodeo speak – that's damn near out of the gate before the buzzer goes off. Tracking on the National Public Radio wire and super-popular Americana format, Savory is a heat seeker in the fiery rise of female solo artists.
Dealt into a hot stack of performers on TNN's "Best of the Nest, the best of the Bluebird Performers" Savory's performance was televised to over 80 million TV households.
In The Performing Songwriter magazine, there is a fascinating paragraph on Tanya's talents. "Artists like Savory (and Iris Dement or Emmylou Harris) are getting used to being told they're too folk for country or too country for pop, blah, blah, blah. Fortunately for us they stay true to their muse and the results are beautiful."
Solo artists: take notes of these gigs for your own reference:
February through Spring dates for Tanya Savory will be Clifton's on February 21 and 22 in Louisville, Bell Buckle Cafe on March 9 in Bell Buckle, TN, Java Mountain on March 15 in Signal Hill, TN, 3rd St. Coffeehouse on April 12 in Roanoke, VA, Minstrel Coffeehouse on April 18 in Mendham, NJ, Kerrville Folk Festival on May 23 in Kerrville, TX, Kentucky Folk Festival on May 31 in Bardstown, KY and Riverbend festival on June 14 in Chattanooga, TN.
PHOTO CAPTION FOR DUNDEE OPEN MIKE
Diverse, perverse, open verse -- Jim Snyder hosts an open stage that is exciting for the performers as it is the audience. The corner tavern taps a wide selection of domestic and import brews and the flame's on in the kitchen for super suppers. Just on the other side of the bar is a roomy, long space with a well lit and mike stage toward the front. Snyder, who brings his hosting and singing duties to TKR cable on Saturday mornings at 11:3- a.m., welcomes the neighborhood novice and the seasoned picker alike. There's a "jam" quality to this particular open mike that blends the whole room together in a most down-to-earth way. Like I've said before, just tune up and show up. No list, lots of tables, good company and grub.