I've Got A Mind To Ramble
So Long Brother
A cold chill blew through the blues community when Foree Wells took his last breath and died on the morning of January 8, 1997. His passing was a shock to everyone who knew him. Foree had been complaining of a nagging cold and no appetite and then when he was admitted to Jewish hospital due to some internal bleeding, we all assumed he would pull through.
Visitation was at A. D. Porter & Sons on the following Friday. Foree was properly attired in his trademark bright purple suit that he had worn at his recent Garvin Gate appearances. There were many floral bouquets, including an arrangement of red carnations in the shape of a guitar from the Kyana Blues Society. The large stateroom was filled with relatives, friends and musicians, including Jim Rosen, Ed Chestnut, Winston Hardy and Smoketown Red.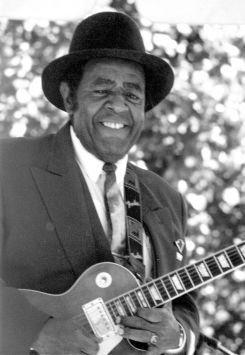 Foree Wells. Photo by Keith Clements
The funeral service was held at the Immaculate heart of Mary Catholic Church on Saturday. I was honored to be a pallbearer, standing alongside two members of the Screaming Eagles Motorcycle Club, Kevin Hines, Perry Aberli and Sonny Sitgraves. Father Meiman made several references to the importance of music in Foree's life, and the small choir echoed that emotion with some soulful gospel songs.
The long convoy of cars stretched across town to his final interment at the chapel in Calvary Cemetery. Afterwards, I headed home to warm my physical and mental chill with some hot chocolate and brandy and to toast Foree's many accomplishments.
Foree was on the threshold of achieving the national fame he justly deserved wit the CD he recorded in 1995 but which was never released. Local recognition had come to him in 1991 when he became the third recipient of the Sylvester Weaver Award, presented by the Kyana Blues Society. Louisville Music news featured Foree with a cover story in the January 1995 issue.
Foree could always bend your ear with a good story from his past. Maybe it was when he was learning to play guitar with the Morgan Brothers in Louisville, or fronting Bill Harvey's band in Memphis or recording in the Sun Studios with Roscoe Gordon or starting up the Rockin' Red Coats when he returned to Louisville. Some of Foree's reminiscences were documented in the first two "Back to Blues" programs that were broadcast on TKR cable public access channel. Copies of those tapes of the fourteen shows are still available through the KBS. The Oral History/Blues Legacy Project of the KBS has also done extensive interviews with Foree. Someday these transcriptions will be edited into a book about the history of blues in Louisville.
I think Foree's greatest satisfaction was forming the Walnut Street Blues Band, which included his three sons: Foree III on drums, Greg on keyboards and Michael on lead guitar. Whether it was a gig at Jim Porter's or a romping set at the Garvin Gate Blues Festival, Foree's 1950's Memphis style of guitar interplay with Michael's contrasting Hendrix-style rock playing was always a treat to hear. Michael said he would keep the band going as a tribute to his dad.
The only recorded song by Foree and the Walnut Street Blues Band is "Woman's Like a Dice Game," which is on the Louisville Blues Compilation album produced by Scott Mullins in 1989. To hear any more of Foree's music we will have to wait until the release of his new CD, It's a New Day, Brother.
Jim O'Neal of Rooster Records was notified immediately of Foree's death. It shocked him into a determined effort to get the recording out by early spring as a legacy to Foree. Perry Aberli has written a brief "in memorium" to be added to the liner notes. This CD of all original compositions will get national distribution through Rounder Records. When that day finally comes, it will be celebrated by a combined CD release party and jam concert, where all the musicians who have played with or have been influenced by Foree can participate. I'll keep you posted on future details.
The question now is who will step forward as the new "Godfather" of Louisville's blues scene. Those will be some big shoes to fill.
As a footnote to this eulogy, a special tribute must go to Lorene Wells, Foree's devoted wife, who held up magnificently during these tough times. Lorene has been struggling with cancer and is successfully recovering from breast surgery, which she underwent just five days before Foree's death. Out prayers go out to you, Lorene and your fine family.