The Spirit of Ireland
Louisville's foremost music impresario, Richard Van Kleeck of our Kentucky Center for the Arts, has scored a major programming coup for River City. Fresh on the heels of its Dublin debut and two London performances, "The Spirit of Ireland" will inaugurate its North American tour in the Whitney Hall on Thursday, March 13.
The RTE (Radio Telefis Eireann) Concert Orchestra, the Irish National Radio Orchestra, together with a troupe of step dancers and traditional musicians, will perform a wide range of music and dance associated with the culture and history of Ireland ranging from light hearted arrangements of "Danny Boy" and Thomas Moore's "The Last Rose of Summer" to serious traditional and contemporary works. Such works include excerpts from Shaun Davey's tone poem "Brendan's Voyage" plus Bill Whelan's (of Riverdance fame) "Lament of O'Donnell" from his "Seville Suite." The tune describes Red Hugh O'Donnell's flight to Spain in the collapse of the old Gaelic order after the Battle of Kinsale in 1601. Also included will be Sean O'Riada's "Mise Eire," inspired by the poetry of the 1916 Easter Rebellion leader Patrick Pearse.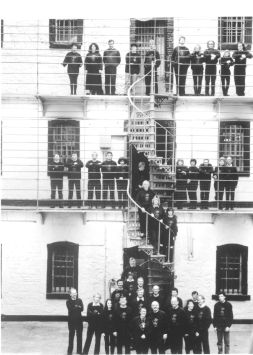 RTE Concert Orchestra
From mirth to mythology, this program has something for everyone.
Apart from our wonderful Irish Family Fest, "The Spirit of Ireland" is the grandest exposition of Irish culture Louisville has ever seen (or heard). Our friends in Indianapolis, Cincinnati and Nashville are green with envy. You should proceed with all deliberate speed to the KCA or call 584-7777 to get your tickets because they are moving fast.
According to Gerry Ford of the Celtic Centre on Breckenridge Lane, special discount tickets will be available at his shop beginning February 1. Drop by or call 897-9050.
Ashley MacIssac Returns!?
Although details are as yet somewhat sketchy, Cape Breton's killer fiddler Ashley MacIssac is rumored to be returning to Louisville on February 22. A special dinner package may be available from the Irish Rover. Call Michael or Siobhan at 899-3544 for updated information.
Celtic Hearts
For the second year, the Rudyard Kipling will host a special GALLOGLAS show to celebrate Valentine's Day. This year, there will be two shows on two days: Friday and Saturday, February 14 and 15. According to Ken Pyle, the Friday show is already sold out and reservations are coming in for Saturday so if you are interested move fast and call 636-1311. Louisville Magazine is doing a full page story on the band in the February issue.
Guiness Toast With Cloigheann and the Rashers
On February 28 the Irish Rover is hosting a national radio link up of a Guinness Toast. Cloigheann will be on hand to serenade from 6 to 9 p.m. and The Rashers will take over from 9 to 12. Cloigheann (Gaelic for "skull") will also be in concert at Twice Told Coffee House February 13, from 9 to 12. Admission is $2.00, a bargain indeed, considering their skill on bagpipes, hammered dulcimer, flute, guitar and bodhran.
Twice Told Sessions
Bardstown Road's groovy Mecca is getting into music in a big way with regular concerts by groups great and small. Plans are underway now for a regular Celtic jam session. Stay tuned for details.
Ten Penny Bit on the Road Again
Local Celtoids will be deprived of the services of Robin, Bob, Mark and Kimble during February as they are traveling to Detroit and Ann Arbor Michigan for a couple of gigs while taking in a performance of "Riverdance." Michigan in February? Is it the lead-based beer glasses they're drinking from or what? With some luck we will get a chance to hear them again in March. Watch this space.
Louisville Pipe Band on the Move
The LPB has changed its rehearsal site from Spalding University to St. Andrew Episcopal Church on Woodbourne Avenue in the Highlands.
Student classes begin at five p.m. on Sunday evenings. Call Rick McKenzie if you are interested in learning pipe band drumming(634-5950) or Robert Caudill (254-3963) if you yearn to be a piper.
Is mise le meas, Decimus Rock