Second Thoughts
MOZART'S "DON GIOVANNI" PACKS THEM IN ON OPENING NIGHT
By Henry C. Mayer
SYNOPSIS: After an encyclopedic list of feminine conquests, Don Giovanni meets three consecutive rebuffs. Though he deserts Donna Elvira, she still pursues him relentlessly with an ambivalence which is graphically expressed by Mozart's unforgettable music. Then Donna Anna sets him down but he finds his "Achilles heel" when he kills her father, who intercepts his attempt at seduction. In flight, the irrepressible but resistible Don meets a peasant wedding party of Zerlina and Masetto. He immediately, with the aid of his servant, Leporello, seeks to add Zerlina to his list, but to no avail. All these persons vow vengeance on both men. The Don is undismayed but Leporello's panic is one of the highlights of this opera. Anna's father suddenly reappears only to be jokingly invited to supper by the haughty Don. Unexpectedly the Don is stricken fatally and finds himself in Hell which Dante once described as the place, "all hope abandon, you who enter here."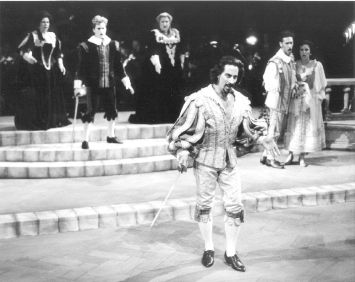 Nicholas Loren as Don Giovanni
Performances of this opera have delighted audiences since its premiere in Prague in 1787. Its first appearance here was in 1854 and was one of the first operas to be staged in Louisville. This is its fifth production since Kentucky Opera began.
Normally, it takes four hours, but Artistic Director Thomson Smillie and Robin Stamper cut it in half. The opening night audience seemed to welcome the new, fast-paced version, although some observers did not. This observer thinks there is much to be said for the abbreviated score.
Some other observations: Nicholas Loren gave an unforgettable portrayal of the self-confident, devil-may care, cynical Don. Though he bad left us with pleasing memories of his interpretation of Rodrigo in "Don Carlo" earlier this season, Loren depicted Giovanni with poise, aplomb and all else it took to present a natural portrayal. John Davies was an exemplary Leporello. Curt Pederson's presentation of Donna Anna's betrothed, Don Ottavio struck me more forcefully in Act II than in Act I. Hillary Nicholson as Zerlina let us hear a voice of singular beauty coupled with acting finesse. In large measure that was true of Evelyn de la Rosa's Elvira. As Anna, Melanie Helton has an unforgettable voice but somehow seemed miscast.
Bob Bernhardt conducted with both skill and his usual joyfulness. Chuck Schmidt did wonders with the lighting in the closing scene. Lindsay Davis is a gifted set designer but to describe the unit set as "sumptuous" struck this observer as a bit much.