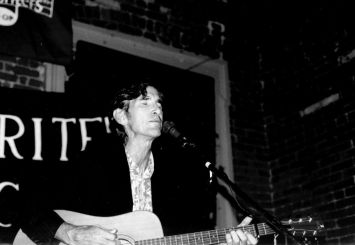 Adios, Amigo": Remembering Townes Van Zandt
During the late seventies, Louisville singer-songwriter Bill Ede listened almost exclusively to the music of Townes Van Zandt, one of his "all-time heroes."
While Van Zandt's name may not be a familiar one to a lot of people, the songs he has written have touched many. His "If I Needed You" and "Pancho and Lefty" have been recorded by such renowned artists as Emmylou Harris and Don Williams, Willie Nelson and Merle Haggard.
Tragically, Van Zandt passed away on New Year's Day of a heart attack at 52 in Nashville where he was recuperating from hip surgery. The colorful Texas native was greatly respected by the music community; in the liner notes to Van Zandt's 1987 album, At My Window, Steve Earle wrote: "Townes Van Zandt is the best songwriter in the whole world, and I'll stand on Bob Dylan's coffee table in my cowboy boots and say that."
On Jan. 7 Ede performed a 10-song tribute to Van Zandt during a Tuesday-night open stage at The Flashback. Accompanying himself on acoustic guitar, Ede provided a poignant 40-minute look into the Townes Van Zandt songbook. His playlist included "Pancho and Lefty" and "Mr. Mudd and Mr. Gold," "If I Needed You" and "I'll Be There in the Morning," "The Silver Ships of Andilar" and "Quicksilver Daydreams of Maria." Ede introduced the latter song as "probably one of the three or four most beautiful songs I've ever heard in my life."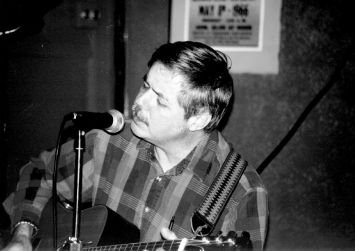 Bill Ede
Appropriately, Ede ended his tribute with "When He Offers His Hand," with its promise "He can lead you to light through the darkest of days." From the back room the laughter and clatter of a pool game provided a sharp contrast to the melancholy mood onstage. Townes would have been proud.
Louisville native Jonell Mosser recently released an album of Van Zandt's songs, titled Around Townes. Expect to hear several cuts when Mosser performs at the KCA on Jan. 31 as part of the Bank One Lonesome Pine Special Winter/Spring 1997 series.
Van Zandt at the LASC Showcase
If songwriter Townes Van Zandt hadn't already been known and respected by Kentuckiana songwriters, that certainly changed for those fortunate enough to be at the Louisville Area Songwriters' Cooperative showcase at The Rudyard Kipling on Sept. 2, 1989. L.A.S.C. member Bill Ede had attended Van Zandt's performance earlier that evening at the Bluegrass! American Musicfest on the Belvedere and had prevailed upon his hero to come along to The Rud to sing a few. His arrival was unheralded and mostly unnoticed.
As the evening's MC, this writer was honored and extremely pleased to welcome Van Zandt to the stage. (Ede had humbly declined to do the honors.) Although he performed mostly new songs in his brief set, Van Zandt honored my request for "Pancho and Lefty" and graciously dedicated it to me.
Van Zandt, who had a habit of addressing folks as "amigo," lingered after his performance to chat and pose for photographs, making a wonderful and lasting impression on the audience of mostly songwriters.