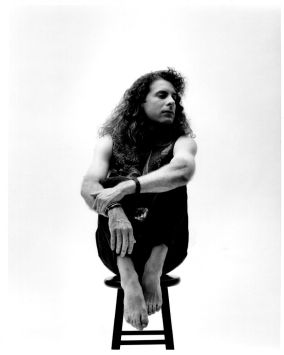 Unity
Chaz
By Kevin Gibson
Chaz didn't title his latest CD Unity just to sell a few more of his Unity Wear T-shirts. At least I don't think he did (although I'm sure that's part of it).
Even if he didn't have his own line of clothing on the market, Unity would fit this collection of seven songs. Each tune is either about love or rejected love or togetherness or, well, unity.
Chaz once described his music as "acoustic groove with lyrical depth." Depth, yes, but don't come here looking for anything new. Chaz approaches each song with honesty and passion – you could call that depth – but the fact is the topic of love has pretty much been done to death. And Michael Bolton sent it careening over the edge.
But Chaz doesn't care. Bottom line, he does his music the way he wants to do it, and he believes in it. His husky (almost Bolton-esque) vocals travel across light instrumentation with the occasional guitar riff to add some velocity, and he likes it that way.
And on first listen, one might merely shrug and forget they ever heard it. However, Chaz threw some sharp, if subtle, hooks into this disc, and if you aren't carefully, a second or third listen might leave you humming the single, "Can't Make It Stay," or even the pop sleeper "Love Will Survive." (Whitney Houston ought to cover that one).
Also, the production by Todd Smith is absolutely immaculate. This isn't one of those local, basement-tape sounding releases. Unity is slick from beginning to end, from the acoustic guitars to the backing vocals.
Whether or not you want this album in your collection all depends on taste. If you like good, mellow driving music, pop this into your disc player and hum all the way to work. Play it on a first date, even. If you like something that kicks or grinds, well, this is pretty tame.
Let's put it this way: You would be reasonably safe playing this for your parents – unless your parents happen to be Joey Ramone and Patty Smith.
There you have it. It'll only cost you about seven bucks, so it's not like you'll go broke. If nothing else, you could at least buy a Unity T-shirt.