A Peek Behind the Country Music Curtain
Three Chords and the Truth (HarperCollins)
Laurence Leamer
Reviewed by Paul Moffett
Three chords and the truth" is how the great songwriter Harlan Howard once defined a country song. Laurence Leamer looks at the country music business in Nashville's Music Row and sees that these days, it's three chords and a recycled hook, plus a well-funded marketing plan and a Vegas dance video that makes a country song.
Laurence Leamer has clearly staked out the "insider's look at celebrities" as his career method, having written about the Kennedy women, Johnny Carson, Ingrid Bergman and Nancy and Ronald Reagan, among others. With Three Chords and the Truth, he is on familiar ground and his polished writing style makes the book an easy read, even at 438 pages.
Beginning with the "eight-hundred pound country gorilla," Garth Brooks, Leamer sketches the history of a number of performers or producers, highlighting telling episodes and turning points in each subject's career. He ties his series of mini-biographies to Fan Fair '96, leading off each chapter with an event or concert at Fan Fair, before backtracking to detail the bio.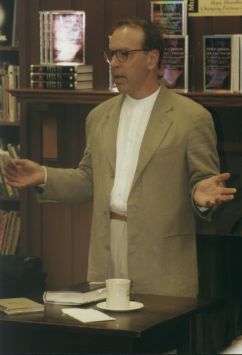 Learner responded to a questioner at a book signing at Hawley-Cooke Booksellers
In Brooks' case, he describes how the singer arrived at Fan Fair unheralded, walked through the crowd in scruffy clothes, until someone recognized him and he was surrounded by fans. A recurrent theme in the book (and in the country music business) is that country music fans expect to be able to meet the stars, talk to them, get autographs, etc. and the stars are expected to be accessible and willing to accommodate them. In Garth's case, he signed autographs, held babies, whispered in the ear of children and the disabled, sang "Happy Birthday" repeatedly and posed for pictures for twenty-three hours straight at Fan Fair '96
The failure to meet and greet the fans is damaging for several well-known performers, including Reba McIntire, whose imperious behavior on her "throne" at Fan Fair is detailed – as is the reaction of her fans. The Judds don't have any easy time of it in this book, either, with both mother and daughter coming in for unflattering descriptions of their excesses in both public and personal lives.
Vince Gill gets the most flattering portrait, a picture of a good man with great musical ability and integrity, while Shania Twain is revealed as someone who has not been entirely accurate in her media construction. Country legend Emmylou Harris, while much beloved, hasn't made any money and has to keep working to pay the bills. John Berry irritates his record label by witnessing to his country audiences. Brooks and Dunn's business saavy and Dunn's voice get the nod for making their success happen.
There are a couple of very interesting chapters about producers/record company presidents Tony Brown and Jimmy Bowen. (Bowen has recently published his own look at the business, Rough Mix.) These chapters will no doubt be thoroughly mined for clues by country music wannabes.
Leamer moved to Nashville to write this book, so his immersion in country music echoes throughout, including the title, which is now the title a single by a new artist (according to LMN columnist and songwriter Alan Rhody). Country fans will find occasional disillusionment but likely not a lot of detail that they didn't already know about their favorite performer. Songwriters can find lyric inspiration here and there and anyone interested in making the trek to Music City would do well to read the book, highlighter in hand.
It's hard to know if the stories about the stars are true, or if one or the other of the quotes and comments are accurate, but doesn't matter nearly as much as the overall tone and coloration that is provided by and about the business going on in the background. It's that knowledge that is valuable to anyone interested in the business and that alone puts this book at the top of the "Recommended Reading" list for songwriters, singers and stars of the future.
Available at Hawley-Cooke Booksellers and other major bookstores in the area.