I've Got A Mind To Ramble
Blues at the Waterside
I told you in my May article in LMN that there would be no blues at Waterside this year. That was wrong. As it turns out, on Saturday, July 5, there will be three varied and interesting blues performances at Waterside.
Starting at 2 p.m., Fruteland Jackson will sing, play his acoustic guitar and maybe tell some stories. Fruteland was born in Sunflower County, Mississippi in a large family rich in the church, blues and oral history traditions. He was influenced by his uncle, Woodrow 'Dick" Chandler, who was a locally known guitar and piano player around Inverness, MS.
Fruteland got his formal musical education in high school and later at Roosevelt University, after his family moved to Chicago. A job with a seafood company took him back to Mississippi, where he really immersed himself in blues music and its history. Now his has taken his knowledge to the schools and universities, lecturing on the blues, and his show on the road, performing at festivals and clubs throughout the country. He refers to his music as "Baby Boomer" blues, for his original music combines contemporary themes played in the spirit of traditional styles. His songs range from blues ballads, to folk and gospel standards.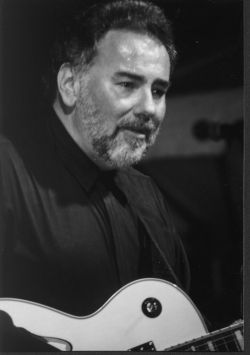 Duke Robillard. Photo by Keith Clements
For his dedication to create a greater awareness and appreciation for blues music in the schools, Fruteland received a W. W. Handy Award for "Keeping the Blues Alive" in the Blues In Education category this past May.
Later that evening the Metro Blues All Stars will jump-start the night at 8 p.m. This endearing and enduring band of Kentucky musicians will make one of their many return engagements to Waterside. Nick, Rodney, Frank, Rick and David have built up an excellent reputation throughout the region and are sure to draw a good number of their faithful followers. No need for a bio about these guys, as you know them well.
The headliner, Mark Sallings and the Famous Unknowns, are unknown to Kentucky but Sallings is hot property in Memphis and Arkansas, where he lives. Mark and his band was the first house band at B. B. King's Blues Club, playing there for two years.
A big break came in January 1997 when they were invited to play at the Blue Jeans Bash, one of the inaugural balls for Bill Clinton's second inauguration. Mark is a harp man and is endorsed by Hohner harmonies. Back in 1970, he recorded with the legendary Son Thomas for the Center of Southern Culture Folkfore. Now he has a new CD release, Let It Be Known, on Vent Records, which showcases his harmonica talents and thirty years of dedication. If you are ready for a combination of downhome Delta and urbun uptempo harmonica blues, then get become acquainted with Mark Stallings and the Famous Unknowns.
Blues at the Waterfront
What a better way to celebrate TGIF with a series of free concerts each Friday evening this summer at Louisville's own Waterfront Park. John Grantz of Media Events is producing these shows, which mix a wide variety of local, regional and national acts. The setting features the graceful sweep of the tiered amphitheater steps with a stage set up at the edge of the Ohio River. There is plenty of room for a crowd to stand in front of the stage, which is needed to hold the 3,000 people plus people that will make each night successful.
On lucky Friday June 13, we were treated to two outstanding blues musicians performing under threatening skies and light rain. These conditions didn't dampen the spirits of those who stayed past midnight to hear Charlie Musselwhite and Duke Robillard.
I had seen Musselwhite just a week before at the Chicago Blues Festival, where he performed a short solo set on the Best Buys Stage, playing his guitar, and later that night with his band at House of Blues. After a brief fling in Memphis, he came to Louisville for this concert, then it was on to Henderson, KY, the next day for the W. C. Handy Blues Festival.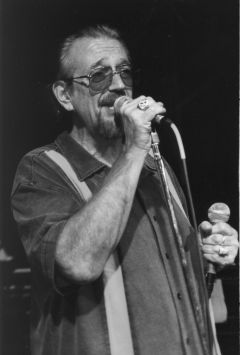 Charlie Musselwhite. Photo by Pete Strojny
Shortly after Musselwhite took the stage to blow his harp, he got some competition from the Belle of Louisville, whose pilot was tooting her horn for the evening cruise. Charlie opened with the uptempo "Both Sides of the Fence," and then later got down with a mellow slow blues, "Rough Dried Woman." Both of these songs were from his recent CD, Rough Times, on Pointblank Records.
The evening was getting late and the rain was falling when it came time for Duke to play, but it was worth the wait, for Duke and his band did an outstanding set, mixing West Coast swing with aR&B jump and with a heavy dose of urban blues.
Even though Duke and his wife live in the Highlands, his band is based in the Boston/Providence, R.I. area. They include Marty Ballou on standup bass, Marty Richards on drums and a talented honker, Gordon Beadle, playing tenor sax. His wife Susan said that Duke is always buying and selling guitars and so this night he had two vintage Epiphones and a Rickenbacker on hand to get that full bodied sound he is known for.
Greg Walker of Walker & Kays got a pleasant surprise when Duke invited him to the stage to collaborate on two jazzy instrumentals. With his new Pointblank CD, Dangerous Place, just out, Duke is doing a lot of traveling around the country, spending only a third of his time at home.
In addition, his other current projects include making instructional videos on the guitar techniques of T. Bone Walker and Freddie King. Duke will also be appearing at the Monterey Jazz Festival in September and he has just completed a recording session with Herb Ellis.
Not bad for a transplanted local boy.
See Tim Roberts' Jazzin' column for a review of the same show. – Ed.