The Magic is Back!
According to the first review of the 1997 Tour of Clancy, O'Connell & Clancy, is the latest incarnation of the Irish music as performed by Tommy Makem and the Clancy Brothers, who gave birth to the the Irish folk revival in the USA at The Bitter End Cafe in Greenwich Village (NYC) in the '60s. Tommy Makem has pursued a solo career and his sons appear at most of the major Irish music venues Both Tommy and the Makem Brothers have appeared at the Louisville Irish Family Fest.
Clancy, O'Connell & Clancy have Liam Clancy, his youngest son Donal and the Clancy nephew and songwriter Robbie O'Connell. The newest addition is 21-year-old Donal, who takes responsiblity for banjo, guitar and bouzouki and perhaps brings the instrumental side of the music to the fore. Robbie O'Connell is a brilliant songwriter. His "You're Not Irish" satirically recounts his experiences as an "Irish singer" who doesn't sing "Danny Boy" or "McNamara's Band". Deadly serious is "The Winning Side," offering a broader view of political conflict.
The best news in all of this is that they will be featured at the 1997 Louisville Irish Family Fest as the special Friday Night Concert at the opening of this year's Fest. The popularity of this evening has, not surprisingly, grown since its maiden night seven years ago, so Rock encourages all to obtain tickets well in advance (eight at a table seating $10@/$75 per table) only at The Celtic Centre, 149 Chenoweth Lane (502) 897-9050. Do not risk the weeping and gnashing of teeth that will ensue if you can't get in at the door.
Irish Fest Headliners
Kudos to Paul Kinder and the Irish Fest Board for such a strong and well balanced line up of stars for the '97 Fest.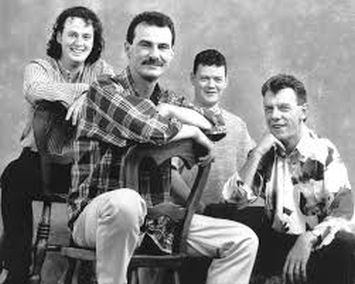 Stockton's Wing
Saturday features perhaps the hottest group of young Irish taditional musicians in Sligo-based Dervish. According to America's top folk rag, "Dirty Linen," Dervish is poised to join a very exclusive club with the likes of Altan, Solas, Patrick Street, inter alia.
The extraordinary tightness of the lead instrumentalists is breathtaking as the music soars, turns, and plunges. ... almost everybody who follows Irish music has been impressed with their talent, drive and irrepressible sound."
Although their core sound is in the fiddle, flute and accordian, singer Cathy Jordan has a very powerful voice as well. As Dervish is "what's new," the Irish Fest Sunday headliner is "tried and true."
Stockton's Wing was formed in 1977 by a quartet of All-Ireland champions and, despite various format and personnel changes, is still touring the world and has no doubt continued to climb in the current celtic music renaissance. Named after a reference to a New Jersey beach in Bruce Springsteen's first album, "the Wing" hails from Ennis, County Clare. Of their ten albums, The Stocton's Wing Collection is a must for any credible Irish music collection.
Behan
Spalding University will host an evening of literary and musical excitement when Monto Productions of Dublin presents "Behan – Before the Eclipse," a one man show starring Declan Croghan. The work depicts the man behind the celebrity of the playwright Brendan Behan. Behan became a dominant literary figure almost overnight with the 1965 production of his play "The Quare Fellow" based on his experiences during his imprisonment in the 1940s for IRA involvement
Behan described his recreations in "Who's Who" as drinking, talking, and swimming but no factual description could do justice to his flamboyant, larger-than-life character. The play starts at 8 p.m. in the Spalding Auditorium. Tickets are $7.50 (students and seniors $5.00) and are available at Spalding University (585-9911), the Celtic Centre (897-9050) or from the Ancient Order of Hibernians (491-3717).
Following the play there will be a cash bar reception for the artist and his production crew with live Irish music provided by members of Drowsy Maggie, Gallosglas, The Rashers, Cloigheann and Ten Penny Bit.
The Gathering
The Celtic Centre, 149 Chenoweth Lane, is sponsoring a gathering of all the local celtic organizations as well as an Irish music jam session on Sunday afternoon, July 13. Last year's event was great fun. For more information, call 897-9050.
Galloglas
The G band will be making its first appearance at Twice Told Coffeehouse on July 19 with two shows at 8 and 10 p.m. and returns to the Hawley Cooke Booksellers store in theGlenview Pointe Center on Friday, July 25.
Irish Rover Sessions
Members of The Rashers are showing up on a fairly regular basis along with some friends at The Irish Rover on Friday and Saturday nights. Their banjo-based sound is perfect for the Rover atmosphere and makes Louisville's best poured pint go down just a little more smoothly. There will be no session at the Rudyard Kipling on July 4.
Sixth Annual Columbus Scottish Festival
Mill Race Park in Columbus, Indiana, July 18-20, will be the scene of their 6th Festival. There is a Friday Ceilidh and Saturday will feature a Scottish Clan gathering, Highland dance competition, pipe band performances, a British car show, historical reenactment, professional athletics, childrens' activities, food and Celtic vendors. Sunday features a parade of tartans, sheep dog trials as well as performances by The Louisville Pipe Band. For more information, phone 1-800-468-6564.
Calling All Celts
If you have any news or information you think might be of interest to Celtic Corner readers, by all means send it along to old Decimus Rock in care of the Louisville Music News.
Slan