Down On The Corner
Regular readers of LMN will notice the absence of "The Beet Goes On" cartoon in this issue. Alas, but I have to report that author/cartoonist Diana Black has decided to put the single panel feature to rest to concentrate on her songwriting and plugging down in Nashville. We'll miss her and her punny panel, but she promises that if she has a brilliant idea to good to ignore, she'll dash off another. In the meantime, we wish her the best at her songwriting. Get that hit, Diana!
The MERF Blues & BBQ fund raiser got a relatively dry day at the Phoenix on Sunday, June 22. Videographer Jim Snyder taped segments of the Mudcats' and Steve Ferguson's sets. Edited versions will be on his "Writer's Night" show on TKR Public Access Channel 14 or 18 on Saturdays at 11 a.m., so tune in if you missed the show.
Former LASCer George Cochran called with the news that a song that he co-wrote with Ron Bell, "King of Christmas," will be cut by Ray Stevens for a Christmas album. Way to go, George and Ron! Those two guys used to come to the songwriter meetings with some really cool songs, so it's good that they are finally(!) getting a little success.
Speaking of the LASC, Ray Yates and Brian Curella of Media Beat sent word that they have released a new CD from their Flying Hands Music Production Library, called Escape Velocity. This is their seventh in the production series.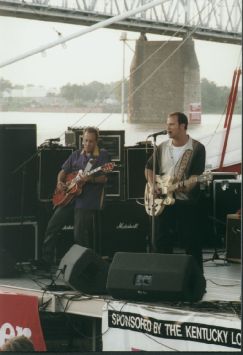 Jim Lavender, left, and Ben Friedman of Cigar Store Indians revved up the crowd for the headliner Kansas at the Whart on June 20. Photo by Paul Moffett
They also have a new drum instructor, Hugh Peterson, from the Virgin Islands, on the staff of the Flying Hands School of Music. Call Brian at 451-8001 for a tour of the new studio and school.
Still talking about the LASC. Past and present members of the Louisville Area Songwriters Cooperative and/or the Nashville Songwriters Association (plus any other songwriter) are invited to a pot luck dinner and sing-a-round in the lodge at George Rodgers Clark Park, Popular Level Road at McKinley Ave. The Reunion Dinner will happen on Sunday, July 27, from 1:00 - 5:00 pm.
Local NSAI coordinator Earl Meyers says that they've rented the lodge, so there won't be a run problem. He says to bring an instrument, a covered dish and $3.00 to help defray the cost of buying meat and the renting the lodge. For information and directions, call Kevin Brodie at 502-267-0725; Jean Metcalfe 241-2187; Earl, Meyers 452-1996 or Reba Hogan at 933-3253.
Harold Thom of the Cumberlands dropped a note to say that he was out of the hospital and at home recuperating from his heart surgery. He says "Thanks" to everybody who expressed concern and says the band will be back to picking soon.
Dick Irby of Fox 41 (WDRB TV) sends the news that the station has added a feature called "The Music Beat" to their Friday News at 10 broadcast. The segment will feature local musicians. Guests so far have included blues singer Jess Buntyn, Tanya Savory, The Devonshires and Scott Mullins of Rollin' & Tumblin' Records.
The Garvin Gate Blues Festival will not die after all. Instead, the Palace Theatre will produce the festival on Theatre Square at 4th and Broadway on October 10-12. It will be billed as the Garvin Gate Blues Festival on Theatre Square. Stay tuned for more information.
Gary Brewer and the Kentucky Ramblers are getting ready to release a new CD, Memories of Home, on Cowan Creek Recordings. In addition to the band, guests on the recording include Chris Geary on banjo and Alan Phelps on dobro. Look for the CD at the usual stores.
Songwriters around the Columbus, IN area, take note. Glass House Recording Studio is staging a series of Songwriter Showcases this summer in the studio. Dates are June 28, July 26, August 16 and September 27. Performances begin at 8 p.m. and this is no admission charge. Contact Glass House at 812-375-9362 for information and reservations.
Manic fiddler Peter Rhee, featured in LMN's Front & Center column in May, is starting a Monday Night Open Stage at Air Devils Inn. Start time is 8:30 p.m. and there will be a house bassist. Rhee can often be encouraged to jam as well.
What do you call a saxophonist without a girlfriend? Well, put your own punch line there, but in the case of Michael Murphy, it means he's back in town. The Murph is gigging around a bit with trumpeter Donn Adams and looking for more work.
Speaking of Open Stages, over at the Twice Told Coffeehouse, Moon is hosting the open stage set for July 9. On July 30, Dan Gediman will host an event he calls Artist Night, after Michael Kessler's long running open stage at Tweligans. Call 485-1174 to sign up or cross your fingers and show up. One day maybe thes events will settle into one day of the week or month.
Speaking of Mr. World Peace, Michael Kessler showed up at Jim Snyder's Tuesday night Open Stage at the Dundee Tavern in June, in the company of Misha Feigin. Kessler is touting his 20th anniversary of fighting for world peace in the name of Eracism.
The Louisville Youth Orchestra is taking audition registrations from interested students through age 21 for the 1997-98 season. Auditions will be held during late August and early September. For more information, contact Melody Welsh, Executive Director, LYO, 623 W. Main St., Louisville, KY 40202 or call 502-582-0135.
Mike Clover has moved his studio from Scottsburg to 2244 Frankfort Ave. Producer Joel Timothy is renting space also. Clover Productions focuses primarily on broadcast production but the studio is set up for music as well.
For more info: Clover Productions: 502-231-2420. Joel Timothy: 895-5041. Fax (Both): 502-231-0263.
Club Changes
The Borderline Lounge at 147 Outer Loop, in the building that housed the old Desert Rose, has begun to book a variety of bands Wednesday through Sunday, according to manager Mike Caporale. The club will establish given nights for different styles of music. Currently, Wednesdays will feature heavy metal. Sundays will be "Teen Nights" with various local acts booked. Other music style "Nights" will be added as a need for them is demonstrated.
Cover is $3, more for special events. Call 361-9958 for more information.