King Directs the Queen
Between Indigo Blues and When the Pendulum Swings, Gayle King Lives A Sweet Dream
One of the deepest, warmest gems in Louisville's music crown is the mood, swing and torch stylings of Gayle King. Backed by the band, Indigo, and the Pendulum Orchestra, the intended references to "blue" and "swing" aptly describe the ensembles. Both the four piece and the big band and have wooed local cocktail and nightclub lounges for nearly two decades.
Gayle King, with a sparkling voice and gown to match, is the chanteuse in charge. This month, she has traded the smoky happy hours and neon salons for the footlights as she is the guest musical director for Always . . . Patsy Cline at Actors Theatre.
With anxious ticket holders clutching their advance purchases for weeks, this wildly-acclaimed, romantic theater in the round production promises to send its crowds into the streets humming, wailing and remembering the sounds of the late great Cline.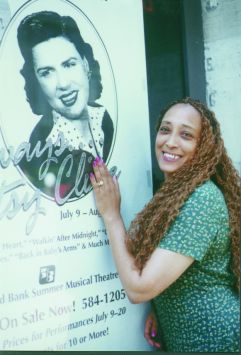 Gayle King at Actor's Theatre. Photo By Cindy Lamb
One of those ticket holders is WFPK's morning maven and "Woman Waves" host Laura Shine. For a woman in her 30s, Shine is a second generation Cline fan and has a few surprises up her (record) sleeve. Even with all the attention focused on K.D. Lang in the past few years, especially her early band, The Re-Clines (suggesting that Lang was possessed by Cline's ghost), it was another artist who Shine believes holds the truest flame for Patsy's sound.
K.D. has awesome pipes," Shine stated, "but I wouldn't say she was Patsy reincarnated. If anyone it would be Mandy Barnett. She did this show, too, and she looks like her, sounds like her – it's incredible."
Like a lot of kids raised on FM radio, Shine discovered Cline's music through a historical vein. "It was seeing Jessica Lang.'s portrayal in "Sweet Dreams" that had the most impact on me," she continued, while searching for a copy of Mandy Barnett's CD, " My mom and I saw it together and immediately went out and bought all these Cline records."
It's not a Patsy Cline 'tribute' show," King firmly reminds us, "This isn't to make anyone believe it's Patsy, just more of a respectful production of her music and personality. Not in the tradition of an Elvis impersonator." While everyone has practically grown up with hits like "Crazy," "I Fall To Pieces" and "Sweet Dreams," King is excited about the more obscure material from the artist's prolific, yet short, recording career. "A lot of people will have a real nice surprise to hear other songs," King stated.
A lot happened to Patsy Cline between the hootenannies, recording Willie Nelson's "Crazy" against her will and the tragic plane crash in 1962.
She recorded around 102 songs . . . I think." King laughs as her sentence slows to a crawl, "I know it's something like that but as sure as I mention a number, someone who knows exactly will call me on it!"
This production includes 24 songs – of that, she is certain. It is during a rehearsal break that Gayle finds time to chat with me over the phone about her work from the lounge to the stage.
King has dipped in and out of theatrical productions for most of her career. Attending the now-defunct Loretto High School at 45th and Broadway, Gayle was always involved in the performing arts, school plays, community events. Attending the U of L Shelby Campus to study music, she arrived inspired as a pianist. Finding a comfortable niche with four-piece Indigo and its natural extension, The Pendulum Orchestra, King and friends kept a commitment to the classics and standards with quite a diversity.
We'd do "In the Mood" by Glenn Miller, "Unforgettable" by Nat Cole and then hits like "Shop Around" or even a Reba McEntire number," King noted. "Back in the disco era, we were right there with Donna Summer and all the rest." She chuckled at the idea of retro-hipness, "Oh, yeah, we were doing "I Will Survive" and nowadays younger people think it's a new song.
One of her early gigs with Pendulum was opening for Cab Calloway in the former Hurstbourne Lane Holiday Inn Convention Center. Another impressive moment was a last minute booking with the touring Red Skelton.
He came to Louisville to perform at the Palace and didn't have a warm-up act," King recalled 1981, "and the wouldn't go on without one. Well, the gig pretty much fell into my lap. We rehearsed an hour then went on Friday and Saturday night – all with a six hour notice. We pulled it off but I was mortified, it was early in my career."
King and the Pendulum Orchestra would also enjoy a couple of tours through Scandinavia before returning to their home turf in Louisville – which was mostly the Holiday Inn and Second and Broadway (where LMN writer Danny O'Brien would often enjoy the regular performance in addition to grabbing an interview) as well as the downtown Hyatt.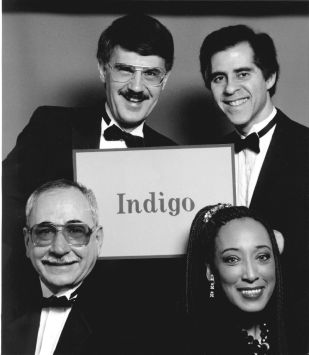 Indigo
Obtaining directorial experience at a small theater company, Pegasus Rising as well as the Derby Dinner Playhouse. King enjoyed not having just one job to report to – which is a challenge for a mother of two. "It's a busy thing," she explains, as we conducted our interview over the backstage phone between rehearsals. Obviously. King just hung up her piano player hat as she finished the successful run of ATL's "Hot and Cole" before beginning work on Patsy Cline.
As a song stylist, King considers herself "one of the dinosaurs" in the performing world. "The hotels had clubs had kind of a reverse prejudice, in that they preferred a woman be the entertainer. But through it all, I've been lucky with my schedule," she recounted of her younger days as a new mom. She now has two grown children, Steven, 26, a classical clarinetist and Angela, 23, who, with a degree in veterinary medicine, also thrives with music appreciation.
Currently residing with her second husband, the King-Chandler family endured a long waiting list last fall in order to adopt an infant. Gayle is now the proud mom of five month old Elizabeth Ashley and can't get much happier...or busier. But we know by now that's fine with her.
The full-page ad in the Courier-Journal touts "bring someone you love" to the play. Chance are, folks will be "Walkin' After Midnight" hand in hand, talking about the drama.
Molly Andrews, who hails from a Virginia town only 30 miles from Cline's hometown of Winchester, met co-star Adale O'Brien in a production of Appalachian Strings. O'Brien introduced Andrews to ATL and this will be quite a debut.
It's an excellent story to behold," says King of the two woman cast, "Based on the true story surrounds the rapport that a fan named Louise Sager had with her idol Patsy Cline." History has it that the fan, played by ATL staple O'Brien, requested "I Fall To Pieces" every day after her death. The dialogue between Patsy, Louise; then Patsy, Louise and the audience sounds fascinating – an excellent vehicle for reminiscing along with witnessing remnants of musical history.
It's a down home, good time event. Great music, a lot of laughs and there are some serious parts, too," King states, "Especially, the part when the plane crashes."
Great attention has been paid to the authenticity of the sound and the look of the Always . . . Patsy Cline. "There are several costume changes through the show and they do stay with the period – clothing, hair, attitude. It's just gorgeous," King gushes. "In the middle of the stage is somewhat of a 'pit' where the piano, drums, guitar are located. Of course, the guitarist doubles on pedal steel – you can't play her music without that!"
Memories of Patsy Cline from the era of her long hair and fringed cowboy outfits to the progressive sequined gown and orchestra that was her final signature will be enjoyed by young and old alike.
If anybody saw Patsy alive, in concert – and that's very few people who are going to see this show – they would know that she stood very still and had rather basic poses. She had excellent posture, very upright, so since this is theater-in-the-round, we had to adjust that part of history."
Always . . . Patsy Cline is performed in-the-round in the Bingham Theatre at Actors Theatre of Louisville July 8 – August 10.
SideBar & Grill: Why We Should See "Always . . . Patsy Cline" By Cindy Lamb
As a girl raised in a string of suburbs in the mid-south, it was at some risk that I was able to encounter the true soul of music. I was too young to go to concerts and didn't have nearly enough money to buy all the 45s and LPs I needed. But I had a way of getting my original music and besides, it turned out to be the best way, the only way: I would meet Patsy Cline.
You see, I would accompany my dad to happy hour in just about every town we lived in from the ages of 8 – 13. It formed a kind of music map in those "wonder years." Dad didn't drink a whole lot and mom always knew where to make that "milk and bread call," so it was a great time.
In the mid-60's all three of us kids would be left in the watchful eyes of car hops at Robilio's BBQ auto mat in Memphis, Tennessee, while dad slipped into the lounge for a cold one. The small group of middle-aged men always had a smarmy little radio going at their station so we'd match the sound by turning the key to 'accessory' and cranking up the radio in the Ambassador sedan. Man, could those guys dance, snap, pop and carry on.
Wicked Wilson Pickett, Marvin Gaye, James Brown – all loud and all scented with the wafting smell of hot pork sandwiches from inside. Considering Perry Como waited for us on the console back home, we shook and sang like little white monkeys in the car seat, until Dad's thirst was quenched. Say about five or six songs.
For bad 70's hits, we went to Pancho's in West Memphis, Arkansas, where Dad had Schlitz and Lucky Strikes and we munched on cheeseburgers, homemade pralines and tuned in George Klein's pop show on WHBQ across the Mississippi River.
"Good Morning Starshine," "The Rapper" and "Lookout Here Comes Tomorrow" were big. We used to watch barges go by there, right about the same bend where Jeff Buckley drowned and the Memphis Queen rolls past the Cotton Carnival every summer. Quite the music corner, no?
But back in 1962 or so, it was just me and Dad as my siblings were too young. (Well, so was I but what the hell.) We'd go to a hole-in-the-wall called Alan's off the Nashville bluebelt, where the women all had scary, frosted "prayer hair" and bad, green tattoos for the men. Except my dad, of course, who was an insurance claims adjuster from the suburbs and had to maintain non-offensive, sensible skin.
I thought it took forever for Dad to nurse a Fall's City but it actually was only about four songs. Say, 12 – 15 minutes. That's where I met fast and forever "friends" like Loretta, Porter, Tammy, Conway and Patsy.
I'd crawl up on the juke box so I could inspect the song stock, plop my dimes in and wait for the robotic Seeburg arm to choose my ear poison. Being a Nashville jukebox, of course, meant cryin', cheatin' loosin', screwin' songs. The only town where the royalty came from the bottom rung. By gum, there were more sad people trapped in that glass lined neon box than in a prison. The rode-hard waitress would treat me to some of her tips so I had extra music to play in case Dad tapped another one.
If any of you have ever sat on, well, leaned on an old juke box, you know how warm it gets. It's a cozy, high-fi heat – the same kind of comfort you get from a tube amp coming on. Patsy would hold those wailing notes 'til I thought the machine would catch fire. All the men on the stools seemed to mouth the words into their beer. It was especially easy for the real stoned ones because it didn't take much to form the phrase Sweeeeeeeeeeeet dreams of yooouuuuuuuuu.
It was there that it dawned on me that I liked songs with strong "hooks." I'd come across the word twelve years later in Los Angeles. Grown men banked their lives on them. Patsy had all the hooks in all the right places. The dizzying effect of Willie Nelson's "Crazy," the flirty "Walkin' After Midnight" and "I Fall To Pieces" made me realize that being depressed was obviously a damn fine way to make a living.
I never really "met" Patsy until after she was dead. She left no body, just ashes from the start in that plane crash. Wherever she is now, there must be a batch of good cryin' songs written from that point on.
Well, now country's cool. C&W lost the "W" and I don't like it. It's worse than punk rockers from nice homes. Whatever happened to country music, occurred after it had been in the city a little too long. It should have made it's money and turned tail for home. All the rhinestones have been replaced with platinum sales, it's Perrier instead of bourbon and most everybody's got bonded teeth. Hell, they took what was left of the corpse and strung it together in Branson, Missouri.
Not Patsy, that rootin-tootin' wench/mom/girl next door! Her professional career, from the obligatory cowboy hat and fringe to the low cut gowns and orchestra, spanned a complicated, yet short time. It seems weird and a bit disrespectful to be thankful that she wasn't alive long enough to have a theme park or chicken drive-through bearing her name. Or having to deal with the new rash of music industry hierarchy. I'm almost glad she didn't have to make a video.
With just over a hundred songs recorded, she'd just decorated the surface with her fingernail. Somewhere in the hereafter, there's a tray of stubbed out cigarettes with lipstick on the filter and a bottle of Coke laced with bourbon, just waiting for the next note. Now, that's a sad song.