Bluegrass Beat
June was a full month: festivals really cranking up, my birthday, and a visit from family. I finally made it to Bean Blossom for the first time, went to Charlotte, Mich., for my 12th year at their event, and I'm looking forward to July and beyond.
The eighth of June was my birthday and it turned into a special bit on my radio program. The special part had nothing to do with my birthday. Cyndi Ruff Mahler and her husband, Bob, paid a visit to Sunday Bluegrass. It was a most welcome – although bittersweet – visit. Bob is being transferred to Florida and of course that means Cyndi will be leaving us. She brought her guitar along and for more than thirty minutes did an outstanding solo act.
(I have never heard you sound better, Cyndi, and I was very impressed with how much your guitar playing has improved. But, I really hadn't heard you by yourself for quite a while.)
This is not just my opinion but also the opinion of those who were calling in and talking to Cyndi.
(Your fans here will miss you, Cyndi, I will miss you, and you must know we all love you. Your very kind personal remarks to me as we were all leaving were greatly appreciated and I will long remember them. You promised to keep in touch and Bob promised to bring you back sometime. We will all look forward to that with great anticipation. Be sure to bring your guitar when you do. Our most sincere wishes for a safe trip, and may many blessings and good things be awaiting you.)
Bean Blossom
Bean Blossom was really good. Among other performers, we saw Jim & Jesse with Mike Stevens, Wayne Lewis, Randall Hylton, Mac Wiseman, Larry Sparks, James Monroe and a bunch more, including the New Coon Creek Girls and the Osborne Bros.
My thanks to Allan Phelps for getting James to have me come up. A special thanks to James for allowing me to MC for two days. That is a great stage they have at Bean Blossom, one of the best stages and stage set-ups I have been on at a festival. The weather cooperated with sunshine – no rain – and just a generally good day every day. The backstage talk and stories were something else.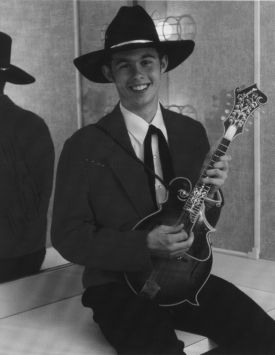 Luke MmKnight. Photo by Larry Hill
I got Sonny Osborne started on the subject of ghosts at the Ryman. They said that they were recently taping a segment for a tribute to Bill Monroe, and when the Bluegrass Boys were introduced all of the lights went off in the building for a moment.
A few months ago I sent a copy of a letter I had received from some listeners who had been to Hyden, Ky., last August for the Osbornes' festival. They had some very kind words about Sonny and Bobby, especially concerning their treatment of older folks. I asked Sonny if he got the letter and he said that he did. He thanked me very much for the copy and was very grateful for the comments of those fans. He said it was the nicest thing anyone had said about them. I include that here, hoping the writers of the letter will see this and know their thoughts were made known to the Osbornes and were much appreciated.
Also among the backstage talk, I had the opportunity to get much better acquainted with James Monroe. We swapped some good stories, some about Bill and several about other old-timers. James seemed to enjoy it and the fact we could talk about some of the great artists he grew up around. Again, James, thank you for having me at Bean Blossom and I hope I can come back for many more shows. I also extend thanks to so many of the audience who had kind words and were very nice to me. Thank you, folks.
Jesse McReynolds' grandson Luke McKnight has been appearing with Jim & Jesse for some time now. Luke did a fine job and is really getting his act together. To me his voice belies his age of 15. He sings, and sings well, with his Uncle Jim and plays mandolin. Maybe you have seen him on the Opry when he breaks into his little dance and dives to the stage. He and Mike Stevens together were giving J & J a run for the show. Jesse remarked when they came off that he would probably be driving the bus, mechanic-ing, etc. for Luke before he knows it. As I have said before about other young performers, and will say again, it's much better to see these youngsters hooked on bluegrass than on that other stuff. (Jesse, he seems every bit a fine young man and I for one know that you are rightly proud of young Luke McKnight.) We will be seeing and hearing more of this young man.
LOOKING AHEAD
July 9: 4-H Fairgrounds, New Albany, Ind., Traditional Country/Bluegrass show on the main stage at 7 p.m. The Schmitt Family, 7-8; Kentucky Blue, 8:15 - 9:30; Midnight Ramblers, 9:45 - 11; host Berk Bryant.
July 10-12: C.R. Wilson, Cedar Valley Park, Derby, Ind., featuring Jim McCall & Walker Mountain Boys, Tommy Brown & County Line Grass, Clyde & Marie Denny, Beargrass Creek Boys, The Sunnysiders and Almost Bluegrass.
July 26: Mr. Roy Harper will be at Iroquois Park.
July 10-12: Boone County Bluegrass Festival will feature The Schankman Twins, Larry Sparks, James King Band, Ralph Stanley, Goins Bros., and others.
Plenty of opportunities to see plenty of good bluegrass. Be there.
SON REMEMBERS FATHER OF BLUEGRASS
James Monroe has a new tape, MY FATHER, In Memory of Bill Monroe. Songs are: "Bean Blossom Memories," "Uncle Pen," "Blue Moon of Kentucky," "Rose of Old Kentucky," "Roxanna Waltz," "Rocky Road Blues," "Bluegrass Breakdown," "Wayfarin' Stranger," "Walk Softly on This Heart of Mine," and "Christmas Time's A'Comin." It's a good tape. The first song got a lot of attention at Bean Blossom. If you can't, or don't, get a copy before then, pick one up from James at Gary Brewer's Strictly Bluegrass Festival in September. The album can be purchased from Ernest Tubb's Record Shop; call 1-800-229-4288.
KEEP YOUR EYES AND EARS OPEN
Stay tuned, folks, to WFPK 91.9, each Sunday night from 8-11, for Sunday Bluegrass, and let's look for us at a festival.