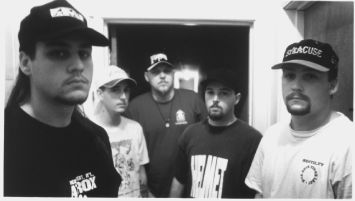 My Own Victim-
No Voice No Rights No Freedom(Century Media)
By Laura Spalding
This latest release from local heavy favorites My Own Victim shows growth and a reaching out of the band's style. My Own Victim has long been known for hardcore metal, but this latest release seems to fall more to the metal side of things rather than the hardcore.
The disc features eleven tracks, with none of the songs being more than four minutes long. "What Do You Live For" is quick and to the point; "Ready to Explode" is just like the song title says; "Cornered," "Slave", and "From the Bottom" are all raw and angry.
While My Own Victim seems to be leaning more toward the metal side of things, that hardcore edge is still mixed into No Voice No Rights No Freedom.
The main thing with this latest release is that My Own Victim is keeping that aggressive, angry feeling in their sound – metal and hardcore the way it's supposed to be. When you can feel these emotions coming from the music, that's as heavy as it gets right there.