I've Got A Mind To Ramble
James Peterson: New Kid on the Block
James Peterson is now an official Louisvillian, having moved here from Florida with his manager, Stephanie Manna, in early March. Peterson has established himself as a regular at Stevie Ray's, playing there about every six weeks. He also has been performing at Chicago's premier Northside blues club Kingston Mines, every other month.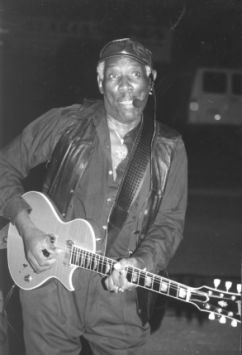 James Peterson at Stevie Ray's in March. Photo by Keith Clements
Between these steady gigs, he has a busy schedule of tours and blues festivals this summer. In May, he was at the Downhome Blues Festival in Huntsville, Al. and in June, he and his band, the Dream Team, will be off to France for two weeks.
Peterson's latest group includes Danny Bagsby on bass, and keyboardist Clifford 'Robot' Thomas. Both of these musicians had been part of his Florida-based band. Niagra Falls native Ted Tokarsky does the drumming. Louisville's Rick DeBow adds punch to the band with his saxophone. Fans of DeBow are happy to see him gigging regularly.
Peterson wants to set his roots here and is looking to buy a house in the West End. I talked to him before a recent performance at Stevie Ray's. His head was buzzing with catchy lyrics about the sad truths of life to use in future songs and he sang a few bars to me to try them out. I hope to hear some of them on his next Waldoxy release, due out late this year.
Manager Stephanie Manna has also been busy booking a down-home due from Alabama, Little Whitt and Big Bo, for festivals. They will be at this summer's Chicago Blues Festival, performing Saturday, June 7 on the Front Porch Stage.
Going to Chicago
I've just received the program for the 14th Annual Chicago Blues Festival. The theme for this year's event is "Beyond the Delta." Centennial tributes will be offered to Memphis Minnie, Blind Lemon Jefferson and Sam Chatman. Each year, the festival gets bigger and this year it has expanded from three to four days, starting on Thursday, June 5 and wrapping up on Sunday, June 8.
Highlights include Buddy Guy in the Petrillo Music Shell on Thursday; fiddler Howard Armstrong, who carries on the Memphis string band tradition, on Friday, followed by the Johnsons – Syl, Luther 'Guitar Jr.' and Jimmy – later that evening in the Shell.
More guitar slingers appear on Saturday, including Maurice John Vaughn, V. P. Wilson and Mighty Joe Young. To cap off the evening, the "World's Oldest Teenager," Rufus Thomas, will be there to celebrate his 80th birthday.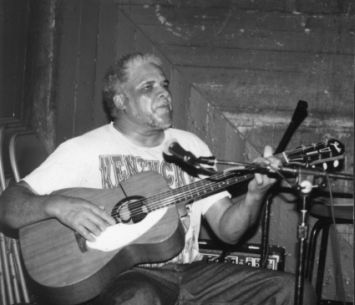 Jesse Buntyn at the Twice Told Coffeehouse. Photo by Keith Clements
If you are still able to stand up, rise for the women on Sunday, including Del Ray, Rory Block, Debbie Davies, Joanna Connor and Deborah Coleman.
The sleeper act will likely be Henry Quells, the one-man house party from Elmo, Texas.
I've only scratched the surface of all the talent that is scheduled for the festival. In addition, the Jazz Record Mark will host the Delmark Records All-Star Blues Brunch on Sunday morning. This will take the place of heading over to the original Maxwell St. Market, which was a Sunday tradition. Best Buy Records will be showcasing their talent each afternoon at the festival and the clubs will be booking their biggest names that weekend.
I've already started training for the endurance that it will require for the four glorious days of blues.
Get to the Point
I recently talked to Jarrett Boyd, chairperson for the Blues to the Point Festival in Carrollton, Ky. This will be their third year and they have booked a good line-up for Sept. 5 and 6. Rory Block and Kenny Neal will headline Friday night. Saturday will include Oldham County's own Jessie Buntyn and Dumpy Rice, Lonnie Mack's keyboard player, performing with a group of dentists called the Doctors. The main attraction will be Alvin Youngblood Hart and the Queen of the Blues herself, KoKo Taylor.
Jessie Buntyn was really enjoying himself at the Kyana Blues Society concert at Stevie Ray's on May 20. He opened the show with more than an hour of his rough, rambling, Mississippi/Tennessee hill country blues. He sang Jimmy Reed's "Down in Mississippi," where the "cotton grows tall and the boll weevils are so big they wear overalls." Buntyn calls his style of blues "mistreated blues," and when he sings it, you know he's been there.