Steeleye Span
If on June 13 at the Kentucky Center for the Arts, you see a grown man acting like a 14-year-old-girl at the Beatles' Shea Stadium concert, that will be me, Decimus Rock, in a rapture of aural ecstasy. Why, pray tell? Steeleye Span is making their first appearance in Kentucky and they're a lang a comin.'
Since 1969, this group has reigned over Her Majesty's folk scene in Britain as the first group to add rock to roots, mirth to musicology and electricity to heritage. "Expanding the envelope" is all the rage but these folks "have the tee shirt" and have been wearing it proudly through a quarter century, 15 personnel changes, stadium concerts and even gold records.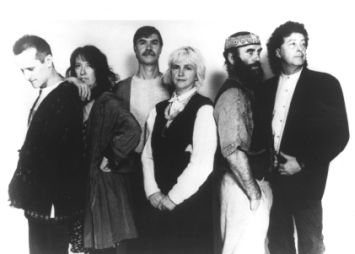 Steeleye Span
The Span put a 16th century Latin chant, "Gaudete," at the top of the British music charts long before Chant tapped its Gregorian gravy all the way to the bank. The signature of the band's sound is the incredible voice of Maddy Prior. Increasingly the band has introduced their original compositions to their "Trad. Arr." material and with good effect indeed. The traditional songs of England, Ireland, Scotland and Wales have wheels applied and will roll over you. Their new album Time was reviewed in this column in the September 1996 issue.
I can't slobber enough about this band. Get thee to the ticket office or call KCA 584-7777!!!
The Feis is Coming
Louisville's first ever Feis (say FESH) happens Saturday, June 14 at Bellarmine College Knights Hall. Five hundred dancers from the USA and Canada will be competing, including a very respectable showing from sixty of our own Bluegrass Irish Dancers. This is Riverdance in the making if you will. The competitors dance to live music, so you will hear jigs and reels aplenty. For further information, contact Jane Major at 896-8244.
Pat Kirtley's Newest CD Irish Guitar
Despite his considerable record of achievement (National Fingerstyle Guitar Champion 1995, National Thumbpicking Guitar Champion 1994, Home of the Legends Guitar Competition 1st Place 1994, Elderly Music's "Hot Platter Award" 1996), national TV and radio play (including National Public Radio musical interludes) and lengthy and impressive list of appearances, this Bardstown native and resident has yet to be reviewed by the Courier-Journal. Pat Kirtley is no stranger to those with the capacity to recognize true talent ("In a league with John Renbourn and Pierre Bensusan..." Guitar Player Magazine)/
The Narada label featured Pat on its Guitar Fingerstyle album and he will be included on its new release, Dance of the Celts. Pat can also be heard on Vestapol Video's The World of Celtic Guitar.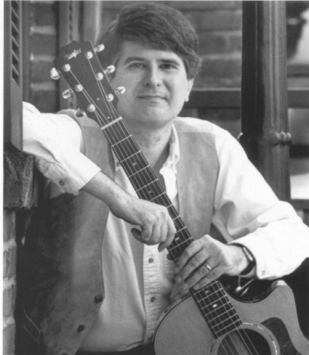 Pat Kirtley
Irish Guitar is an exquisite collection of 17 tunes from the classic Turlough O'Carolan's "Shi Beg Shi Mhor" to Pierre Bensusan's "The Last Pint" and Pat's own "Finn MacCool's Reel."
Although Irish Guitar includes a guitar duet with Steve Rector on "The Red-Haired Boy" and a beautiful Irish wooden flute accompaniment by Ten Penny Bit's Mark Cannon on "Blind Mary," this album is all Pat's digits applied to several alternative tunings. His mastery of technique does not overwhelm the wide range of expression he coaxes from his guitar. Pat Kirtley is another reason to be proud for Kentucky.
Galloglas at the Rud
Quarterly Rudyard Kipling concerts appear to suit Galloglas. Keeping with their practice of having special guests, the June 21, 9 p.m. show will feature Pat Kirtley as well some surprises. The last five shows sold out, so call the RK soon at 636-1311.