Front & Center
The Light After Dark:
Helen Burns Her Candle At Both Ends
By Cindy Lamb
It's the day in its "gloaming." The orange dusk still pours from the skylight at seven o'clock onto the old bricks of the Rudyard Kipling, towering above a diminutive woman seated at the piano. Helen has a few years on me. In fact, almost everyone playing darts, watching sports on the tube over the bar or nursing beers could be her kid. So, the generous fluff of white hair didn't solve the identity of a subject I'd only met over the phone.
It was her drink - Helen's Redball. I spied it from clear across the room, a questionable combination of beer and V/8. The smile spread across her face as she greeted me. "Hi, honey!" It's a great smile, the place where that VOICE comes from. With a candle-lit, draped baby grand and the houselights dimmed, this is how the Rud says "good evening" on Friday - featuring the song stylings, vamp and vigor of Ms. Helen Burns.
Anyone who knows any post-Derby Louisville history knows of Helen's ivory-tinkling, blues-lilting talents from that genuine River City institution, Cunningham's. While I was busy getting out of high school, Helen was working the back barroom with both hands - every now and then one of them leaves the keyboard to grab a sip of one of those Redballs.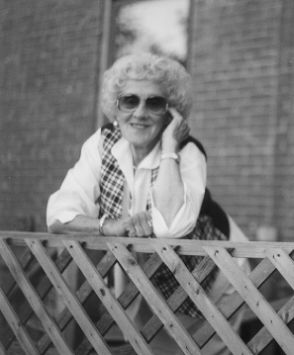 Helen Burns
I hesitate to call the "song stylist" a dying breed of entertainer; rather they are a breed apart. In this world of accelerated technology, Helen Burns is a quill pen on the page of Microsoft Windows. If you were raised on AM radio, you knew pop artists wrote the hits for themselves and old songs by Perry Como or Rosemary Clooney were for Mom and Dad. By the time MTV rolled around, singers didn't have to interpret the lyrics, it was all there on the screen for us.
For those of us old enough to know that Kennedy was a president, not the VJ, and that singing the blues can actually make you happy, ending a week of tension with a hot set from Helen and a cold beer can be just the thing. Her audience of regulars stem from 20-somethings to senior citizens. The style is blues to classics, show tunes to ballads and even "Misty" now and again. Around the piano I see spiked hair, gray hair, long hair and no hair. That's what you call a diverse crowd.
"One thing about young people wanting to get in bands, " she states, "I just don't think the music industry gives those kids enough credit. It's so hard for them." I fill her in on my penchant for pop music. "Now, I must say, I don't go for the Monkees and I wasn't really into the Beatles!" Helen concedes. "And I really can't handle that rap music but if you like it, that's okay by me."
"But what about scat singing," I ask, "Wasn't that sort of an early 'rap?'"
"Well, let's see, scoobeeedoobedoo...yes, maybe you're right!" I would expect nothing less from a chanteuse.
"Listen, I'm 70-plus," she brags, "I'm not a young chick anymore, but there's no grass growin' under my feet!"
When she's not popping movies in the VCR, serenading her canary Petie with the piano at home or visiting her two sons, daughter and grandkids, Helen is actively involved in volunteer work around the city, helping others - especially to help themselves. "I just can't take someone being pitiful," she scours, "You've got to look on the bright side and keep on going!"
Without knowing about the struggle of Helen's adult life, one might think of her attitude as "Pollyanna" or "unrealistic," considering these fast, hard times. Raising three children on her own, Helen worked at The Louisville Chair Co. routing trucks by day and moonlighting in music by, well, the moon.
Raised in a family of ten siblings in the original Cabbage Patch at 11th and Hill, one day Helen accompanied her mother to downtown Louisville on a streetcar when she was thirteen. "This is when the F. M. Tiller Piano Company was over on 3rd and Chestnut," she recalls . "I begged my mother to let me go inside the display room and look at the pianos and she said, 'No! We cannot go in there, your father would throw a fit if we were to consider a piano, we simply can't afford it!'"
Not only was Helen's mom surprised at the anxious need of her daughter to consider the piano, she wasn't even aware that Helen could play. The child had been practicing at school, cleaning chalkboards and erasers to gain time on the piano there.
"I loved to play the "Washington and Lee Swing," she said, "Of course, I'd have to jazz it up a little. The teacher gave me lessons because we couldn't afford them."
Then it was discovered that Helen wasn't going by the book, only by ear. "That teacher told my mother, 'I'm not going to take your money because I can't teach Helen anything.' "
"Oh, mom, I'll do anything to afford a piano," Helen wailed, "I'll mow lawns, paint, everything."
At Tiller's, Helen sat down at an old Story & Clark upright and "The World Is Waiting For the Sunrise" spilled from her fingertips. By the end of the song, a weeping mother and the manager struck a deal with young Helen. Forty-eight dollars for the piano.
And, sure enough, while Helen was to push a lawnmower for weeks to come, her father was not to be told of this purchase. After working ragged hours at American Standard, Dad relaxed or slept while the teeming household of children were shushed "Boy, if he'd known there was piano in the front room...," Helen's eyes widened, "Oh, Lord!"
Then one afternoon, her days as a closet musician were over.
"Our father was trying to sleep and he turned to my mom and says, 'Someone turn that radio down, it's far too loud!' Then my sister, - and ohhh, man, I could get her for this - she says, 'Daddy that's not a radio...that's HELEN playing the PIANO!"
History has it that when dad threw open the door to the room and saw his daughter at the piano, joy set in only moments after the confusion. The piano was paid for in full at fifty-cents a week and every lawn in the neighborhood was trimmed to a tee.
Having styled herself as a vocalist, Helen Burns worked her way up to Chicago and became gainfully employed by Les Brown & His Band of Renown. Her voice matured into quite a tempting instrument for big band and rhythm and blues music. When she departed Chicago and returned to Kentucky, Helen was replaced by a woman she now passionately admires - another young hopeful named Doris Day.
Louisville can be thankful to Doris Day because eventually Helen nabbed a 21-year gig at Cunningham's. She memorized all the standards as she was making notes of each customer and their signature requests.
"I know most everyone that walks into where I'm playing," she beams, " I know what their favorite song is. Married couples, schoolteachers, actors, home builders lawyers, students. They come from many, many walks of life and I welcome them all."
When I've spoken to Helen over the phone, her canary Petie has been going bonkers with song in the background. "He thinks I'm talking to him, sweetie," she tells me, "He just loves to sing when I play piano." It's quite possible that Helen has a lot more energy than I do. Even after she describes her knee replacement surgery, I feel that she could beat me to the beer tap any night.
She's got her share of colleagues as well "Do you know Winston Hardy? He's a friend of mine. There's so many talented people I've come across, Jim Rosen, my friend Freddie George, who plays at Fifth Quarter and Pete Peterson - he's got talent running out of his ears and eyes."
As the crowd gathers, Helen begins on a sweet ramble through one of her favorites. "This is requested every time, it's silly ditty called "I'm Not Giving It Away." It goes, "I'm sittin' on it, I'm not givin' it awa-a-a-a-y-y." She winks and leans into my ear, "It's really about a rocking chair, honey, but you don't really know that."
The room fills with people - A father and daughter enjoying a beer and a brandy are first to arrive. They swap songs a cappella and tease Helen while Helen rallies back with gusto. It is clear they adore her. Two gentleman in blazers have just come from a funeral and would like to sing it out of their minds. Some members of the Shakespeare In the Park troupe file in with a wave to Helen. A woman involved in 18th Century art research rests her books on the piano and joins in the blues chorus. Applause. A young woman in denim cutoffs guides her margarita toward an available stool by the piano. Two other young men follow her in. They light cigarettes and exhale "Georgia On My Mind" with the crowd as if they'd all been in the service together.
I asked her to play the first song she played for her mother and the salesman at Tiller's that day in 1945. She plunked out a very simple, elegant version of "The World Is Waiting For the Sunrise," announcing that is how she played it as a little girl. Then cocking her head to the side, she proceeded to grind it out the new way - fifty years later and with cojones.
Early in the set, Helen's foot slaps out the time on the floor while the left works the pedal. After an entourage of fans from her Cunningham's days take up a long table, the stomping is absorbed in the boisterous sing-along.
A sentimental favorite is only a few bars into the intro and all in the room recognize it with a whoop. The entire room is swept up in "Somewhere Over the Rainbow." Helen blows a kiss afterward. There is a strong understanding and support of the gay community in this woman, for both maternal and gutsy intuition.
"Some of the guys call me Mama Hell-see." she laughs, "I just love them all." Up for a ballsy rendition of "Summertime," a member of the long table crowd rises for a solo and is followed by Helen's sultry interpretation. It is one of the first humid days in Louisville and there's just enough heat in the room to make the song work.
I've been told to ask Helen about "the post office story." I've been told about her agility at past Garvin Gate Blue Festivals to dance in the street till near dawn. I believe that cartwheels were mentioned as well. Helen, a huge supporter of the community, is sorrowful about it's closing.
"I love the blues!" she says several times, reaching out to pat my knee for emphasis. I feel like the most coddled journalist that ever found a new grandmother. Or sister.
It was a chore to get Helen to talk about herself. Over the course of two telephone conversations and two hours at the Rud by the piano - I feel that I only scratched the surface.
"I don't like to toot my own horn," she says of my questions. "My children have told me, 'Why don't you write a book, for us about your life, Mom?' and I just say, "Well, maybe when I get time."
Play another song, Helen.