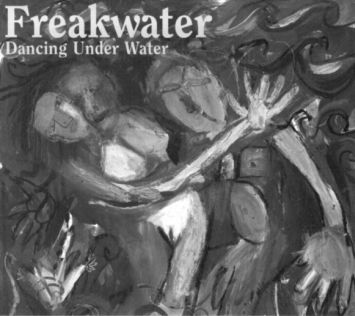 Dancing Under Water(Thrill Jockey)
Freakwater
By Bob Bahr
Bluegrass, as an idiom, puts a high value on precision. Tight vocal harmonies, fast and fluid instrumental passages, well-rehearsed endings _ these are hallmarks of the bluegrass sound. Freakwater never has been and never will be bluegrass, if only for the group's affection and good use of lo-fi recording techniques and the accompanying lo-fi mindset. This makes Dancing Under Water a bit of an enigma, considering its inclusion of the Stanley Brothers warhorse "Rank Strangers," the BillMonroe tune "Little Girl and the Dreadful Snake" and Merle Travis' "Dark As a Dungeon." Louisville native Cathy Irwin sings, "Desperately seeking/More and more confusion" in the album's first song, and perhaps they found a little bit of what they were looking for in this 1991 recording, the group's second album, re-released recently after long being out of print.
Wait _ that confusion is a burden only for those who feel compelled to puzzle out the origins or goals of Irwin, Janet Bean, and their friends. One can easily listen to Dancing Under Water simply for the experience: gritty, gutsy songs as tough as the Kentucky mountains, sung (primarily) with Irwin's lonesome, unflinching twang of a voice. Perhaps this early disc shows Freakwater's roots a bit more baldly than any of their other releases. The pedal steel is prominent, especially on "Fill My Thermos," and a general sense that a musical identity is not yet firmly established pervades all the cuts. Irwin's songwriting, which blossoms quite fully on subsequent albums, has but one undeniably strong foothold on Dancing Under Water: the galloping dark war tune "Blood and Fire." (Incidentally, Wink O'Bannon contributes a fine haunting song that mentions an "LG&E man" titled "Scratches on the Door.")
It's a kick for a bluegrass fan to hear classics, especially "Rank Strangers," played in honest, rough-hewn form by Freakwater. Few bluegrass festival-goers have ever heard the song performed this raw, though the bare loneliness of the tune is certainly well served by such a primitive execution. Bean's sweeter vocals are relegated to harmony lines on the majority of songs, making the "mountain" feel more palpable, honoring Irwin's hardcore, old-country style vocals.
Ironically, an album this traditional and steeped in old-time country is actually hip in today's underground music world, coming as it does in the wake of Will Oldham's success. Although this record is not as compelling as other Freakwater releases because over half of the songs are covers, Dancing Under Water is nevertheless a strong release from a band with Louisville roots.