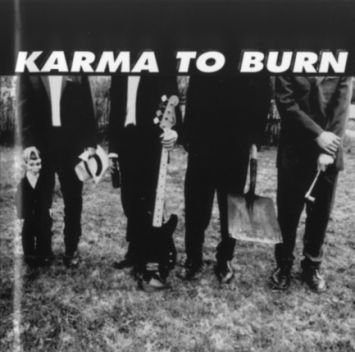 retooled and heavy
Karma To Burn (Road Runner) Karma To Burn
By Brent Starkey
Over two years ago, Karma To Burn was a trio who played kind of heavy, instrumental, indie-rock. Well, they've added a vocalist and a (nearly) metal sound, plus a touch of southern rock flavor, with a hard guitar/bass/drum assault.
This is a definite improvement. Very good tuneage like "Appalachian Woman," "Six-Gun Sucker Punch," "(Waltz of the) Playboy Pall Bearers," "Twin Sisters and Half a Bottle of Bourbon," and "Bobbi, Bobbi, Bobbi - I'm Not God" are present. However, the highlight for me is an excellent version of Joy Division's "Twenty-Four Hours."
The only big losers on this CD were "Eight" and "Thirteen." Both are long-ish hard rock instrumentals that hark back to what I remember K.T.B. to be two years ago. This is definitely a good album for those into the HEAVY thing.