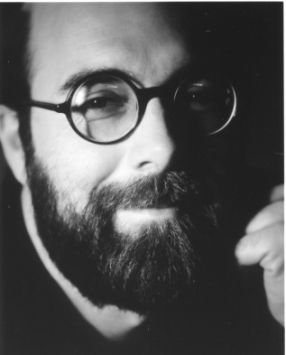 Revelations interpreted
Unveiled Hope (Myrrh Records)
Michael Card
By Victoria Moon
Michael Card has always been a bit of an anomaly in Christian music, preferring to turn out literate musical projects characterized by complex concept albums based on Biblical subjects, even a whole Biblical book. Often, these projects come with supplemental books, written by Card, that further explore the poetic and theological themes of his music. As pretentious as these projects may sound, Card can get away with it every time because he is not only one of the most humble, down-to-earth musicians I have ever had the pleasure of hearing but he has great talent as a musician and songwriter. Card can turn even the deepest theological puzzles into a hit single _ a skill unequaled by anyone in CCM today. Unveiled Hope, Card's newest conceptual project, is perhaps some of his finest work to date because it capitalizes on Card's willingness to share the spotlight with other musicians and on his strength as an imaginative songwriter.
Unveiled Hope is Card's most ambitious work yet _ a musical, theological and poetic walk through the most obscure book of the Bible, the Book of Revelations. Following his premise that Revelations is a book of what is shown and not what is hidden, he creates a story that is at times mystical, at times worshipful, at times majestic and occasionally even fun. Unveiled Hope is a thematic score of songs complete with prelude and postlude. The prelude is a beautiful Celtic theme with traditional acoustic instruments, a sign that this will not be the typical synthesized vanilla pop of CCM. Card also makes liberal use of the London Symphony Orchestra throughout, which gives the whole recording a lush, "big" feel. To tell the story he wishes to tell, Card obviously saw the need to use musical styles that departed from his usual singer/songwriter folk style, and when he does depart from it, he is more than willing to share center stage with singers more attuned to that style.
On the operatic "Holy, Holy, Holy," he shares lead vocals with his backing choir. On the wonderful "You Are Worthy," he gives full reign to an African-American choir that turns the simple words from Revelation into a triumphant, fun and gorgeous moment of worship. Of course, the album is liberally sprinkled with songs in Card's engaging folk-pop style, such as "The Unveiling," "The Dragon" and "Song of the Lamb".
After the almost classical "Hallelujah," Card closes Unveiled Hope with "New Jerusalem," an innocent, introspective tune that builds to a full-chorus anthem of worship followed by the postlude _ a reprise of "Hallelujah" and a return to the album's pervasive Celtic theme.
There are rumors that this could be one of Card's last projects, since he plans on retiring soon from the music industry, and if these rumors are true, CCM will lose one of its most literate and musically diverse artists. Rich, complex, moving from musical theme to theme and crowned with intelligent, poetic reworkings of biblical text, Unveiled Hope is nothing short of a true work of art.