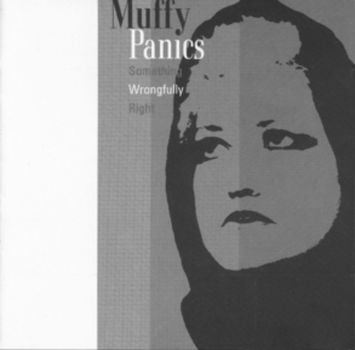 Muffy stakes her claim
Something Wrongfully Right (NoRecordLabel)
Muffy Panics
By Paul Moffett
Begin at Janis Joplin, dash through Heart and Queen, swerve past late-'80s punk and arrive on the soulful side of Melissa Etheridge, Jill Sobule, and Jewel.
Is that labeling enough for you? It's entirely inadequate as a description of the band Muffy Panics and singer/songwriter Tamela 'Muffy' Junes. On this first CD, Junes establishes her bona fides as a writer and a singer. With a big set of pipes and interesting, excellent songs, plus a good rock band to back it all up, Muffy delivers with sustained intensity on Something Wrongfully Right.
The twisted sense of the title is reinforced by the opening tune "I Wish It Was," a lamentation about not accepting the loss of a love. The inside/outside feeling continues on "Stay Up All Night," when the singer can only look in a window and wonder at how "the loyal moon lights up the stars/And they collect in your backyard."
Early in "Cumulus Halo," Muffy begins a verbal thrashing of a former lover who appears suddenly in her front yard with this: "There's not a gullible line on my face." At times, her vocal delivery is exactly that of a Hell-and-damnation-breathing Southern gospel tent revivalist, with a squeezed-last-breath warble on the last word in the line. Different musical sections of the song reflect her attempt at controlling her anger, while the guitar follows closely, providing an emphatic echo. Anybody who has experienced a similar encounter will relate to the tune.
"Picture" follows "Cumulus Halo" like a rebound love affair: a slow ballad that opens with "Is this my face?/It's the only place I'm forming lines/I can see you anytime." The amusing "Hypnotherapy" opens with a guitar quote from "Wipe Out" and details the failure of hypnosis to cure Muffy of her desire to smoke.
The radio hit tune is "Enter My World," a sultry little invitation to quit fooling around and get down to it - now. It could easily be cut as a piano torch tune or an R&B ballad, so it could have real legs. "Talkin' in Maybes" has been getting airplay on WFPK, due to its inclusion on the Harvest Showcase CD, and it holds its own here.
Not all of Muffy's tunes are about losing and breaking even in love. A song about addiction, "Bleed Me," has a pop-worthy, hooky chorus: "Don't just save me/Don't just save me/Bleed me/Lead me to believe." The spooky "Daddy Died" opens with what sounds like an Andean flute. Follow the lyrics and decide what exactly happened: suicide or something else?
Something Wrongfully Right was produced by Todd Smith, Muffy and guitarist Steve Adams at Allen-Martin Studios in Jeffersontown. It continues the recent trend of raising the bar for 'local' recordings. By rights, this one ought to be competing with the nationals.