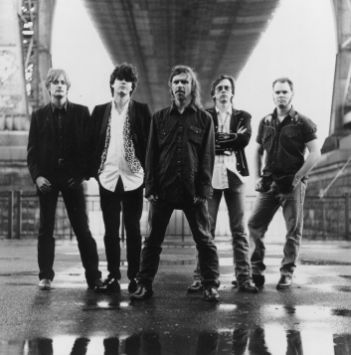 The Backsliders
Upcoming Live Music In June
Brass Band
ù The Great American Brass Band Festival is set for June 13-15 in Danville. The event features twenty different performing groups, playing material ranging from Civil War-era tunes to jazz to ragtime. Brass bands were at the height of their popularity at the turn of the century and earlier. Band members often dress in period costumes, so you get a visual historical lesson besides the music. Best of all, it's FREE!
For more info, contact: 606-236-2361.
Blues
ù The blues are mixed in with a bunch of events this month, but make a note to go to MERF's Blues & BBQ at the Phoenix Hill Tavern on Sunday, June 22. You get to eat barbecue all afternoon while you listen to the blues from the area's best blues acts, including the Revelators, Rusty Ends Blues Band, Robbie Bartlett & Co., Dennis Ervin Band, Sweet Soul Vibe, The Accused, Tanita Gaines, Kelly Richey, The Mudcat Blues Band, Steve Ferguson and River City Blues. Tickets are a mere $5 and go to help musicians down on their luck.
Country
ù Don't Get Your Shorts in a Knot Dept. Fruit of the Loom is sponsoring the Country Comfort Tour and Experience, starring Hank Williams Jr. and Travis Tritt, with special guests the Charlie Daniels Band and Jo Dee Messina. The tour also has a "mobile festival of country lifestyle attractions," according to the publicity, which apparently means they'll have some trailers with interactive stuff and old-time country fair attractions. You can line up for a show in Rupp Arena in Lexington on June 20.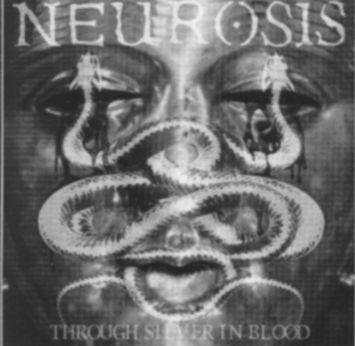 Neurosis
Tix and info: 502-361-3100 (Ticketmaster)
ù If you missed the Oak Ridge Boys at FloodFest '97, you can catch them at Renfro Valley on June 21.
Tix and info: 800-765-7464
ù Take a short drive South to Elizabethtown to Freeman Lake Park for a concert featuring Trisha Yearwood and Sammy Kershaw, plus Pat Costin and Black Water, on June 14.
ù The Paul W. Ogle Center at Indiana University Southeast in New Albany will present Ricky Van Shelton in concert on June 21. Van Shelton has the distinct of being one of three big-time country acts whose career-kick-off songs were written by Alan Rhody, in his case with "Wild-Eyed Dream" in 1987. He has in new CD, Making Plans, to plug and several greatest hits to sing.
Tix and Info: 812 941-2526
ù On June 5, Coyote's is bringing in Kenny Chesney, whose tune "When I Close My Eyes," from his Me and You" CD, is making hot on the country radio charts.
Tix and info: 589-3866
Downtown Events
ù The free Riverpoints Festivals continue downtown on the Wharf every Friday in June, starting at 5 p.m.
On May 30, watch Southern Culture on the Skids walk like a camel, Supa Fuzz promoting their new CD, Pretty Blank Page, The Blue Moon Boys and Louisville boy wonder warbler, Shannon Lawson.
June 6 will feature a couple of boomer nostalgia bands, Beatlemania and The Devonshires. B-Sharp will open the show.
June 13 finds blues guitar whiz Duke Robillard, harmonica master Charlie Musselwhite, Whiskeytown and Senegalese jazz guitarist Pascal Bocar. Guitarist Robillard and harpman Musselwhite are acknowledged blues masters and have their own followings, both nationally as well as locally.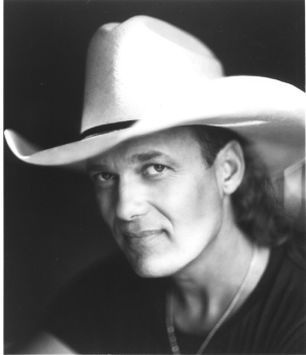 Ricky Van Shelton
The undiscovered gem in this lineup is Bocar, who made a stop in Louisville a while back at Willie's Velvet Rose and played a fine show of Senegalese jazz in spite of the lack of an audience. (There were perhaps six of us there, not counting the bar help.) See him this time, as he has brought "several members of the band and some dancers."
There'll be dust in the wind on June 20 when Kansas reprises their hits. Local PR meister Chaz will be on the stage, as well as roots rockabilly purveyors Cigar Store Indians from Atlanta, plus new Louisville resident and ol' bluesman James Peterson, whose new CD, Preachin' the Blues, will prolly be available at the show. March LMN cover story band Cooler opens the show.
The last show in June, the 27th, will be Louisiana hot zydeco to match the temperature no doubt, with Zachary Richard headlining and Zydeco Bon opening. Carolina roots band The Backsliders are also scheduled to appear. Check out the review of their album in the May issue of LMN. Also in the lineup is Louisville's Faith Pillow, whose pop songwriting and singing have made her a living in Europe.
Jazz
ù The Bellarmine Jazz Guitar Clinic instructors will give a concert on Monday, June 9. Featured will be Cincinnati's Cal Collins, Peter Leitch, Mark Elf and clinic director Jeff Sherman. This is a show to see if you like jazz guitar in any fashion. Sherman has developed a solid list of instructors, all of whom have great chops.
Tix and Info: 452-8182
ù Louisville Jazz Society's First Monday Series returns to the Silo Microbrewery on June 5, with Dick Hiller and Encore, a seven-piece swing band. Take note that recent reports from the Cultural Center of the Earth, a.k.a. New York, New York, that swing clubs, complete with martinis and spats to go with the retro-swing acts they book, are the most current hot hep hip doodah wangdoodle "in" thing making a noise with the New Yawk cognoscenti. Find out why when Encore plays the music like the originals.
Tix and info: 589-2739
ù If you move quickly, you can hear the Java Men at Twice Told Coffeehouse on Sunday, June 8. The players in this band all work a lot, so appearances in Louisville have gotten more infrequent.
Tix and contact: 456-0507
Lonesome Pine Summer Series 1997
The Lonesome Pine 1997 Summer Series, which begins on June 13, will have only four shows, but the quality of the programming will make up for the low numbers.
On June 13, a Friday, Steeleye Span kicks things off with their distinctive folk-rock-Celtic sound, which, with Fairport Convention, could fairly be said to have started the folk-rock scene in Britain in the Seventies. Check the Celtic Corner on Page 30 for Decimus Rock's ravings on this subject.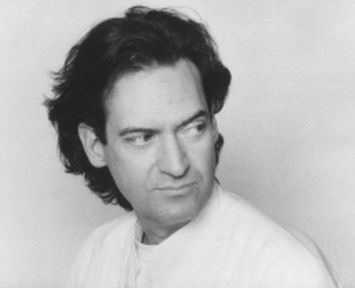 Steve Conn
New Orleans trumpet prodigy Nicholas Payton will roll into KCA on July 5 with his and. Payton is making all manner of noise in the trumpet world.
The last time Lyle Lovett was in town, he and his band played two shows over two nights and rehearsed furiously the rest of the time. He is on a new tour and will be in Whitney Hall on July 18 for an 8 p.m. show. Better get your ticket early for this one, as Lovett's fans are loyal and steadily increasing in numbers.
The Summer Series will wrap up with the Dirty Dozen, who have dropped "Brass Band" from their name, on Saturday, July 19 in the Bomhard. Even without the "Brass Band" in their name, they still horn it up, mixing Naw Leans jazz with funk, R&B and pop.
Tix and info: 584-7777
R&B/Urban
ù The O'Jays will croon be at the Commonwealth Convention Center on Saturday, May 31, if you get this issue in time.
ù The Palace continues with their middle-of-the-road booking, bringing Eddie Griffin in on June 7.
Folk And Acoustic
ù Mary Chapin Carpenter really belongs in the less-than-exact category of folk/singer/songwriters rather than in the country slot where she's made most of her money. Or is it the other way around? Either way, she's coming to the Palace on June 12, bringing along singer/songwriter Jim Lauderdale and Duke Levine. Levine records with Carpenter as a sideman in addition to having several recordings of his own, including his newest, Lava.
Tix and info: 361-3600
ù Browsing the Twice Told Coffeehouse calendar reveals a number of interesting shows, in fact, so many that it's unfair to the performers to pick just a few.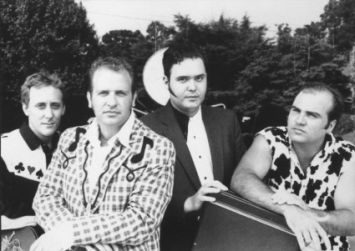 Owner Rick Towles continues his mining of the WFPK playlist for his little room. Appearing on the June 3 will be Warner Bros. new artist Jim White, (discovered by. David Byrne); the Easter egghead man, Danny Flanigan, makes an increasingly rare appearance on June 6; Peter Case, formerly with the Plimsoles, drives up from Nashville on Monday, June 9. Flying Fish artist Peter Keane works a twin bill with Nashville crooner Joni Bishop on Friday the 13th (Sorry). Darryl Purpose is in on the 19th, with Steve Conn there on the 24th. Wishing Chair rocks acoustically on the 26 and Tanya Savory is back on June 27. Check the calendar for more.
Towles says he has been talking to Amy Kurland at the Bluebird Cafe in Nashville, so Bluebird devotees will quickly see the Kurland influence. Works for me.
Tix and contact: 456-0507
ù Misha Feigin returns to the Rudyard Kipling on June 26 for a 9 p.m. show. Feigin has lots to report about his trip to the British Isles and his adventures there, particularly at the Fringe in Scotland. He'll have some new tunes, no doubt.
Tix and contact: 636-1311.
ù John Hiatt fans have two chances to drive to Lexington to hear the singer/songwriter. The Troubadour Concert Series is staging a pair of shows, June 18 & 19. The Troubadour Series is a not-for-profit promotion company staging shows at the Kentucky Theatre in Lexington and the Paramount Arts Center in Ashland. Tickets to the Hiatt shows will set you back $21, which falls into a for-profit price range.
Tix and contact: 606-231-6997.
Opera
ù Here's an event for the whole family - The Kentucky Opera will stage a FREE Concert on the Lawn at E. P. Tom Sawyer Park on Friday, June 6, at 6:30 p.m. Four singers and a pianist will sing Broadway tunes and opera selections.
More Info: Kentucky Opera - 584-4500
Rock
ù Neurosis returns to the Toy Tiger on June 11, with Machinehead, Downset and Vision Of Disorder, all traveling as part of the OzzFest Tour. The 'apocalyptic vision' they are offering does not preclude them getting and spending their money from the tour and they won't eat any live creatures onstage.
Tix and contact: 456-1137
ù Another part of the OzzFest will arrive at the Brewery on June 18, when Type O Negative and Fear Factory arrive at the Thunderdome to hand out a little youthful misery and angst in exchange for the miserables' money.
Tix and info: 583-3420
ù How about a little lunacy at the Phoenix, when Mojo Nixon returns to the Hill on June 11? Nixon usually manages to stir things up in the saloon when he appears and this time is likely to be no different.
Tix and info: 589-4957
ù Four-time Grammy winner and Eighties rock superstar Pat Benatar is coming to the Brewery on June 3. Benatar is on her first tour in two years and is scheduled to get into the studio for her first new album since 1993' Gravity's Rainbow after finishing up the tour.
Tix and info: 583-3420
ù I'm "Willin'" to go see little Little Feat at Coyote's on June 30, but my spouse wants to ride the "Horse with No Name" to see America at the Palace on the same day? Yikes! What a cherce, what a cherce.
Tix and info: Coyote's - 589-3866; The Palace Theater - 361-3600
ù Metal heads can get a big dose on June 6, when Creed, Rathbone, Stoneflesh, and Shapeless Matrix play an 18 and over show at Swiss Park.
Tix and info: Showcase Music at 634-8010 or 635-2247