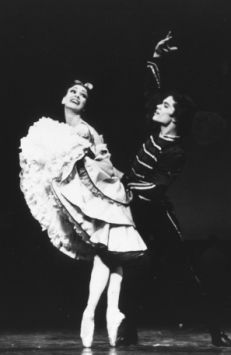 Helen Starr
A VISIT WITH HELEN STARR
"I took to it like a duck takes to water." That is how Louisville's premier balletina, Helen Starr, described her first experiences with ballet.
She continued, "I had my first lessons with dance in my native England, when I was 3 1/2 years old. I have always been fascinated by music. I felt a need to be somebody else and that has made for a lifetime of enjoyment with ballet.
"The world of fantasy has always charmed me -- and if you have that bent, ballet can be for you. Still, I tell all young dancers, be sure you want it before you commit yourself to it. Ballet is a highly demanding profession; it takes a tremendous outlay of time and energy. You won't make a lot of money and fame doesn't always follow hard work. But for me, it seemed like that there was nothing else I would rather do!"
Starr first appeared onstage during a performance of "Snow White" at a garden party in her native Buckinghamshire. She was four years old. By the time she was ten, she had accepted to the Royal Academy of Dance. Between that memorable day and her triumphant appearance in Verdi's "Aida" at no less than London's Convent Garden, there were to be many, many hours of practice and patient waiting for the opportunity. Besides all this training, she had to go to school for the rest of her education. "That is very important for to be a good dancer of ballet, you also have to be a well-rounded person."
The competition was very keen and after five intensive years of training, only five of us who had begun it were left. Those duets – we call them plas deux in ballet – are tougher for a man than a woman. He has to know how to control her body as well as his. Movement in ballet is intricate and often continuous and you work at it until it comes natural.
To express comedy is much harder than simply acting out a story."
"My favorite role? I have a special liking for "Juliet" in "Swan Lake," but I relish the challenges of being in "Les Sylphides" and "Giselle." But there are others too! I especially enjoy opportunties to be open to allegory. They give a dancer a chance to interpret the role – for me, there are few things more challenging!"
Speaking of challenges, she was asked what it was like to be the partner of Mikhail Baryshnikov during the Company's tour performances in Houston and Dallas.
It was simply wonderful. I was very nervous at our first rehearsal. He lost no time in putting me at ease and we had great fun. It was especially exciting when he and my husband (Alun Jones, Louisville's Artistic Director) were planning his second performance with our company. Alun asked him whom should hire as his partner. Mikhail smiled and said, "why do you have to hire someone from the outside? I want to dance with Helen!"
Starr cautions anyone thinking of going to the ballet.
Don't try to understand the performance or think it out; just relax and enjoy it. You will be pleased to see how doing that will increase your enjoyment!"
Speaking of enjoyment, Starr added, "I can't tell you how much Alun and I have enjoyed living in Louisville. We have made more friends here than anywhere else!"