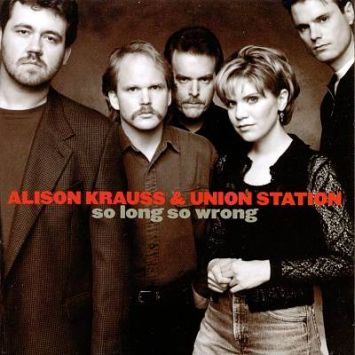 ?>
So Long So Wrong (Rounder) Alison Krauss #& Union Station By Bob Bahr
For a couple of years, Alison Krauss has led the band Union Station onto a musical path that is more restrained and more intimate than typical bluegrass music. She has hushed her voice to an almost lullaby-like, whispery croon. She has brought the band's dynamics down to fit the new vocal turn. It has yielded humongous success with the hit "When You Say Nothing at All," from the Keith Whitley tribute album.
So Long So Wrong is the first record to boldly illuminate this direction. "I Can Let Go Now," "Looking in the Eyes of Love" and "It Doesn't Matter" are prominent signposts, their hushed tone almost claustrophobic with tightly reined passion. Restraint is a hallmark of musical maturity, but it can also promote sleepiness. On the unabashed pop side of things, the entry is "Find My Way Back to My Heart," though the clumsy lyrics seem to bit a dip from Krauss' usually high standards.
It's easily conceivable that these efforts could hit sales pay dirt. For that matter, the title track could capture the fancy of the country audience. But the prime goods are three other tunes _ the straightforward Krauss vehicle "Deeper Than Crying," the hot bluegrass instrumental "Little Liza Jane" (blazing with Krauss' top-notch fiddling) and the standout cut, "The Road Is a Lover." This Bob Lucas tune has great lyrics, benefits from wondrous vocal harmonies, and is carried by exquisite lead singing from . . . Dan Tyminski. The guitarist/vocalist steals the whole record from right underneath Alison, and proves it's no fluke with a great reading of the traditional "I'll Remember You, Love, in my Prayers" four songs later. His is a very traditional bluegrass voice, tough as hickory and unique as the grain of said wood.
Elsewhere, banjo player Ron Block and mandolinist Adam Steffey get turns at the lead microphone, which ends nicely for Block but isn't so great for Steffey. Krauss has made an effort to show that Union Station is a band, not just a backing group. But equal shot at lead vocals isn't mandatory to prove this point. That's easy to tell just by listening to So Long So Wrong.
What's not so easy is guessing which radio station to tune up to hear these songs playing. "It Doesn't Matter" could play on a pop station in a rural area, a country station, an Americana station, or a AAA station. There's some honest-to-goodness bluegrass on here _ almost half of the album fits the bill _ but there's also a fair share of what can only be described as new acoustic music. The question is whether it's good.
Krauss has taste and talent, and that makes for a good CD. But the music only gets great when the flame is up higher than the "simmer" setting. Krauss' soft approach might yield hits, but it doesn't shoot sparks.