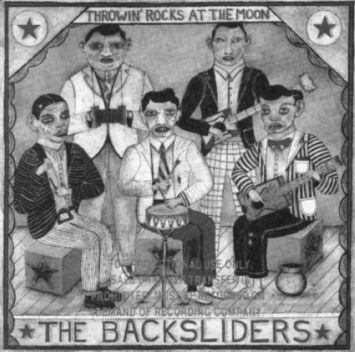 Throwin' Rocks at the Moon (Mammoth)
The Backsliders
By Paul Moffett
If there's any money to be paid writing rip-it-up, three-chord rock tunes replete with must-be-learned guitar licks, then these Backsliders should have no trouble making the payment on the bus. Produced by Pete Anderson, Dwight Yoakam's guitarist/producer, Throwin' Rocks at the Moon is a rougher take on roots rock than Al Anderson's Pay Before You Pump, and mines the same working class concerns as did the Missouri-based Bottle Rockets.
Opening with a twangy guitar on "My Baby's Gone," the album seldom ventures far from the familiar, although occasionally the lyrics take a turn that brings the listener up short. In the title tune, the singer graphically describes the mental picture that torments him. The militia-friendly "Hey Sheriff" is a spooky bit of Southern-style terroristic threatening of the sort that was sanitized in earlier country tunes like "Wolverton Mountain."
Lonesome Teardrops" is a distillate of Webb Pierce, T. Texas Tyler and Yoakam at their crying best while "Crazy Wind" is a minor key bit of alcohol-soaked poetry. "Paper Doll World" seems almost to be a rewrite of Lennon/McCartney's "She's Leaving Home," if for no other reason than the Beatle-esque opening. "If You Talk to My Baby Tonight" gets the prize for best sing-along chorus.
Put this one in the changer when you want the party to get moving, if you think infectious, danceable roots rock will enliven your social event. Otherwise, try not to let the chair squeak while you're, -ahem- rocking.