Bluegrass Beat
There were many good shows at Shepherdsville this past bluegrass season. Ralph Stanley started this year off on January 3 with a standing-room-only crowd. Gary Brewer got washed out by the big flood. The Lewis Family/Jim & Jesse show was another winner. Although it hasn't happened as I am writing this, Doyle Lawson will have finished off the season and he always has a good crowd. To take up the slack between now and October, when the Friday night shows resume, head for a bluegrass festival.
You know, if you think about it, a good bluegrass festival is one of the few really family-oriented entertainment options around. I suppose someone will cite an exception, but at least where I go, bluegrass festivals have a real atmosphere that is good, like a big family getting together again. A large gathering where all who go are there for the same reason and not trouble. Friends who have met at past festivals look forward to seeing each other at the next festival. Everyone has their own favorite artists and I, too, look forward to seeing folks that I have become acquainted with over the years at these events. In the months ahead, I will be telling you about some of these shows, starting with Red Mule.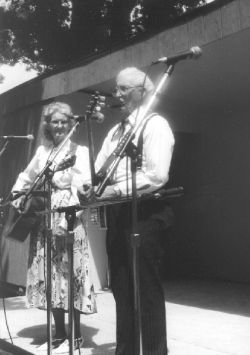 Julia and Wade Mainer at Charlotte, MI June 1993
What was Red Mile is now Red Mule. Right, Red Mule Festival has moved down the road a piece, as we used to say, to a new home at Berea, Ky. Directions: Take I75 to Exit 76 to Walnut Meadow Campground. That would be west on Kentucky 21 4/10 miles on the left. This year, the date is May 15-17. Scheduled to play this year: the Osborne Brothers (Sat.), J. D. Crowe & New South (Sat.), Ralph Stanley (Fri.), Sam Wilson (Sat.), Gary Brewer (Sat.) and many others. Go!
In June, things pick up. June 12-15 at the Horsepark, Lexington, KY. Also June 26-29 at Charlotte, MI and Summersville, W. Va. More on these next column.
The Spring fund drive at WFPK drew good response. A successful drive, I think. For my Sunday Bluegrass show, it was mostly live music, very good local live bands. A most sincere thanks goes out to the band who came in to lend their support. A sincere apology to the members of these groups, some of whose names I forget. Blue Hollow with Michael Cleveland and Brian Allen started our live portion. Next, a great bunch of friends, some former Bluegrass Boys (as in Bill Monroe's), such as Dan Jones, Alan Phelps, Johnny Collins, Wendell Cornett, David Hunt and others. Excellent. Following were the Schmitt Family. Vince, Connie and Bek Goodman, Wendy and Rick Baumann and son, six years old and learning. It was so good to have all of these folks in, some I hadn't seen for too long. To finish the night, good, dependable Don Dean came in to answer a last-minute call, I hadn't caught up with Don until about 10 p.m. but he said "I'll be there." A very special thanks to all, each and every one individually for coming and playing. For making a big contribution to the success of the show that fund drive night. Come back. You are appreciated.
I get many calls during the radio show. One caller from Utica had some friends listening and wanted a song for all of them. He then began telling me about his collection of records, tapes, etc. It sounded like a lot of good, old country. At any rate, when the flood came, he apparently had his priorities straight. He said "I lost a lot of furniture but I saved the records and tapes." Good thinking. Furniture is probably easier to replace than the records would be.
The Museum of Appalachia, which you will hear more about from me, lost the stage manager for the Fall Homecoming rather unexpectedly last year. I have been contacted to step into that position this year, as one of two for the show. I am looking forward to that very much. I hope you attend. More on this big event in months to come.
A little belated birthday wish to Wade Mainer. My dear friend, whom I met at the Charlotte Bluegrass Festival over ten years ago, had a birthday in April. Wade, whose performances are very strong and energetically, celebrated his 90th this year. Originally from North Carolina, Wade began his recording career in the 1930s. Together with his brother, J. E. Mainer, they became widely popular and legendary as J. E. Mainer and Mainer's Mountaineers. Wade is believed to have been the first to record "Maple on the Hill." We hope you have many more, dear friend.
Pickup a festival flyer wherever you find one and attend you favorite bluegrass festival this season. Remember, you are not limited to just one. Stay tuned for further details on WFPK 91.9 FM, Sundays, 8-11 p.m.