I've Got A Mind To Ramble
Blues Chat Wins A W. C. Handy Award
Since we are approaching another season of blues festivals, I called Beverly Howell to see what was happening for this year's Waterside Festival on July 5-6. As it turns out she and John Grantz are not booking the acts this year and there will be no blues at Waterside.
Beverly did mention that she received a W. C. Handy Award for "Keeping the Blues Alive" for the new category of "Blues On the Internet." The Blues Foundation gives out several awards each year to non-performers like societies, clubs and other supportive organizations to recognize their efforts on behalf of the blues. The owner of Manny's Car Wash in New York submitted Beverly's site, Blues Chat, which was previously on America Online. Beverly has achieved a national reputation by traveling to Blues Festivals like the Poconos Blues Festival and having the performers answer questions online, live from backstage.
Beverly has also been talking with Willie Dixon's daughter Shirley about doing a chat from the Chess Studios during this summer's Chicago Blues Festival.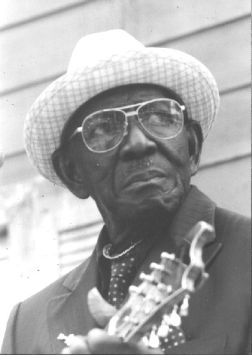 Yank Rachell at the 1883 Chicago Blues Festival. Photo by Keith Clements
Howell has moved Blues Chat to her own site and has her own domain on the Internet: http://www.blueschat.com. She is planning to host certain aspects of the blues each night of the week: Texas Blues, Chicago, Blues, etc. She is also scheduled to go back to the Poconos Blues Festival again.
Congratulations to Beverly Howell for winning a W. C. Handy Award.! She will attend a banquet at the Peabody Hotel in Memphis on May 2 to receive her award.
Cruisin' #3
The KBS 3rd Annual Blues Cruise packed a great dinner, three nightclubs and four bands into one long evening. Following a hearty meal of barbecued chicken, pork, potato salad and beans in the banquet room at Red Hot & Blue, we boarded our trusty school bus to head downtown to Stevie Ray's.
The Mo Betta Blues Band opened the evening, easing us into a soulful mood. Then a powerhouse band from New York, Built for Comfort, turned the intensity up several notches. This tight five-piece band is reminiscent of the Nighthawks and is led by their harp player Max, who also covers vocals. They mixed in much original material and will be booked back into Stevie Ray's in September. I talked to Mike Keithly, one of the new owners of Stevie Rays, and he said they would carry on the precedent of booking good blues, just as Mike, Fred and Mary had done.
We then walked a few blocks west on Main Street to hear MR2 Blue at Zena's Cafe. Mary Jean Zena was a gracious hostess to our cruisers. Joe Pinkerton and Mike Perry led their relatively new rhythm section for a set of what have become excellent MR2 Blue standards. The few remaining hearty souls then headed farther west to Sharmane's down at 20th and Muhammad Ali Blvd. Sharmane's, open only four months, was formerly the Green Turtle. Sharmane made us all welcome and even sang a few songs with B. B. Taylor's Blues Band. This was an ideal setting to mellow out listening to authentic urban blues. B. B. was backed by Marshall Anderson on bass and Don Harris on keyboards. The drummer, Page, made a rare appearance singing and blowing some down home harp during their second set. By the time we cruised back to our destination, it was 2:30 a.m. and I had a good feeling that the blues are alive and well in Louisville.
Cookin' With Harvey
Marshall Anderson, B. B. Taylor's bassist, told me the night of the cruise that I had to see Harvey Cook when he came to town the next weekend at Billy's Place. Marshall had played off and on with Cook for close to twenty years, so he knew what he was talking about.
Cook brought his group, the New Blue Tones, down from Indianapolis for a two-night stand April 18 and 19. He has been playing the blues for 38 years, beginning in his hometown of Greenwood, Mississippi when he was a teenager. He moved to Indianapolis in 1959, playing the downtown and west side clubs as a sideman and then as the front man for Harvey and the Blue Tones.
Cook retired from his day job with General Motors and has recently released a cassette, Heart Into the Blues, that was recorded at the Slippery Noodle. His performances mix blues with soul. There is clear influence on his guitar playing from B. B. King. He works a rich vibrato with his Strat and his phrasings show his years of maturity. Most of the band's songs were covers: Little Milton's "When the Weather Gets Cloudy" and Bobby Bland's "Don't Walk On My Love."
Charles Flemming joined the band to croon some soulful vocals, which excited the ladies in the crowd. Between sets, Cook told us the sad news of the passing of Yank Rachell, 87, on April 8. Rachell's funeral was delayed until April 19 so a larger number of people could attend. The Blues Society of Indiana is planning a benefit and memorial concert to honor Rachell. Louisvillians will recall that Rachell was the headliner at the 1992 Garvin Gate Blues Festival and performed at the Cherokee Blues Club. His passing marks the last of the great mandolin bluesmen and will make Harvey Cook the oldest performing bluesman in Indianapolis.