Cowboy Corner
FloodFest '97
Stars joined together Sun. night, April 6 for FloodFest '97, a 6-hour mega-concert held to benefit the Red Cross relief effort for victims of the recent floods throughout Kentucky, Indiana, and Ohio. Those artists who graciously donated their time and talents for this cause included Lorrie Morgan, the newly re-vamped Kentucky Headhunters with lead singer Doug Phelps, Lexington's Exile, made up of original members Les Taylor and J.P. Pennington, The Oak Ridge Boys, Lee Greenwood, Nicholasville's John Michael Montgomery, and Flatwoods' Billy Ray Cyrus. In the absence of Phil Everly due to illness, Don Everly of The Everly Brothers was joined by Phil's son.
The show raised a whopping $218,125 from a near sellout crowd of 13, 822.
Academy of Country Music Award Winners
Although Brooks & Dunn captured the Entertainer of the Year and Top Vocal Duet awards again this year, LeAnn Rims was the big winner as the 32nd Annual Academy of Country Music Awards were handed out April 23 in Los Angeles. LeAnn took home three trophies for Top New Female Vocalist and Single Record of the Year and Song of the Year for her smash debut, "Blue." Co-host George Strait tied Brooks & Dunn with two trophies: Top Male Vocalist and Album of the Year for Blue Clear Sky, while Pikeville, Kentucky's Patty Loveless held on to the title of Top Female Vocalist for a second consecutive year.
And the winners are: Entertainer of the Year: Brooks & Dunn;Top Female Vocalist: Patty Loveless; Top Male Vocalist: George Strait; Top Vocal Duet: Brooks & Dunn; and Top Vocal Group: Sawyer Brown.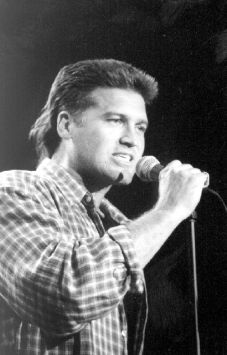 Billy Ray Cyrus at FloodFest '97. Photo by Michael W. Stout
Top New Male Vocalist: Trace Adkins; Top New Female Vocalist: LeAnn Rimes; and Top New Vocal Group: Ricochet.
Single Record of the Year: "Blue" - LeAnn Rimes, Produced by Wilbur C. Rimes; Song of the Year: "Blue" - LeAnn Rimes, Written by Bill Mack; Album of the Year: Blue Clear Sky - George Strait, Co-produced with Tony Brown; Video of the Year: "I Think About You" - Collin Raye, Produced by Susan Bowman, Directed by Steven Goldmann; and Pioneer Award: Roy Clark.
Bass Instrumentalist: Glenn Worf; Drums Instrumentalist: Eddie Bayers; Fiddle Instrumentalist: Stuart Duncan; Guitar Instrumentalist: Brent Mason; Keyboard Instrumentalist: Matt Rollings; Steel Guitar Instrumentalist: Paul Franklin; and Specialty Instrumentalist: Terry McMillan-harmonica, percussion, cow bells.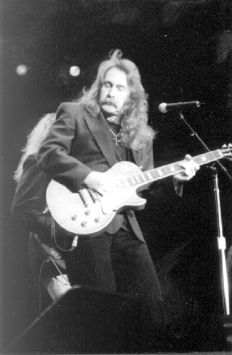 Greg Martin of the Kentucky Headliners picked a solo at FloodFest '97. Photo by Michael W. Stout
Radio Station of the Year: WSIX, Nashville, TN; Disc Jockey of the Year: Gerry House, WSIX; Country Night Club of the Year: Crazy Horse Steak House & Saloon, Santa Ana, CA; and Talent Buyer/Promoter of the Year: Bob Romeo, Don Romeo Agency, Omaha, NE.
Mae Boren Axton, 1914 - 1997
Mae Boren Axton, known as the "Queen Mother of Country Music," passed from this life on Wednesday, April 9 at the age of 82. The mother of country singer Hoyt Axton, Mae taught English and drama in Jackson, Florida before writing Elvis Presley's first million-selling song, "Heartbreak Hotel."
Vince Is Single Again
Men, hold on to your women because Vince Gill will soon be single again. Janis Gill, who along with her sister Kristine Arnold make up the country duo Sweethearts of the Rodeo, has filed for divorce in the Williamson County Chancery Court. The couple celebrated their 17th wedding anniversary just last month, on Vince's 40th birthday.
During a TNN interview which aired on Soulmates in February, Janis said, "My marriage is far from perfect...I think that's what makes life interesting though. I've had some very difficult times in my marriage, like anyone else...when people call my house and ask me to comment on such a thing, it really hurts and it hurts my family...I just want people to know that."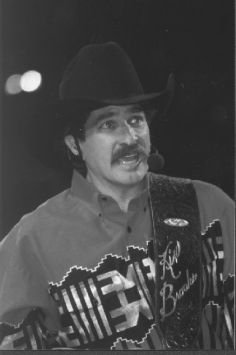 Mix Brooks in Lexington. Photo by Letha Marshall
Janis is seeking custody of their 14-year-old daughter Jenny.
Porter Wagoner: Company's Comin'
Grand Ole Opry legend Porter Wagoner and international superstar Dolly Parton recently made a rare public appearance together at the Grand Ole Opry House. Dolly joined an all-star cast of country music stars including Vince Gill, Billy Ray Cyrus, Steve Wariner, Joe Diffie, Mike Snider, Connie Smith, Wilma Lee Cooper, Jean Shepard, Skeeter Davis, Jeanne Pruett, Jan Howard and Jeannie Seely for a benefit concert celebrating Porter's 50th anniversary as an entertainer. Dolly and Porter performed the first song they sang together, "The Last Thing On My Mind," and Dolly sang "I Will Always Love You" to Porter, who inspired the mega-hit. Vince performed "The Green, Green Grass Of Home," Joe sang "The Carroll County Accident," Billy Ray performed "A Satisfied Mind," and Steve sang "Misery Loves Company."
"Porter Wagoner: Company's Comin'" was taped for an August 5 broadcast on The Nashville Network. Donations collected at the event will benefit the Nashville Area Chapter of the American Red Cross.
Dollywood Opens 12th Season
Speaking of Dolly, she was on hand April 18 and 19 to kick off the 12th season of her Smoky Mountain theme-park, Dollywood. The festivities began with a parade through the streets of Pigeon Forge on April 18 featuring Dolly as the Grand Marshall and special guest stars Naomi Judd, Shari Lewis and Lamb Chop, Grand Ole Opry legends Jean Shepard, Jack Greene, Jeannie Seely, George Hamilton IV, Margo Smith, and Johnny Russell, and singing partners Jim Ed Brown and Helen Cornelius.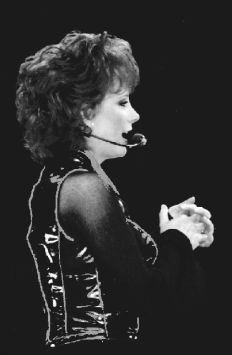 Reba McEntire in Lexington. Photo by Letha Marshall
Joining Dolly on April 19 for Dollywood's Grand Opening Ceremony were two of the Nickelodeon television network's most popular stars--Darris Love from The Secret World of Alex Mack and Lori Beth Denberg from All That. Throughout the day Saturday, Dolly introduced and participated in Dollywood's brand-new interactive kid's show, U Pick NickTM, and she performed "Will The Circle Be Unbroken" along with Jeannie Seely, Johnny Russell, Margo Smith, George Hamilton IV, Jean Shepard, and Jack Greene in the new musical production, Country Treasures.
In addition, Dolly planted two roses in Dollywood's Friendship Garden in honor of the late great Faron Young and the "Father of Bluegrass," Bill Monroe, and she dedicated a new LegoTM play-area in Imagination Station for children.
Country Baby Boom
There is a sudden baby boom in country music these days. Two of country music's hottest guys became fathers just last month. James Bonamy and his wife Amy Jane became first-time parents on "Tax Day," April 15 when James Daniel Bonamy made his debut into the world. Toby Keith and his wife Tricia welcomed their third child, son Stelen Keith Covel, on Thursday, April 17. James is currently climbing the charts with his latest release, "The Swing," and Toby just finished filming a video for his upcoming single, "We Were In Love," in Oklahoma.
Reba Remains On Top
Country megastar Reba McEntire continues to reign as the current "Queen of Country Music." The red-headed Okie recently topped the Billboard Magazine country chart with her latest, "How Was I To Know," making this her 24th #1 hit. Her recent Reba's Worldwide Cybercast drew a record 25,000 fans on-line and is ranked as the third most popular on-line event in the history of America Online.
Garth Brooks to Play Free Concert in Central Park
Country megastar Garth Brooks, New York Mayor Rudolph W. Giuliani, and Parks Commissioner Henry J. Stern recently announced that Garth will bring his sold-out concert tour, the biggest-selling tour of 1996, to New York's Central Park's North Meadow. This free concert, scheduled for Thursday, August 7 at 8:00 PM, will be Garth's only scheduled New York City performance during this three-year tour.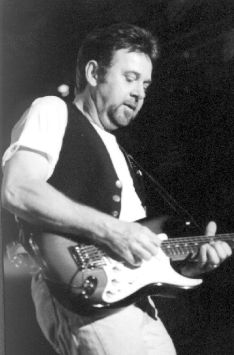 J. P. Pennington of Exile at FloodFest '97. Photo by Michael W. Stout.
Garth's concert will be televised live nationwide by Home Box Office (HBO). This show will follow in the great tradition of Central Park's free concerts, which have drawn millions of fans to witness performances by artists such as Barbra Streisand, Simon & Garfunkel, Placido Domingo, Elton John, and Luciano Pavarotti. Be sure to tune in to see country music history in the making.
It may seem strange for Garth to perform a free concert on a Thursday evening, but there is a good reason. Garth's August 7th concert will coincide with the release of his next album, tentatively titled what else but Sevens.
Brooks & Dunn A Certified Duo
Brooks & Dunn's third album, titled Waitin' On Sundown, which includes hits "Little Miss Honky Tonk," "You're Gonna Miss Me When I'm Gone," and "She's Not The Cheatin' Kind," has been certified triple-platinum, having sold 3 million albums. This certification makes the "Dynamic Duo" the second most certified duo in music history. Kix Brooks & Ronnie Dunn have been outsold by only the former pop duo Simon & Garfunkel.
Mark Collie Donates Check For Diabetes Research
Last month, Mark Collie presented a check for $290,000 to Dr. Daryl Granner of the Vanderbilt Diabetes Center in Nashville. This donation comes from proceeds from his Third Annual Mark Collie Celebrity Race For Diabetes Cure held at the Nashville Motor Speedway and a V.I.P. party he hosted at the Wildhorse Saloon, both held last October.
Mark holds this cause near to his heart, being diagnosed with diabetes himself as a teen. In the three years he has hosted this benefit race, almost $600,000 has been raised for diabetes research. This year's donation will allow Vanderbilt to dedicate six additional students to diabetes research.
Eddie Rabbitt Battles Lung Cancer
Eddie Rabbitt, known for hits like "I Love A Rainy Night," "Drivin' My Life Away," "Every Which Way But Loose," and "Step By Step," was recently diagnosed with lung cancer when he went to the doctor for a chest cold. Eddie is currently undergoing radiation treatments to battle his cancer and surgery is scheduled for the end of this month. Although he was a smoker for 20 years, Eddie hasn't lit up for 10 years now.
More Crook & Chase
The famed country music reporting duo Crook & Chase, comprised of Lorianne Crook and Charlie Chase, are at it again. In addition to their daily syndicated talk show, Crook & Chase, and their TNN country music news program, Today's Country, which airs on Monday and Thursday nights, Lorianne and Charlie are going into the museum business. The Crook And Chase Celebrity Showplace is scheduled to open up in Nashville within the next few months in the building which housed Barbara Mandrell's museum, Barbara Mandrell Country, which is closing its doors for business.
The dynamic duo's museum will house their own personal belongings and memorabilia as well as that of their celebrity friends. Their museum will be located across the street from the Country Music Hall of Fame and Museum
Well, that's it for now. Always remember: Keep your boots shined up and your hat on straight, 'cause country music is comin' your way!