Kentucky Scottish Weekend
The 15th Annual KSW is set for May 9-11 at General Butler State Park in Carrollton just 45 minutes up I-71. Highland dance competition, country dancing, Scottish athletics, highland cattle, British car show, crafts and Celtic vendors are featured among many other activities. Of course you can observe the solo piping and drumming competition, pipe band competition and massed bands.
Louisville native Charlie Marlatt has formed a new Grade 3 pipe band in Columbus, Ohio called Cyrl Scot Pipe Band, which he intends to take to the World Championship in Scotland. They will be on hand as well as the Louisville PB and several others from Ohio and Michigan. Glasgow, Scotland native Alex Beaton will perform on the field both Saturday and Sunday and at the Ceilidh on Saturday night. Beaton has been around, having performed with the likes of The Animals, Manfred Mann and others but now of course concentrates on the songs and ballads of Scotland.
Galloglas will trade sets on the field and at the Ceilidh with Alex on Saturday. On Sunday, Cloigheann will share the stage with this great Celtic entertainer. Numerous clans will be represented, so you might even uncover some of your roots.
Adult admission is $5.00 and children $1.00.
Glasgow Highland Games
The 12th annual Glasgow Highland Games happen May 30-June 1 at the Barren River State Park near Bowling Green, offering a wide range of fascinating activities including harp competition, battle ax contests, a torch light Ceilidh (Friday night) a Tartan Bash (Saturday night), soccer and volleyball games, clans and societies, the Kingdom of Raknar and the Clan Wolf reenactors encampment. The featured pipe band is City of Washington which may well be the best pipe band in America. Balladeer Colin Grant-Adams will bring his distinctive style all the way from Oban, Scotland. A new Celtic rock group Seven Nations (formerly Clan na Gael) from New York will be there as well. They put wheels on their jigs and reels and are sure to delight. Rock would cite the vernacular: "they be jammin'". For further information call (502)651-3141.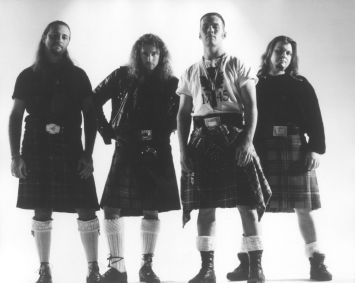 7 Nations
Kentucky is truly fortunate to have two such high quality highland games which get bigger and better with each passing year. Do not miss them.
River(city)Dance
Write it down now! June 14 is the first ever Feis (pronounced fesh) to occur in Kentucky. A Feis is a glorious concentration of competitions of traditional Irish endeavors, principally step dancing but music, soda bread baking and even needlework as well. Approximately 500 competitors from the Midwest USA will descend on Knights Hall at Bellarmine College from 9 a.m. to 5 p.m. The public is invited and admission is $6.00. There will also be purveyors of Irish goods in case you haven't been able to find the Celtic Centre on Chenoweth Lane or the Irish White House on Baxter Avenue.
Irish Dancing in Lexington
Bluegrass area dancers now have a new class starting on Tuesday nights at 7 p.m. at the Arts Place Studio B, 161 North Mill Street in Lexington. For more information contact Kathleen at (606)268-8878 .
Solas at the Kentucky Center for the Arts
Rumor has it that one of the hottest Celtic groups active today, Solas, will be visiting the KCA in July. If this is true Rock will genuflect again before Sir Richard Van Kleek.
Louisville Sessions
The Rudyard Kipling Celtic jam sessions are strong as ever the first Friday of every month. There is no cover charge and all have a great time. May, however, will not see the session as the first Friday falls on Derby Eve and Kenny has other plans but the celts return in June. The Irish Rover has seen more sessions. These are unpredictable but Friday is the most likely night. Ten Penny Bit has been hosting "Celtic Night" at the Twice Told Coffeehouse but Rock has not received any regular information to pass on so you ought to call TTC to check it out.
Louisville Pipe Band News
The LPB will of course be at the two highland games in Kentucky as well as the 31st annual Alma Highland Games in Michigan, where they will compete against much stiffer and far more numerous competition. Your own LPB did pretty well last year, finishing in the middle of a pack of eleven bands, besting even some Canadians. A rare feat. The LPB will be on Broadway for this year's Pegasus Parade with probably its biggest band ever as part of the "World Communities" unit.
Irish Fest Volunteers
Kentucky's premiere Irish event still has some openings for a few volunteers. This year's program will again grow in quantity and quality so you'll enjoy being a part of it. Call 897-9050 for more information.
Yours aye, Decimus Rock