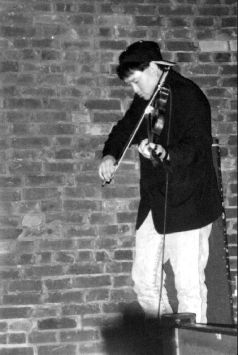 Peter Rhee at the Butchertown. Photo by Ann Hubbs
Front & Center
Peter Rhee
"Going In Rhee Verse"
By Vicky Moon
One of the most prolific artists on the nightclub and recording scene, Peter Rhee, is many things – a skilled violinist, mandolin player, guitarist, vocalist and writer. While it is certain that he will be spotted anywhere from Gerstle's Pub to The Rudyard Kipling after dark; or pop up on the critically acclaimed Union Tree CD or wind up stoking the strings for Led Zeppelin – the gifted performer is hardly what one describe as predictable. Actually, most would describe Peter as an easy laugh and a coy smile under an array of baseball caps, a great supporter of local music and one of the few who can evoke the response, "My, God, can you believe that guy on the violin?"
A first generation American, Rhee was born in the Louisville's St. Joseph hospital thirty-three years ago to transplanted Korean parents. When his pianist mother and theology student father made their home in Kentucky, it wouldn't be long before their second child, a son, would show great promise on the violin.
Entering Peter in Suzuki method instruction for the violin, the Rhee family witnessed their little boy making incredible progress in his U of L campus classroom. Making his debut on the popular Louisville pre-Nickelodeon kid's show T-Bar-B, the five-year-old Rhee stood stock still, small violin tucked into his neck and polished off Mozart's "Etude." Stunned hosts Randy Atcher and Cactus Tom must've had their heads spin around after years of watching children have trouble remembering their own names.
Peter just blinked, smiled upon finishing his piece and stepped back to let the other kids do their thing. Some things never change.
Strings Attached
When it's not his style and agility that is so impressive, it is his diversity that mesmerizes. Rhee's dance card, if you will, has Tim Krekel and the Groovebillys, Union Tree, Band #9, Linny Simkin, the Mudcats, Tanita Gaines and the Accused on his front live music burners. Making himself available for recording projects is always a challenge and a frequent opportunity. Appearing at such nightspots as the Air Devils Inn, Rudyard Kipling, Gerstle's, Dundee Tavern with his well-traveled violin and bow, is only the Louisville story from 1994 until now.
After his family relocated to New Jersey, Rhee grew out of Suzuki and into collaborating. Education would lend itself to working with bands, now, and during his twenties, he joined progressive pop unit O-Positive who were promptly signed to Epic Records.
The years that followed produced tours, national and international gigs filling such opening slots with U2 protégé Sinead O'Connor and a budding Shawn Colvin. The important thing about touring, however, was when Peter would return home to his attic and the eight-track recording equipment. The notebook scrawling he'd inked on the road became songs. The songs will become a debut CD by summer.
Stairway To Other Things
Along with the Louisville Orchestra violinists Mary McGillan and Allisa Macmillan, Rhee donned an all-black outfit and sat in the pit for a leg of 1996's Led Zeppelin tour. "It was great!" he recalled, " I was able to be apart of the music I grew up with and as far as I know, I'm probably the only person in the world who has a violin autographed by Jimmy Page."
I pondered if the hypnotic anthem "Kashmir" was like auto-pilot for him, liken to the Jaws theme with a slow rise. "No, not really," he laughed, "it was very powerful. My favorite song was the blues number, "Since I've Been Loving You" from their earliest works. But overall, it was great fun being able to hang out with the band and their entourage."
Wanting to dig further into gossipy territory, I asked if they still tip back the Jack Daniels, as so many photos in old Circus and Creme magazines suggested in the 70s. "You can say that one of them is," he suggested, "You can probably guess."
You Can Go Home Again
It was somewhat an elliptical journey that Rhee has taken since he left Louisville as a child. After several years of performing professionally with signed bands, nightclub gigs and various recording projects, he decided it had been over a year since he'd seen his parents.
"I was a 'bad son'," Peter admits, although with a smile, "and my parents had moved back to Louisville by now, so I left the northeast and went for a visit." On his return to Louisville, he was told to check out the vibrant network of musicians in the jams and open mike stages. Rhee grabbed his violin and got in the car, hitting the Cherokee Blues Club and Air Devils Inn. "I almost passed up the Air Devils because their sign was out on my side of the road," he remembers. "I went all the way to the Watterson, wondering if I should just turn around and go home, but then I saw the other side of the sign and pulled in."
It was there that Rhee would link up with collaborators and friends that he enjoys working with today – John Burgard, Michael Murphy, Reed Davis, Harry Lewman and Linny Simkin to name a few. The tragic death of owner Dan Shockley upset the circle of players greatly. "Dan gave me a lot of room to play and create opportunities for other musicians," he noted, "he'll be missed."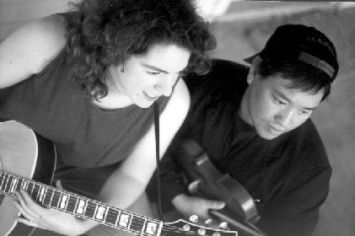 Linny Simkin and Rhee. Photo by Cindy Lamb
Going from blues to rock, country pickin's to pop/alternative, Rhee has carved a niche in the local scene with his bow as well as his manners. "I'm shipping Tanita Gaines and the Accused up to Connecticut to play at my sister's wedding!" he beams. Marveling at such a great way to celebrate a wedding, I told Peter if Tanita sings at a wedding, they're sure to stay married."
Local folks got used to finding Peter and his violin fitting in comfortably with most any player that approached the mike. In such a guitar-driven town, it was refreshing to find another instrument breaking folk/pop ground. Rhee's violin was made right here in River City by Mark Edwards and it is his first choice. "Every now and then, someone will point to my instrument and say, 'What do you all that thing, a fiddle or a violin?' I tell them it is a violin, although, I can play fiddle music on it." he politely replies. Rhee pulls a jazzy strut one moment and cools down on the licks for a sweet silhouette to back a ballad. While he can dazzle or establish a somber mode, he doesn't 'showboat.'
Life On the Side
Peter Rhee: Side man. Basically, a title he can live with and has up until now. He has ensconced himself in the Allen-Martin complex with several years worth of images, emotions and music that will soon become a solo release. The songs bear witness to such 70s pop influences as Elton John and Cat Stevens to the familiar radio beat of 90s critic's faves Toad the Wet Sprockett, Sting or Blue Nile.
With all songs written from the guitar, Rhee's voice is certainly freed from the confines of a backup singer or guest violinist. The songs are instantly hummable and ready to pop out of the radio. He is also realistic about his unique situation.
How many male, Asian pop or alternative artists can you think of right now?
I puzzle this for a moment, confident that I will emerge with a winning answer, yet there is not one.
He breaks the silence of my smoking trivia gears. "I consider this recording project not just an experiment but a goal." This statement is delivered with a steady gaze that suggests something is up, something is being intricately planned with this project. It's probably a smart move for Rhee, with one foot back home in Louisville and the other stepping into his old L. A. and New York arena.
"My ideal situation would be to get a good label deal, then call all the people I like playing with in Louisville to be on an album."
He's definitely collected a stellar batch of players.
Years have passed between the matchbook lyrics on the road and this month in the studio. If Rhee can overcome the urge to oversee each note and movement of a song, he should have a fan base eager to receive a well-traveled collection of songs.
"I just ignored it [the material] for a while because I didn't have time between bands. Right now I'm recording at Allen-Martin with Todd Smith as first engineer as well as performer. I'm pretty particular with the stuff I do, and I wanted to work with Todd especially. In my opinion, he's one of the best – he's got ears as big as mine... he really understands."
No big head to match?
"Oh, sure," he laughs, "I've got a big head, too."
But we'll always look forward to any set Peter sets his bow to.
Hey, I'm definitely more than a side man," he scoffs – searching for a clever way out, "I can cook!"
Peter Rhee will perform in an Acoustic Celebration on Derby night, May 3 at Twice Told Coffeehouse with Bryan Hurst, Linny Simkin, Ray Rizzo and Milwaukee artist Marianne Flemming. Look for Peter with Tim Krekel and the Groovebillys as well as Beatles-format, Band #9. He is also at Gerstle's every Wednesday.