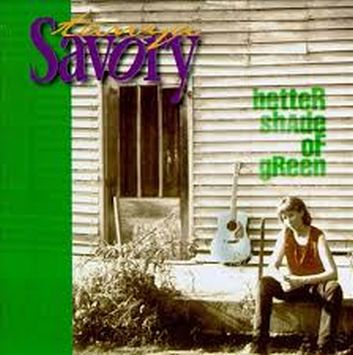 better shade of green (Soreal Recs.)
Tanya Savory
By Paul Moffett
With a voice as clear as new blown glass and a deceptively translucent songwriting style, it's no wonder that there's a considerable buzz about now-Louisville resident Tanya Savory -- thanks in no small part to better shade of green.
From the opening "Bright Side," a '90s dating mantra, to "Heart You Ain't Got," the journey through her songs is a trip with her on her travels, both physical and emotional. Savory is a subtle, analytical songwriter, processing significant experiences into well-crafted songs.
Kicking the album off with the preventive dose of "Bright Side" allows her to delicately detail the pain of losing at love. Seven of the nine tunes deal with broken relationships in one way or another.
The title cut, "Better Shade of Green," is the radio favorite, perhaps because of the hookiness of the title. The better point of "Better Shade" is when the listener solves the little puzzle of the title.
"Heading South" turns out to be about running away from a broken romance, while "Passing the Night Away" is a prescription for dealing with loneliness when it gets dark.
"Heart You Ain't Got" concisely summarizes Savory's romantic ambivalence with this poignant little bit of sweet and sour: "You should have taken the heart you ain't got and given it to me."
Savory and co-producer Kim Wohlenhaus, who also performs with Savory, reached out to a wide variety of musicians to make this CD, which will no doubt go straight into the "Contemporary Folk" category at the local record retailer. It's good to know that "Contemporary Folk" instrumentation now includes pedal steel, congas (with the pedal steel), a piano and bass on most tunes, a drum kit here and there, plus all the other acoustic instruments: fiddle, banjo, dobro, mandolin, guitars and an oboe. What would Woody Guthrie think?
The use of all this instrumental might is judicious on this CD. All too often, particularly when the producer is also the artist, the material loses out to the arrangements.
Listeners to Louisville's WFPK FM 91.9 have already heard better shade of green, which gets regular airplay on both the morning and afternoon drive-time shows. The album has also been climbing the new Gavin Americana chart. Either should be sufficient reason to induce you to go buy this CD. Then catch Savory the next time she plays in town, since live music is best.