I've Got A Mind To Ramble
King Biscuit or Bust
While most of you were enjoying the born-again Garvin Gate Blues Festival on Theater Square, twelve members of the Kyana Blues Society packed into two large vans and headed south to the 13th Annual King Biscuit Blues Festival in Helena, Arkansas.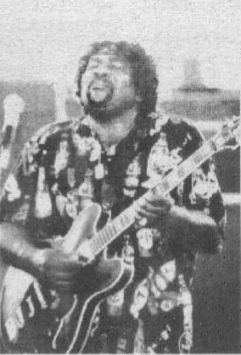 Big Jack Johnson on the Robert Lockwood Heritage Stage. Photo by Keith Clements
Leaving Memphis on Highway 61, we descended into the flat Mississippi delta to the stark contrast of cotton and casinos. The cotton looked like clumps of wet snow clinging to the stalks as far as the eye could see. It was harvest time and the automated combines were combing the fields. Huge rectangular cotton bales as big as semi-trailers were waiting to be shipped to the mills. Billboards lined the highway, offered get-rich quick chances at the gambling casinos and just before we crossed the bridge over the Mississippi River to Helena, the Lady Luck Casino glittered with large, flashing neon guitars.
Helena is a town that has seen better days, with empty buildings and brick-paved streets, but each year she puts on her makeup for this festival. Cherry Street, the main drag, is lined for six blocks with vendors, like the State Fair Midway.
The Feature Stage faces the levee, so the crowds can spread out on the embankment. Other stages were the Acoustic Stage, which was a loading dock on York St.; the Heritage Stage, a platform set up in a grassy field near the levee; and the Gospel Stage, located two blocks away in a large, dusty lot.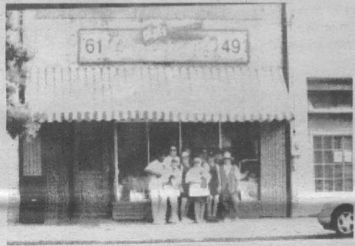 The Kyana gag at the Crossroads bar in Clarksdale. Photo by Keith Clements
All the side streets were filled with private parties and the smell of BBQ as omnipresent. The Festival and the town had become one.
I will try to condense the three days of music into some brief highlights. Following Thursday's performances, we returned to Clarksdale, MS where we were staying and looking for some action. We found it at the Crossroad, a colorful storefront blues club on Sunflower Ave. James "Super Chicken" Johnson was there but without a band. He quickly rounded up a drummer and bass player to entertain us. Like his uncle Big Jack Johnson, James plays guitar, but frequently uses a wah-wah pedal. His original songs have many references to chickens, even so far as to make his guitar cackle. The next morning, we returned to get a group picture in front of the building.
Next door was Stackhouse Records, in a building that looked like a Kingfish Restaurant. We had all worn our Foree Wells T-shirts in an effort to pressure Stackhouse owner Jim O'Neal to release Foree's long anticipated CD, It's a New Day, Brother, but he was in Washington, D. C., at a folklife festival honoring Muddy Waters. So we walked over to the Delta Blues Museum, which is housed on the second floor of a handsome Carnegie library. The exhibits and references provide a wealth of information to the blues scholar and novice. Curator John Ruskey was very complimentary toward the Kyana Blues Society's newsletter.
It was time for more blues, so we headed back to the Festival. As we neared the festival, we tuned in the start of "The King Biscuit Time" on KFFA 1360. At the Delta Cultural Center, Sonny Payne, the original announcer, was in the middle of a live broadcast, interviewing Robert Lockwood Jr., one of the original King Biscuit Boys. Robert looked good, considering that his wife Annie had recently passed away. Later that evening, Lockwood did an outstanding performance of solo traditional blues, plus more jazzy renditions of blues standard with his full band.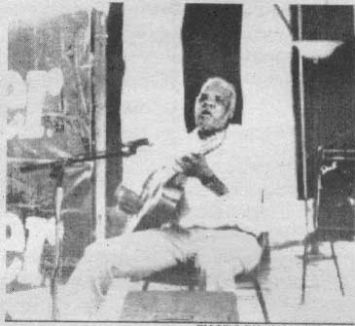 Jesse Buntyn entertained at the Garvin Gate Blues Festival
Carl Weathersby put on the best performance Friday afternoon, playing with an intensity that far exceeded his September performance at Stevie Ray's. At one point, he leaped off the stage and wandered through the audience playing extended riffs on "All Your Affection's Gone."
Later that evening, Kenny Neal hit the stage accompanied by his brothers, his sister Jackie and his dad Raful. It was family affair with Kenny sharing the spotlight with Raful, who will be touring with the band this fall.
Saturday opened with a group of Chicago veterans on the Heritage Stage, which was hosted by Louisville's Scott Mullins. Willie "Big Eyes" Smith, Calvin Jones and Pinetop Perkins were the core of Muddy Waters Band during the Seventies and the Legendary Blues Band in the Eighties. Later, they were joined by John Brim.
At one point, Pinetop said "We need a harp player on stage" and someone came up out of the audience to sit in. Pinetop evoked the blues of the Fifties with "Ida Bea," as did Brim with "Ice Cream Man."
By contrast, Lucky Peterson represented the vanguard of contemporary blues with his charged performance on the Feature Stage. Alternating between keyboards and guitar, he never let up and was in constant motion both on and off the stage. "You Can't Fool Me" and "I'm Back" were highlights of his set.
When Anson Funderburgh and the Rockets with Sam Myers didn't show up on Friday, Bobby Rush and Sherman Robinson stood in. Anson et al were alive and well on Saturday. Myers recalled when Houston Stackhouse performed on this dock and urged respect for blues predecessors. Anson is now married and his wife sang a few songs.
Big Jack Johnson, formerly with the Jelly Roll Kings, is a mighty force to be reckoned with. His guitar style is eclectic, drawing on John Lee Hooker's boogie, Bo Diddley's beat, B. B. King's emotion and Howling Wolf's minimal intensity. As the sun set behind him, he and his tight band from Pennsylvania played on into the night, surrounded by a dancing crowd of young admirers and relatives.
James Cotton doesn't sing much these days, but he sure can still blow his harp. His dynamic set with Darrell Nulisch on vocals was on of the Festival's most dramatic moments.
After Cotton finished, we headed up to Memphis to Beale Street, singing most of the way. When we arrived at this six-block strip of blues glitz, things were in full swing. Some of us went to heart Deborah Coleman at B. B. King's Blues Cafe; others went to the Center for Southern Culture, where a group of old-time blues and jazz musicians were playing. Mose Vinson, an 80-year-old boogie woogie blues pianist was accompanied by Fred Ford, sax, L. T. Lewis on drums and a few friends who had dropped by to jam. The Center is like a funky Preservation Hall, with a cafe, bookstore and exhibits about Memphis' musical heritage.
These highlights were just the proverbial tip of the iceberg. Our group left as friends and returned like family.
One of our blues travelers, Wally "So Cool" Stewart, a frequent contributor to LMN, hung around the Gospel Stage. Read his impressions elsewhere in this issue.