Bluegrass Beat
OK, everybody, all together now, take a DEEEEP breath. Is there something in the air? Well, maybe you can't detect it just yet. Every Thursday morning repeat the above exercise and before you know it, there it will be. The nose knows it well: turkey in the oven, pumpkin pies, mashed potatoes, dinner rolls, giblet gravy and Happy Thanksgiving. Thanksgiving, did I say Thanksgiving? That means Christmas can't be more than a month away.
We will get to that later, but Thanksgiving is first so let's enjoy it. And a very good one to you.
Sounding good at West Point
I had an opportunity to pay a short visit to the Saturday night country show at Music Ranch USA in West Point. The house band (Country Classics) and the guest that night were sounding good. Very much in the true country vein. I will have to do that again soon; really like that steel guitar.
Great Trip to Tennessee
A lot of friends and listeners went to the Tennessee Fall Homecoming in Norris, Tenn., this year. It was another great trip. I was one of the stage managers for the main stage this year, a job I enjoyed very much and will be doing again next year. I went down on Wednesday and spent the night with Art Stamper. Art was playing a couple of days with David Holt. (Thanks for sharing the room that night, Art.) So many things happened during the trip that I can't remember them all and if I did space would not permit.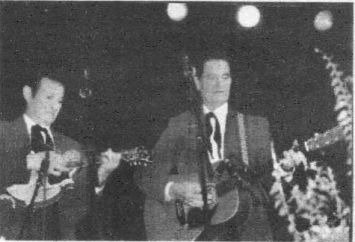 Jim & Jesse were honored for their fifty years in Bluegrass during the IBMA show and did some pickin' too. Photo by Jean Metcalfe
A "keeper" experience and memory of the kind we go back to often involves Mac Wiseman. Beverly and Steve Reynolds were visiting from Boise, Idaho. Bev's dad is a regular listener to my Sunday Bluegrass show (WFPK 91.9 FM, Sundays, 8-11 p.m.). Bev is a devoted, top-of-the-line Mac Wiseman fan. She had never had the opportunity to meet Mac, so I took her back to meet him. This and what follows are among the most satisfying things I get to do. Mac was on the bench waiting to go on. I made the introduction and Bev sat there beside him while husband Steve got the camcorder going. Another performer came off stage, sat on the other side of Mac and began playing. He and Mac sang a number and he left. This is when Steve realized the camera had not been recording. Mac very graciously offered to sing another, with camera recording this time. Bev had a stream of tears down each cheek. Then it was Mac's time to go on. (Bev, this was meant to be.) With tears running, she taped every bit. She proclaimed later that this was one of the unmatched thrills of her life.
And now for the rest of the story that she doesn't know. Mac told me later he sang the second song for her because he saw the tears. He was impressed by her genuine sincerity in meeting him. Chalk up another one for the good guys, in this case Mac Wiseman. I am so glad I had a small part in this moment. A blessed moment.
So much more happened that weekend I couldn't begin to tell it all. The easiest and best way is for you to go next year.
Big IBMA Bash
The Norris trip over, and back home on Monday right into the beginning of the BIG IBMA week at the Galt House East. I was there off and on all through the week. Met and talked with so many good folks at the trade show. Representatives from various record labels, instrument and artist representatives. And then the shows and the artists themselves. A big week. Saw old acquaintances and made many new ones.
Every event has highlights, both general and personal. The general highlight was the finale at the awards show. The group lineup including Earl Scruggs was the IT. I had two personal highlights. I had with me a publicity picture Earl had given me in about 1955. He had signed it then and I got it signed again. It was so good to see him again. And shake. I also got one of those great posters the Gibson folks were handing out.
My other big moment came when I was doing my MC bit, and it couldn't have been better. My part was to introduce Jim & Jesse, celebrating their 50 years in the business, and Dry Branch Fire Squad. That topped the week off like it was made to order. Introducing two of my favorite acts at the IBMA Fan Fest. (Thank you, IBMA, for the opportunity.)
Fun Fund Drive
It wasn't over, not yet, not for me. Went on to the station and we had the fall fund drive picking up speed. The Galoots were there to take part in the drive as part of the outreach program of the IBMA week. Live music all night, along with the incoming pledges. Also there to help out, as they so generously do, was David Hunt, Dan Jones, Alan Phelps and Tony Miers. A good friend who stayed over from the Fan Fest and a fellow I have been wanting to get in there for a long time was Leroy Troy. (My sincere thanks to all of you for helping to make the WFPK drive a success.)
Another story to come out of the fund drive. I was given a note during the program that said if I would call this individual at 8 a.m. Monday morning, he would pledge $100. Monday a.m., a couple of minutes after 8:00, I dialed the number. A bright and wide-awake person answered and I asked for the name on the note. Affirming that was the person, I said, "This is Berk Bryant." A hearty laugh ensued on the other end. I said "This is an expensive phone call," and he gleefully responded, when I mentioned the 'challenge,' "You've got it. What number do I call to make my donation?" He had left the note just to see if I would call. (I can only say, thanks again, not only for your pledge but for your kind words concerning the program. Keep listening.) Another great moment that makes this life worthwhile.
Upcoming Bluegrass
A quick look at who is coming to the area soon.
: Nov. 7, Kentucky Ridge and Beargrass Creek Boys; Nov. 14, Carl Story's Rambling Mountaineers; Nov. 21, Doyle Lawson; Nov. 28, Boys From Middle Creek; and Dec. 5, Randall Hylton.
Music Ranch USA, West Point: Nov. 14, Leroy Troy and another band.
Get Out the Vote!
I received a letter last month that says, and I copy, "This is to inform you that you have been nominated for 'DJ of the Year' in Bluegrass Now magazine's DJ Homecoming and Fan's Choice Awards. Official ballots will appear in the October and November issues of Bluegrass Now and your listeners can receive information on how to obtain a copy by calling 1-800-736-0125. The DJ Awards are strictly fan-based." Friends, if you want me to get it, call and vote.
Bluegrass Christmas List
A reference was made earlier to Christmas. Here, I'll offer a couple of early suggestions for that bluegrass fan, friend, relative or you. The very popular group Lost & Found has a new video out. It is a video of the group as it was in 1981. They did 13 shows, I think, for and at Blue Ridge Public Television in Roanoke, Va . (Getting close to home here.) This tape is a collection of clips from those shows. Roll call for the group at that time goes like this: Allen Mills, bass and vocals; Dempsey Young, mandolin, guitar, fiddle and vocals; Gene Parker, banjo, guitar and vocals; and Bubba Chandler, guitar and vocals. There are 16 good numbers here that include "Old Slate Mountain Home," "Wildwood Flower" (inst.), "Roll in My Sweet Baby's Arms," "Left Over Biscuits," "Love of the Mountains," and one I especially like, "If Today Was the Last Day." Running time is 37:25. If you are a fan of Lost & Found, this is one answer to that "What can I get _______ this year?" Will fit most stockings and bluegrass lovers. I don't have price info, so I will suggest you contact Copper Creek Records, P.O. Box 3161, Roanoke, VA 24015, or if you are computer oriented, http://www.coppercreekrec.com.
A new CD I would strongly recommend is Longview. From Rounder Records, Longview consists of Dudley Connell, Glen Duncan, James King, Joe Mullins, Don Rigsby and Marshall Wilburn. Fourteen songs, many familiar and all good. These guys have made an excellent CD, traditional sound and pleasing to all of us purists. There is everything here that we associate with bluegrass. Some of the numbers: "It's Goodby and So Long to You," "Seven Year Blues," "Hemlocks and Primroses," "The Pale Horse and His Rider," and "The Train That Carried My Girl From Town." These guys have it together with the kind of bluegrass material we like to listen to, the kind I like to play on Sunday night. Contact a local record store, ask for Longview, Rounder CD 0386, or contact Rounder Records, One Camp Street, Cambridge, MA 02140. It is the right size, right color and right music. Go for it!
Happy Thanksgiving!
I am sure there is more I wanted to include but can't think of it now. Maybe I'll tell you later. In the meantime have a great family-and-friends Thanksgiving holiday. Keep it safe and in the proper perspective. See ya at a show or on the radio.