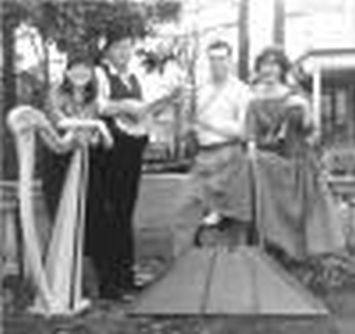 Ten Penny Bit
Standing Stones
The critics are said to be cool but the sales are hot: number one in UK/USA.
McCartney's Celtic opus has Rock quivering in anticipation.
Celtic Flurry in November
Purveyors of Celtic music are especially busy in November. Rock shouldn't wonder, considering the dazzling the motoring public received from the likes of Solas and Lord of the Dance in October and the Irish Fest's great show with Dervish and Stockton's Wing in September. Celtic music and dance continue to flourish.
Celtic New Year Spawns Halloween
The Rashers followed by Cloigheann will flap the ears and set the toes to tapping at the Irish Rover's fourth anniversary celebration on Saturday, November 1, which is the Celtic New Year. It will be a mighty night on Frankfort Avenue as the Irish Fest will also host its volunteer thank-you party upstairs. Whispers on the wind include word of a possible Cloigheann CD in the offing.
Galloglas celebrates with its 2nd Annual Samhain (pronounced SEW-in) Costume Party at the Rudyard Kipling on Saturday, November 1 as well. Prizes will be awarded to the most occult regalia. Reservations are strongly encouraged. Call (502) 636-1311 for reservations.
Maggie Multiplies
New Drowsy Maggie members throw petrol on the hot coals of Roz Carrother's fiddling. Richard Brucker on woodwinds and Tipperary step dancer Pauline Gleason have joined the line-up, now seven strong. They'll wow Kentuckians in the Lexington region with two shows, the first on November 8 at Leeds Theater, 37 North Main Street, Winchester, KY. Call 800-888-6985 for details. On November 22, there will be a Celtic festival at Madison Middle School Auditorium, featuring Drowsy Maggie as well as the Bluegrass Irish Dancers and Louisville Pipe Band members Karen Brumley, piper, and drummer Rick McKenzie.
For more information, call (606) 624-4242.
Queen City Gets a Little Greener
A new Irish pub, R. P. McMurphy's, (licensed from the protagonist in the film /novel One Flew Over the Cuckoo's Nest) has opened in Cincinnati at 2910 Wasson Avenue, in the Hyde Park/Ault Park area on the east side. Fannigan's Isle starts the ball rolling on November 1 followed by Galloglas on November 8 and Ten Penny Bit on November 21 and 22. RPM plans to offer live Celtic music at least every Friday and Saturday. Galloglas will promote its show live on WNKU radio 89.7 FM on Saturday, November 8, from 2 to 5 p.m. (Carrollton is as close as that broadcast gets on regular receivers.)
It's Ceili (KAY-Lee) Time Again
The Bluegrass Irish Dancers will "raise the dust" for their admirers again at their Ceili fund-raiser event on Saturday, November 15, accompanied by the sonic mastery of Ten Penny Bit. The dancing will happen at the St. Pius Community Center on 3521 Goldsmith Lane. For more details, call the Irish Dance hotline at (502)897-1400.
TPB will also be appearing on November 28 at Light Up Louisville and November 29 at the Thomas Winery in Madison, Indiana. For more TPB info, call (502))448-0700.
The Thomas Winery is a nice venue especially if you harbor any affection for the fruit of the vine.
First Annual St. Andrews Day
The Irish have their St. Patrick's Day, so local Scots have resolved to show no less affection for their patron saint. They'll stage a ceilidh-style affair at the Rudyard Kipling on Saturday, November 22. Entertainment will be provided by Galloglas and Colin Grant-Adams. Colin is a native of Oban, Scotland and has a mighty voice that would fill a wide highland glen.
Bagpiping and the inevitable impromptu from lads and lassies swathed in tartan will fill the evening. Further details are forthcoming from the Louisville Scottish Society (423-0699) or the Rudyard Kipling at 636-1311.
Speaking of Scots, there is rumored to be a new Scottish pub opening in downtown Cincinnati. Watch this space.