Front & Center: Mike Schroeder Brings the Classical Mandolin Society Back To Louisville
By Victoria Moon
History seems to be repeating itself in Louisville. In 1891, a popular musical group named the Louisville Mandolin and Guitar Club performed classical melodies, folk ballads and marching songs throughout the regional area, including a "floating concert" they gave every summer on a barge floating down the Ohio River.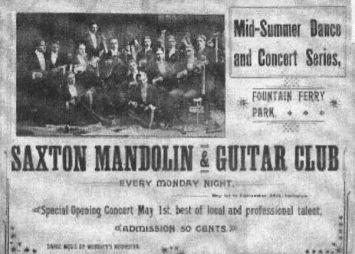 A flyer from the early part of the century advertised a concert by the Saxton Mandoin and Guitar Club at "Fountain Ferry Park." Photo courtesy of Michael Schroeder.
The nostalgia this vignette evokes is unmistakable: you can almost envision the warm June night, feel the breeze coming in off the Ohio River and hear the strains of mandolins and guitars, while imagining the women lined up in their best gowns and parasols to hear them play. A little over one hundred years later, in the age of fast food, fast machines and fast-paced living, it is hard to believe that such a marvelously old-fashioned thing as the Louisville Mandolin and Guitar Club could ever exist again.
According to Mike Schroeder, however, it most certainly does exist. Schroeder is the founder and heart behind the Louisville Mandolin Orchestra, and he has helped to fashion a group that brings back the spirit of yesterday and yet at the same time has elements of current music as well.
"It's interesting that there are many parallels between [The Louisville Mandolin and Guitar Club] and the current version of the mandolin orchestra," Schroeder points out. "I think it's kind of the nature of the music. Like a string orchestra, it becomes a lot more exciting when you have a lot of different parts."
"There's a similar interest today - as there was a hundred years ago - in performing this type of music in a certain style. And I don't know, maybe it's just come around time again for something like this to happen."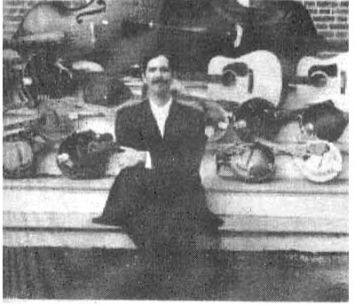 Jim Bates conducts the Mandolin Orchestra. Photo by Phil Wakeman.
Schroeder became interested in the classical mandolin through his love of bluegrass music. He had been playing mandolin in a bluegrass band when he attended a class some years ago in Cincinnati on classical mandolin music. That teacher, one of the foremost German classical mandolin players, changed Schroeder's thinking about mandolin music. After the class, the teacher encouraged Schroeder to attend a classical mandolin festival in Germany.
"I traveled to Germany to attend [the festival]," Schroeder said, "and there were what seemed like hundreds of mandolin orchestras there - kind of like going to a bluegrass festival, only instead of hearing forty or fifty bluegrass bands, I heard forty or fifty mandolin orchestras. It was a real eye-opener for me."
When Schroeder returned to the States, it was with a new awareness of classical mandolin music. In 1988, he was instrumental in forming the Louisville Mandolin Orchestra. By 1990, he was serving on the board of directors for the Classical Mandolin Society of America. That year, he was instrumental in bringing the Classical Mandolin Society's national convention to Louisville. Now, seven years later, he'll be doing it again when the Society brings its annual convention here to Louisville November 5 through November 9.
"We're really pleased to be hosting it here in Louisville," Schroeder enthuses, "because it is basically a gathering of all the classical mandolin players in the United States and also includes a whole lot of players from Europe, and at this particular convention I think probably the top three European players are all going to be here in Louisville. It's going to be a big event, something that really doesn't even happen in Europe all that often. For something like this to happen here is pretty exciting stuff."
Schroeder described the three concerts planned in conjunction with the convention, all of which will be open to the public. The first concert will be held Thursday, November 6 at Christ Church Cathedral and will feature Duo Capriciosso, a German husband-and-wife duo, and The Raffaele Calece Quintet, with Ugo Orlandi.
The second concert will be held Friday, November 7 at the Bomhard Theater and will feature Mando Magnificat III. This show will be part of the Bank One Lonesome Pine Concert Series.
The final concert will be on Saturday, November 8 at the Bomhard Theater and will feature all the convention attendees.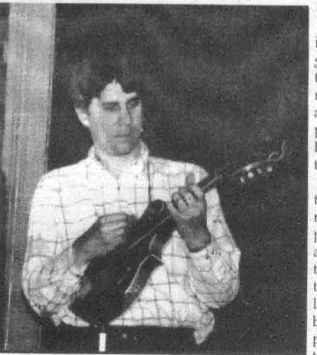 Mike Schroeder at a New Horizon show at the Rudyard Kipling. Photo by Jean Metcalfe
"Everybody who comes to the convention works on music during the week and then they do the concert on Saturday night, so it's usually more than a hundred players on stage that make up an orchestra, so that's kind of exciting, too," Schroeder explained.
"Mandolin orchestras are made up of first and second mandolins, mandolas, mandocellos, guitar and bass, so there're six different voices and the music's arranged for all those different parts, and it's exciting to hear that many players onstage. It's a real big sound when you get that many people."
Conducting this "big sound" will be Jim Bates, the Louisville Mandolin Orchestra's conductor, who is also the conductor of the Louisville Youth Orchestra. Bates joined Schroeder during this interview to talk about the history of the mandolin and the Louisville Mandolin Orchestra.
Considering that the music covered in classical mandolin orchestras can range from Paganini to Sousa-like newspaper marches (marches written as "theme songs" for newspapers at the turn of century), it is surprising to realize that not all the musicians playing in the Louisville Mandolin Orchestra are professionally trained.
"It's a mix," Schroeder says, "I think there are some professional players and there are some amateurs as well, so we cover a broad spectrum of backgrounds, styles, levels of interest, ages and experience."
Bates pointed out ". . . we have some high school kids in there playing, which seems to be fairly unusual among the orchestras of this country. Mainly [the players] are older people [whose] parents emigrated to this country. They picked it up . . . from them and have kind of continued doing it, but we've managed to get a lot of young people involved. Our mean age is probably mid-thirties, or maybe even a little lower than that right now, while other orchestras balance out at maybe sixty."
When asked to speculate on whether the popularity of bluegrass may have an influence on drawing younger players to the classical mandolin in Louisville, Schroeder responded, "It could be. I think that might be a part of it. I know it seems like I see a lot of folks now who are younger getting interested in bluegrass."
"The mandolin plays an important role in that style, so I think players that get introduced to the instrument and then learn that there are other styles of music that they can play kind of get turned on to other interests. I think it's growing - certainly the membership of the Classical Mandolin Society of America is growing - and I think for a lot of reasons. Maybe in part due to the rock and roll influences of groups like REM, but it's just that it has a different sound, too, different from guitar."
"I think a lot of guitar players get into mandolin, too, when they see them hanging on the wall in a music shop and decide to try it out."
Bates agreed with Schroeder, adding "I think the popularity of bluegrass in this part of the country certainly helps [the interest in classical mandolin]. It's more likely that people are just going to be sitting at home picking out fiddle tunes on a mandolin here [more] than in other parts of the country."
Bates continued, "but another thing is that, well, Mike is certainly a mandolin enthusiast and he's out playing a lot with his bluegrass group, and people will come up and start talking to him and all of the sudden they'll say, 'well, I've got this mandolin at home, it's in my attic and belonged to my grandfather' and pretty soon Mike's got them coming to orchestra or going to his house taking lessons."
And as far as bringing back the good old days with the Orchestra playing a "floating concert" down the Ohio River, don't completely rule it out.
"We've got to do that someday," laughed Schroeder. Meanwhile, they are focusing on bringing back the past with regional concerts and reminding their audiences of an earlier time with the sweet strains of their mandolins.