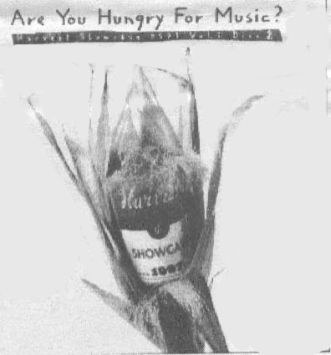 Are You Hungry For Music?: Harvest Showcase '97, Vol. 5, Discs 1 & 2 (Primitive Entertainment)
various artists
Chaz Rough puts together the Harvest Showcase every year with much sweat, tears and blood. He deserves credit for bringing great Louisville music talent to the spotlight. Let's just leave it at that, all you sniping cynics.
This year, Chaz assembled enough worthy tunes to fill two CDs. That's a lot of tunes to review song by song. And reviewing a band based on one tune is very unfair. So take these pithy, often snotty, and occasionally lucid little comments with the proverbial grain of salt.
Supa Fuzz
"Push"
Classic rock riffs and sinuous rhythms.
Cooler
"Stubborn"
Louisville always has at least one band that makes you wonder, Why aren't these guys selling millions of records? Cooler is one of these - their style of rock with a solid pop heart, complete with beautifully crafted, sad and ironic lyrics, is absolute perfection. I could go on and on about the heartache, humor and general brilliance of this song in particular, but I won't.
Mudcats Blues Band
"King Cootie Waltz"
Sounds like a Stevie Wonder outtake, sunny and sad at the same time. Beautiful.
Faith Pillow
"Hard to Sleep"
Slick and vapid.
Shannon Lawson
"Good Love"
Brimming with life, but the rhythm's squareness seems at odd with a slinkiness that's eager to bust out. It's '70s big pop a la Exile that almost works.
Honey Wagon
"I'll Follow You"
The Black Crowes have inspired the aspiring, evidently. Call it Edenstreet Lite.
One Hundred Acre Wood
"Punk Song"
Evidence that the Doobie Brothers have been supplanted by the Dave Matthews Band among young musicians who want to mix groove with good playing.
The Unknown
"Bleed"
The Seattle sound lives, but it is sickly and finds its home in a Southern Indiana garage. Aaauugghh.
Linda Gower
Jack Fry's
Lose the vocals, leave the cheesy drum beat behind - hell, lose the song - and keep the dobro.
Marie Augustine
"www.comonbbiluvu"
This song about pick-up artists on the Internet deserves better production.
Treml Bigsby
"Alive and Well"
The vocal - both its phrasing and its sound - outclasses the song and a production that throws organ, trumpet, harmonica, sax and the kitchen sink at it, to no avail.
Paul Moffett
"Big Fire in Bardstown"
Do the readers really expect me to comment on the vocals of this newspaper's publisher? I refuse. Let me just say that this would make a good pitch tape to someone else who could do justice to a charming bluegrass tune.
The Cowards
"Lucy Let Me Be Your Lover"
This Deep Purple-ish band sounds great, but is not served well by the song. With better material, this band . . . aw, what's the point.
Room For Emotion
"Suffer for the Masses"
Early techno-pop, like Killing Joke, New Order or even Peter Gabriel. It sounds great, but a bit dated.
Gone and Ruined
"The Silence Day"
Holy cow! This is what you were afraid of when you first read that this is a collection of local unsigned acts. Out of key vocals, horrid, oh-so-horrid lyrics, and a song form that is the sonic equivalent of a disjointed, Picasso-fied face - no, that makes it sound too interesting. Guys, I'm sorry, but please stop this madness. I know that music critics are largely assholes, but we don't deserve this kind of torture.
Cornbread Mafia
"Flame Job"
Loud, boogieing rock with a nice edge. This is quite a good performance.
Super Face
"Purity"
There is promise here. There is a soft-rock appeal here. There is also, unfortunately, some stupid chord choices, off-key vocals and a wee bit of unintentional mayhem too.
Four Hundred
"French"
It sounded like good, driving hard rock, but my CD always skipped on this song, so I gave up.
Chaz
"The River"
Chaz is a talented graphic designer and if I were a musician, I would be begging him to help my career, given his touch at promotion.
Thief in the Garden
"Fading Away"
A hard to peg sound, and that's good. Heavy, a bit Gothic, and kinda techno in the drums. A piano interlude in the middle of the song is interesting, but this song treads the line between cheese and prog rock achievement.
Radio Active Flowers
"Good Morning"
An organic song descends into a groove-dominated energy vortex that's actually kind of cool. If I were more of a Deadhead and inclined to take Fleming & John and that ilk more seriously, this song might really catch fire with me.
Muffy Panics
"Birthday"
What a voice! This song reminds me of the Pretenders, and that's all good in my book. The pulse is caffeinated, the guitar is growling, and the song is not afraid of being poppy. The lyrics are great too. Cool.
Dan Killian
"Four Fingers of Fun"
Sorry, but this song, the next one by Frisbee, and the next one by Butch Rice all skipped like mad on my CD player every time I tried to play it, and I was too lazy to take it to someone else's house to review it. So sue me. Or blame Chaz and his CD manufacturer.
Oscar Bingo
"Heart of Gold"
Vocals of gold, at least lead vocals. Some of the harmony vocals are a bit iffy on this restful, pretty tune that sounds like Domani. Nice stuff.
Peace Frogs
"Buckshot in the Beaver"
Lame-brained? No, the brain isn't lame, it's empty on this annoyingly dumb, bass-driven, Red Hot Chili Peppers-derived bit of repetitive ca-ca.
Bryan Hurst
"Universal Heartbreak"
Bold vocals, brassy production and an intelligent song drive this Americana music. Hurst is someone to keep an eye on. I was really interested in seeing what he would do with the bridge, but the CD skips over that part.
Big Love
"Ain't Superman"
Energetic pop with a big-sounding band pushing it. Just okay, unless Joe Cocker is a favorite of yours.
Voo-Doo Love Taxi
"Who Do You Love"
I'm mad at these guys. For several years, they have produced great, funky grooves, and then done absolutely nothing with them. And so it goes . . .
Mudshine
"Zone Away"
You mean Days of the New weren't the only band to fully drink in Alice in Chains?