IBMA World of Bluegrass '97
Test and photos by Jean Metcalfe
"I still fold my shirts like that sweet lady taught me . . . ."
Vince Gill laughed heartily as he recalled the woman who had come to his rescue shortly after the 18-year-old Oklahoma native had moved to Louisville in 1975 to check out the bluegrass scene. Seems he had run out of clean clothes and the sweet lady had correctly guessed that he was not as familiar with coin-operated washers and dryers as he was with a guitar.
Gill, now 40, had arrived at the Mary Anderson room at the Kentucky Center for the Arts moments after the grand finale of the International Bluegrass Music Association's annual awards show on Oct. 16. Even before setting down his guitar, he obligingly posed for photographs with the other talented bluegrass musicians at the press conference. Clutching the Song of the Year trophy he had just picked up for "High Lonesome Sound," his ears could well have still been ringing with the applause that followed his grand finale performance of the song in KCA's Whitney Hall.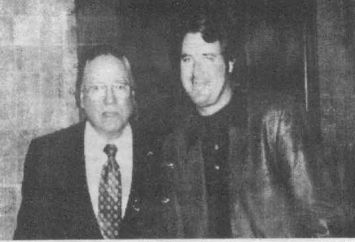 Banjo master Earl Scruggs and Vince Gill posed for a photo.
And while Alison Krauss and Union Station hadn't been there to recreate Gill's award-winning version, his pick-up band had managed to get the job done. Besides Gill, the band included Awards Show host Ricky Skaggs, bluegrass pioneer and Hall of Honor member Earl Scruggs, new Award of Merit recipient Kenny Baker, Stuart Duncan***, Jeff Guernsey, George Shuffler, Rhonda Vincent, Jeff White, and the newest member of IBMA's Hall of Honor, Josh Graves. (When asked whether he thought the finale musicians could make it as a band, Del McCoury, whose band had just picked up Entertainer of the Year and Instrumental Band of the Year honors, replied, "That was the finest pick-up band. And they'll all have to join the union after this.")
Skaggs expressed his pleasure with the just-concluded show: "Well, I thought it was a great event. I thought everything went off without a hitch. There weren't any problems tonight. The sound was great. The crew, everybody, just did such a great job. I think there was a lot of preparation that went into the show and I think it really showed. Plus the good folks here in Louisville really helped us out a lot here at the arts center. And it's a beautiful place and I hope we can do it here for a long, long time."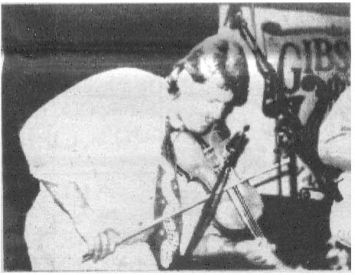 Our roving photographer caught bluegrass promoter C. R. Wilson and New Horizon vocalist Larry Raey taking a break during the trade show
The Awards Show was just one of the highlights of the IBMA's World of Bluegrass '97; still ahead were three talent-packed days of Fan Fest. John Hartford, wearing his trademark bowler hat and overalls, kicked off the first day on Friday afternoon and was a crowd favorite. A bonus on his song list was a strange-but-wonderful number with Hartford on vocal noises and a bandmate on hand jive. Yielding the stage to Kate MacKenzie, he waded through the crowd to meet and pose with fans and autograph albums with his distinctive signature. This procedure would be repeated by other artists throughout Fan Fest. (On Sunday, in the parking garage, a member of a popular band that had performed earlier that day was overheard to say, "We got two standing ovations and sold tons of tapes.") The parade of first-day Fan Fest entertainers also included Mike Seeger, the exciting James King Band (named 1997's Emerging Artist of the Year), the Nashville Bluegrass Band, Laurie Lewis, The Del McCoury Band, The Lonesome River Band and Ricky Skaggs.
Skaggs ended Friday evening's entertainment with an engaging performance that included a sampling of his new album, Bluegrass Rules. Due for release four days later, the album would be his first bluegrass recording since a very successful foray into country music. A distant gig the next day prevented the native Kentuckian from honoring the audience's request for a second encore and, despite his dismay with a cranky sound system, Skaggs appeared happy to be the evening's headliner. He took a moment to mention the passing of Curley Ray Cline and related that once, while on a tour with Ralph Stanley, he and Keith Whitley had lost their week's wages by underestimating Cline's capacity for hot dogs.
Saturday's Fan Fest lineup included Louisville's Gary Brewer and the Kentucky Ramblers, Women in Bluegrass, International All-Stars, The Reno Brothers, Jeff White & Friends, The Lynn Morris Band, IIIrd Tyme Out and Continental Divide, among others.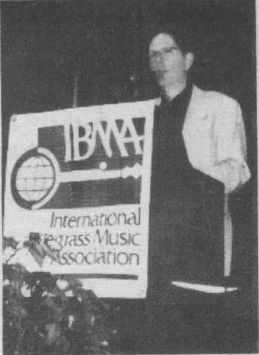 Tim O'Brien delivered the keynote.
And the entertainment didn't let up on the abbreviated final day. Sunday's activities were highlighted by a 50th anniversary salute to Jim & Jesse, complete with cake, plaques and a bit of break-dancing by Jesse McReynolds' 14-year-old grandson. Looking younger than their experience would suggest, the McReynolds brothers sported bright red sport coats with a sprinkling of glitter, which they described as "droppings from Porter Wagoner suits." Dry Branch Fire Squad's Ron Thomason added considerable levity to his band's performance and managed to fit in some scorching mandolin picking as well. (Thomason, a farmer, elicited a few chuckles earlier in the week when he told a seminar audience that his number one cash crop was hay, an obvious reference to the popular rumor that some farmers covertly grow a more lucrative weed.)
The Exposition Hall was a popular place to be during the week-long event, with booths offering everything from Gibson Earl Scruggs Special banjos (Scruggs was on hand to sign free Gibson posters) to a star-shaped "Bluegrass Police" badge for $11.95. And while the Father of Bluegrass Music has gone on to his Heavenly Father, Nashville's McGuire Photography offered a great-looking 20x20 signed and mounted photograph of Bill Monroe for $125 ($325 framed). For the more modest budget, a T-shirt bearing the same Big Mon pose could be had for $15.
The Artist Showcases and Luncheons attracted large numbers to Galt House East's Grand Ballroom for three days of excellent food and music. Radio personality Wayne Rice (of Brush Arbor fame) delivered the opening keynote address on Tuesday, sprinkling his comments with humor that included a just-kidding list of "You Might Be a Bluegrass Musician . . ." a la Jeff Foxworthy ("If your house doesn't have curtains, but your RV does . . . " ). Tim O'Brien (songwriter and co-founder of Hot Rize) filled the keynote slot on the 16th and delivered a worthy message, although its length tried the patience of an audience eager for music. In all fairness, the meal had been especially filling. Maybe if we hadn't eaten that pecan pie. . . .
Showcase performers included a nice variety of artists, including The Churchmen, a talented gospel group from Virginia; a young foursome calling themselves Crucial Smith; a very pregnant Carla Gover; and Exit 13, a group from Nova Scotia featuring the three Sarty sisters, at least two of whom performed barefoot even though they wore long, fancy dresses. Louisville's Gary Brewer teamed up with Phillip Sexton for an energetic set that featured Brewer's father, Finley Jr., and his 4-year-old son, Gary "Wayne" Jr.
And seminars abounded. Want to learn how to sound your best in the studio? There was a seminar for you. Ditto if you wanted to know how to pitch your music to a commercial radio station. Wondering if you should join the musician's union? Traveling musicians might be interested in Local 1000, a "non-geographical" local of the American Federation of Musicians. Louisville's Steve Cooley was on the panel. Keen interest was shown by the attendees of "Enhancing the Public Image of Bluegrass Music," moderated by IBMA president Pete Wernick. The five-member panel consisted of Ron Thomason and four Nashville businesspersons, one of whom was mega-successful producer Tony Brown of MCA, who counts Vince Gill among his artists.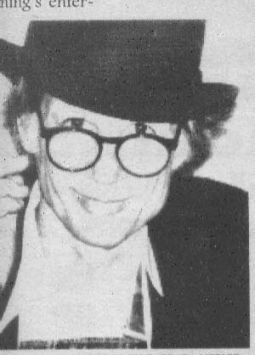 John Hartford stayed busy signing autographs
With nearly two dozen categories to choose from, sign-up sheets for the Mentor Sessions on Thursday filled up early. The one-on-one, 25-minute conferences covered subjects from "Purchasing a Vintage Instrument" to "Designing a Web Site for Your Bluegrass Act or Business." Unable to find a session on meeting deadlines, this writer can only assume that the Mentor Sessions were top-notch — a safe assumption, since, for example, Paul Craft was scheduled to handle the conferences on "Songwriting & Pitching Your Songs."
A "Women in Bluegrass Gathering," led by Merit Award recipient Murphy Henry, convened on Wednesday evening in, appropriately, the Collins room. (The suites are named for Kentucky governors, one of whom was Martha Layne Collins). The participants filled out questionnaires and quickly moved on to the important business of playing music. With the door left open, the space soon filled up and, despite the delivery of two additional loads of chairs, the women played to an audience that was SRO. Especially popular was a foursome made up of Ms. Henry and three young ladies from Salem, Oregon — 14-year-old twins Heidi and Amy Severin, and tiny Kelly Erb on dwarfing bass, whose band is named The Severin Sisters and Cool Water.
The Masters Stage, featuring top-notch and -name musicians, provided helpful suggestions for improving one's musicianship, and it attracted a good deal of attention. The Twigs & Branches stage also garnered a fair share of the attendees, and this listener happened along just as Druha Trava, a group from the Czech Republic whose members could easily have been mistaken for rockers, was featuring their saxophone player. Guess that's why they didn't call it the Roots stage.
No bluegrass event would be complete without jammin'. And this premier event was no exception. There was jammin' on the second-floor balcony, jammin' in strategically located suites, jammin' in the morning, jammin' in the evening, jammin' at the supper time — and jammin' into the wee hours. Who wants to sleep when there's bluegrass music to be played!
Throughout the World of Bluegrass '97, IBMA Executive Director Dan Hays and his staff seemed to be everywhere at once. One minute Hays was helping at the registration desk, the next he was presenting the IBMA's mission statement in the Breathitt suite and, seemingly, the next he was removing equipment from the Awards Show press conference room while wearing a tuxedo. Whatever their salary, they earn it.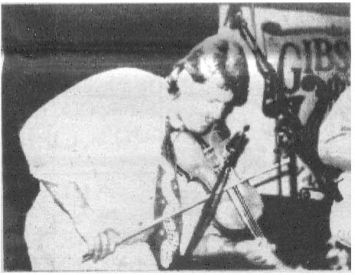 Chris Panafil of Creek Band put some showmanship into his performance on the Artist Showcase
The IBMA is committed to returning to Louisville next year (when better campsites and other improvements should be available), but the location of the annual event beyond 1998 is up for grabs. With a decision expected by next spring, the city of Louisville has its fingers crossed. But then so does Nashville.
)
Entertainer of the Year: Del McCoury Band
Male Vocalist of the Year: Russell Moore
Female Vocalist of the Year: Claire Lynch
Song of the Year: "High Lonesome Sound"
Vince Gill with Alison Krauss & Union Station
Vince Gill, songwriter
Album of the Year: True Life Blues - The Songs of Bill Monroe
Various Artists; Sugar Hill Records
Gospel Recorded Performance of the Year: "God Moves in a Windstorm"
Blue Highway; Rebel Records
Vocal Group of the Year: IIIrd Tyme Out
Instrumental Band of the Year: Del McCoury Band
Instrumental Album of the Year: Bluegrass Instrumentals, Volume 6
The Bluegrass Album Band; Rounder Records
Instrumental Performer of the Year—Banjo: Sammy Shelor
Instrumental Performer of the Year—Bass: Mike Bub
Instrumental Performer of the Year—Dobro: Rob Ickes
Instrumental Performer of the Year—Fiddle: Jason Carter
Instrumental Performer of the Year—Guitar: Tony Rice
Instrumental Performer of the Year—Mandolin: Ronnie McCoury
Recorded Event of the Year: True Life Blues—The Songs of Bill Monroe
Various Artists; Sugar Hill Records
Emerging Artist of the Year: James King Band
1997 Hall of Honor Inductee: Josh Graves
IBMA Award of Merit: Mary Tyler Doub; Vern Williams and Ray Park; Kenny Baker; Benny Martin
Best Graphic Design—Recorded Project: Sue Meyer for Hogs on the HighwayBy the Bad Livers
Sugar Hill Records
Best Liner Notes—Recorded Project: Mitch Greenhill for Watson Country by Doc & Merle Watson; Flying Fish
Broadcast Personality of the Year: Bill Knowlton at WCNY-FM in Syracuse, N.Y.
Print Media Personality of the Year: Murphy Henry