The Inhuman Interview
By Laura Spalding
Local metal band Inhuman has been gigging around Louisville for some time. Members are Eddy Metal on vocals, Matt Roeder and John Kepple on guitars, Erich Otto on bass, and Erik Saxx on drums.
Erich Otto and Erik Saxx first met while playing in different bands. Otto, Roeder and Eddy Metal were in Carnage. Saxx and John Kepple were in Dementia. Erich and Erik met while on a gig and started talking about music. The five musicians eventually all got together and Inhuman was formed.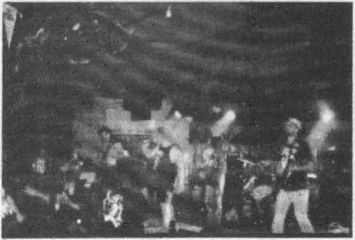 Inhuman at the Tiger: from left, Matt Roeder, Eddy Metal, Erich Otto, Erick Saxx, John Kepple
The group's first paying gig was in December of 1994 at The Toy Tiger and there have been plenty more shows since then.
They were one of the first metal bands playing in Louisville and I asked them if they plan on keeping that straight-up metal sound alive.
"We don't follow any trends," said Eddy.
Saxx agreed. "We just play straight ahead metal. "
I asked the band what they thought of the local metal scene in Louisville.
Erich Otto: "I think there's a lot of good bands around here. I think the scene is coming on a lot stronger than when we first started because there weren't hardly any bars that you could play at. Then we started playing at the Flashback and other places. "
Erik Saxx: "The scene is a lot stronger than when we first started, but there aren't enough bars that let local metal bands play regularly."
"Metal bands get the shaft when it comes to original music," noted Otto. "Places like the Brewery need to give us a chance. Places like that cater to people that just want to go out and hear music you can hear on the radio, but they need to be paying attention to original music."
"People just need to go out and see some local original metal bands," Kepple added.
The band recently recorded their first project and I asked Otto how that experience was.
"We went into the studio and did seven songs," he said. "Guitars, vocals - pretty much everything was completed in about two days. We did everything at Falk Recording Studios, under the masterful direction of Chris Cassetta. He did a good job of helping us along and getting the best out of us in getting our sound across. We're really happy with the tape."
The band writes the songs collectively, with different members coming up with ideas and parts to form the final song.
When asked about the best part about playing live, Erik Saxx he liked ". . . all the people getting crazy in the front row and for me, playing drums is a release of aggressions. "
Each member of the band listed their metal influences: Eddy - Iron Maiden, Judas Priest, Slayer; Matt - AC/DC, John-Metallica; Erich Otto - Ozzy, Judas Priest; and Erik Saxx - Pantera, Slayer and Dave Lombardo.
What do they see for the future of Inhuman?
Eddy Metal: "No rap metal - we'll never sell out, we'll keep playing metal."
Erik Saxx: "I don't think we'll dramatically change our style, but we'll keep it modern."
Erich Otto: "We'll stick with metal no matter what, but we won't limit ourselves to what we can or can't do as a band. Metal's not just a trend, we'll be with it from beginning to end."
On the future of metal, Erik Saxx said "Metal will always be around. It'll go in and out, but it always comes back."
"Metal won't ever die out." Otto asserted. "Metal fans are the most loyal fans in the world. They always stick with the music."
Eddy agreed "True metal fans stay true to this music."
Inhuman and Crazy Train will play at the Toy Tiger on November 1