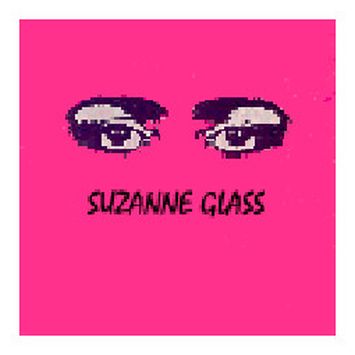 SUZANNE GLASS (Throwing Stones Records)
Suzanne Glass
By Barney Quick
"Singer-songwriter" has been around as a genre for twenty-plus years, long enough to have developed sub-categories. Lately, female voices fronting guitar-driven ensembles have claimed a lot of the public's attention. Some artists bring a playfulness to this approach, some a romantic passion, and some a hard-bitten angst.
Columbus, Indiana-based Suzanne Glass offers the listener the perspective of a determined survivor. Her songs' protagonists are in charge of their destinies, even when the choices involve hanging on to a fading past, as in "Don't Want To," or an uncertain present, as in "Is It Gonna Last?"
Seeing oneself as larger than circumstances is a recurring theme on her self-titled album. In "The Grind," she admonishes us that we've "gotta break free." In "Leave It Alone," we're admonished to "burn [our] bridges." This line of counsel takes a political turn in "World In Decline," which begins with the line, "Hey people rise up don't take it no more."
The album's time-honored rock sound will appeal to a wide variety of listeners. Glass's voice is fairly high-register and somewhat raw-boned. It fits with the band's sound in a straightforward way, a refreshing thing in this age of feigned irony. The number of her tunes in a minor key is striking. Perhaps she feels that this better suits her almost defiant lyrical stance. Beats are generally foursquare and solid enough to let us know drummer Derek Carmichael means what he's expressing every bit as much as Glass. Several guitarists proficiently lend fullness to the sound, and lead man Patrick Lee Ruffner gives each tune a sinewy distinctiveness.
Surprisingly enough, the best cut on the album is the least characteristic. "Amber Eyes" is a declaration of vulnerable love conveyed without reservation. Musically, it's a shuffle, with each beat comprised of high-hat triplets. Ruffner's guitar lazily wafts through all the song's sections like a warm breeze, even when he lets loose a flurry of tastefully combined notes. And the minor-key signature of Glass's style is mitigated by a major-key chorus.
Glass has been performing and recording in our area for a few years, experimenting with different combinations of players. She's even done a fair amount of solo work. In her first full-length CD, she's come up with the foundation that most effectively gets across what she's about as an artist. It will be interesting to see how she builds on it in future projects.