CD Duplication and Mastering Come to Louisville
By Paul Moffett
Have you ever recorded an album, then set about to get copies (CDs, cassettes, vinyl) made, only to discover that the duplication house tells you that you have to have the project 'mastered' before the duplication can be done, a considerable additional cost?
Many musicians think that this process is just another way to get money from them. After all, doesn't the engineer at the studio do all the mastering while doing the mix?
Not, so, according to Jeff Epperson and Gordon Shirley of Big Head Productions. Mastering is a crucial step in the process but most players don't have a clue about what it is and have to be educated before they can continue.
Epperson and Shirley are the primary staff at Big Head, although other members of the Big Head band, including singer Kevin Garvey and Keith Bohne, are involved in the business, which has been operating for just over a year.
The process of recording and duplicating a CD for Big Head was the catalyst for the formation of the production house, according to Epperson. The experiences, good and bad, of finding a duplication house, then shipping test/proof CDs back and forth repeatedly was troublesome enough set the band to thinking about how to move that process into their control. Since the Big Head band is a 'techno' band, much of the equipment for the production house was already owned by the members
The company uses Pro Tools V. 4 for their main sequencing software. They have 'every plug-in (patch) available for the software, so no matter what the customer's digital equipment, it can be accessed and utilized in the process.
"We got all the best software and equipment we could," Shirley laughed, "then discovered that most places don't have that." The company is also a source for high-end Mac and IBM gear, simply because they found out where to get it.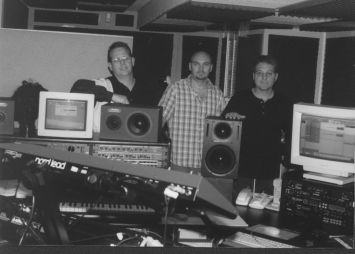 The Big Head Staff, from left: Jeff Hutchins, Jeff Epperson and Gordon Shirley
"We are mostly interested in post-production," said Shirley, "rather than recording and mixing" although they will do remixes.
"We prefer to work from a two-track DAT provided by the client" noted Epperson, although other formats can be accessed. The mastering process involves analyzing the material on the DAT, then processing the signal in various ways to make the entire work consistent for volume levels and overall "sound."
"The artist should be comfortable" with the overall dynamic mix before coming to Big Head, he said. "What we do is put the final polish on the finished product."
"It's necessary to be sensitive to every genre," he said. In addition, mastering for such different uses as radio or dance clubs changes how the mastering is done.
"[Mastering] involves 'ears' as well as analysis," Epperson conceded, so subjectivity or 'taste' is a factor. He pointed out that this step in the process can be very frustrating and time-consuming, especially if the mastering house is out-of-town. At Big Head, the artist can listen to the mastered project right at their studio and give it a thumbs or down on the spot, thus saving much time.
While BHP has recording gear and instruments available on site, the company is not particularly interested in pursuing the recording business in competition with other studios in town.
"We want to partner up with those other studios," Shirley said, "and have them send us their projects for mastering."
BHP does CD duplication in addition to mastering, offering an array of packages with prices competitive with such widely advertised companies as DiscMakers.
"We studied what was out there pretty carefully," Epperson noted, "and we think we're competitive in price. If you figure in shipping costs and time, then we're very competitive."
Delivery turn-around time varies according to the time of year, he said. Aside from the Christmas rush, the normal time is about two weeks. During the last three months of the year, that can stretch to three or more weeks.
"One-off" discs are available as well, although these are mostly for use in assessing the mastering in different play-back environments.
"A lot of folks offer CD burning, but those discs are not suitable for duplication," Shirley remarked. "We space the songs properly and put the 'PQ' codes on the glass master." Those codes are necessary for duplication, he said, and BHP makes a glass master to "Red Book Standards."
BHP also has graphic artists Kevin Bohne and Mike Sloan are available for work on inserts.
"Lots of bands finish their recordings before thinking about artwork for the CD," Epperson noted. "We can help out there, too."
Big Head Productions can be reached at 2509 Preston Highway, Louisville, KY 40217 or by calling 502-584-4779 or 1-800-882-0753.