Bluegrass Beat
September Song
Now it is FALL. I guess we call it Fall because this is when the leaves begin to … well … fall. Besides the leaves to rake, fall leaves us with other activities we had rather engage in. Activities like fall festivals, etc.
Strictly Speaking
The Strictly Bluegrass Festival, brought together by Gary Brewer, was another success. The headliner again this year, and favored by all, Dr. Ralph Stanley and the Clinch Mountain Boys helped to fill the place. Ralph is always a top draw, giving a top performance. As I have said before, Ralph Stanley is the single most requested artist I play on Sunday Bluegrass [Berk's show on WFPK. — Editor].
Another group I play frequently—and a favorite of mine—Delia Bell and Bill Grant from Hugo, Oklahoma, also performed. This was their first time here and I hope the first of many appearances in this area. I heard many good comments about what a great group they are. Having been acquainted with them for several years at the Charlotte, Michigan, festival, I feel I got to know them much better that weekend.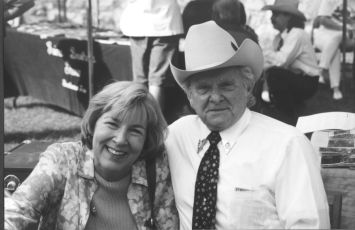 Berk Bryant took this photo of Ralph Stanley with LMN Editor Emeritus Jean Metcalfe at the Strictly Bluegrass Festival
A lot of other good folks were there, including Larry Fuller, Dean Sapp and James Monroe. James gave us a wonderful surprise in that he had two—not one but, count 'em, two—legends to play with him. These two being none other than the great Kenny Baker and Buck "Uncle Josh" Graves. Early on, Buck was with Wilma Lee and Stoney Cooper, then those many years with Flatt & Scruggs. Of course, Kenny was featured all those years with Mr. Bill.
A hearty thanks to all of you who were at the Strictly Bluegrass Festival and talked with the artists. Several of them, including Ralph, Bill and Delia, Dean Sapp and others told me many of you had told them about Sunday Bluegrass and that I play their recordings. Dan Hays, Executive Director of IBMA, told me a lot of you told him about the show. All I can say is thank you so much. It really is a help and a lot of encouragement to the various artists and myself when you do that.
Gary, you had a great festival again—weather, music and all.
Wade Mainer on the Air at 90
Sunday, the 14th, on my show (WFPK 91.9, Sunday night), I made a call to a dear old friend and performer, the legendary Wade Mainer. I had gotten a letter from his lovely bride, Julia, a few days before Wade had a triple bypass on Sept. 1. He had had a pacemaker that wasn't really doing the job and had to go for the surgery. I am so used to hearing him in strong voice that he sounded, understandably, a little weak on the phone. Wade is 90 years old. He sends his best to all and we ask your prayers for him and his recovery. I hope you heard the conversation I had with him that night.
The Banjo Man will be missed.
I didn't have enough information in time for last month's column, but another acquaintance passed away the morning of July 29, 1997, from cancer: Mr. Elmer Bird, The Banjo Man From Turkey Creek, West Virginia. Elmer played the old-time drop-thumb style banjo. He was well known and will be much missed by friends and fans in the traditional music circles. He had a good friend and sometime recording partner in John Hartford.
My high school friend, Jack, and I looked forward to seeing him at The Museum of Appalachia Homecoming each October. We never got as much video of Elmer as we would have liked. Assorted and various reasons, including time restraints, etc., limited us. This year we were planning to dedicate time for this purpose. Unfortunately for us, that won't happen. Elmer, you are missed, especially among those of us who knew you personally.
Pack your bags for Norris
Time to remind you that the Tennessee Fall Homecoming is in sight. Time to pack and be ready to move. From the 9th through the 12th of October it will be music, crafts, and exhibits and demonstrations of the old ways at the Museum of Appalachia in Norris, Tenn. Folks come from all over. There are a lot of good people from this area who are going, and I even know of a couple coming from Boise, Idaho. Planned their vacation time to be able to attend. If you miss it, you will miss the opportunity to see and visit with, oh, Grandpa and Ramona Jones, Raymond Fairchild, John Hartford, Mac Wiseman, Ralph Stanley, Doyle Lawson, Brother Oswald and many, many others. Now you wouldn't want to miss an opportunity like that, WOULD YOU? Naw, I didn't think so.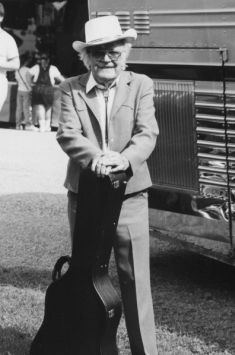 Kenny Baker at the Strictly Bluegrass Festival
Louisville welcomes IBMA!
Oct. 13-19, IBMA hits town in a BIG way. This year the IBMA Trade Show and Fan Fest will take place at the Galt House in Louisville. Yeah, right here, right amongst us. There will be so many performers present that I don't think space will allow me to list them all.
I will tell you that on Sunday at the Fan Fest there will be special activities regarding Jim & Jesse's 50 years in the bluegrass/music business. Word was whispered in my ear at the Strictly Bluegrass Festival that some surprises are being planned for them. I hope they can pull it off. I have been asked and feel very honored to be the MC for that portion of the show. In addition to Jim & Jesse, I will be introducing Petticoat Junction. With all of that happening Sunday afternoon, I can't wait to hear what I am going to do Sunday night. Y'all be there, you 'heah.'
West Point open for business!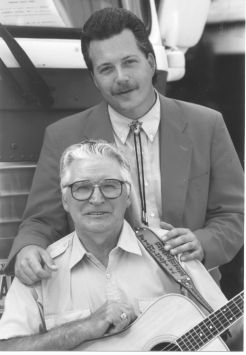 Gray Brewer, standing, and his ather, Finley Brewer Jr.
Folks, the flood is history. WEST POINT IS OPEN FOR BUSINESS! The restaurants are open, the shops are open and Music Ranch USA (formerly West Point Opry) is open. The country shows on Saturday night got off to a great start with a full house. Bluegrass will be coming back on the second Friday night of each month. The first of these will be on Oct. 10, with a group that enjoys top-notch popularity in this area, The Dry Branch Fire Squad. On Nov. 14: Leroy Troy and another act TBA. Show time is 7:30 p.m.
Shep'town starts its season
Shepherdsville starts the season on Oct. 3 with two local groups, who are favorites of many: Kentucky Blue and Shades of Grass. Oct. 10 features Jim McCall & the Walker Mountain Boys. No show the week of IBMA Fan Fest, and then back again the 24th with the Lonesome Valley Band. Oct. 31: Dayle Eskridge & Changing Times Band with Jim Rigsby & Rock Bottom Band. Nov. 7: Lou Reid and Carolina. Show time is 8 p.m.
Congratulations!
Grandpa Jones will be 84 on the 20th of October , and Mom and Pop Lewis will celebrate their 72nd wedding anniversary on the 25th. The Lewises eloped in 1925. Isn't this GREAT!