I've Got A Mind To Ramble
5th Annual KBS Blues Competition
The three 'P's of the mission of the Kyana Blues Society are to preserve, perpetuate and promote the blues tradition in the Kentuckiana region. Promoting the blues is best done with the KBS Amateur Blues Contest. This event gives new musicians and band an opportunity to 'show off their stuff' and get that all-important recognition. Past winners included local, established bands MR2 Blue and Redd Snapper Blues Band.
Until this year, it was like pulling teeth to get entries for the competition, but the fifth year was a winner. We had ten applications that had to be cut to eight to fit the time constraints on Sunday, September 7 at Stevie Ray's.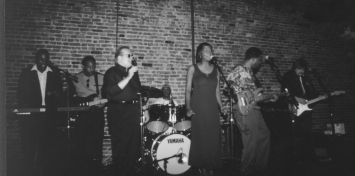 The Walnut Street Blues Band won the 5th Annual KBS Amateur Blues Competition. Photo by Keith Clements
Each contestant brought a cheering section, which made for much camaraderie between the musicians and the packed house. The atmosphere was thick with great guitar licks, chicken wings and the excitement of seeing new talent for the first time.
Just before setup, we realized we had no bass drum for the Yamaha drum set. Marvin Maxwell, who was there as a judge, made a mad dash to Mom's Musician's General Store to get a bass drum and get us back in operation, without missing a beat.
Jeffersonville's The Alley Cats opened the competition doing mostly covers, including a couple of SRV songs. The Crude Duke, a.k.a. Ralph Holmes, followed with a solo set of original tunes He got a variety of funky sounds out of his red Fender.
Medicine Hat, from Scottsbrg, was next. Lead guitarist Greg Gaddis did a nice job on the song "Girl's So Pretty."
Another soloist, Kenny Dean Quick, followed with distinctively quirky material with titles like "I'm the Garbage Man of Love, I'm a Big Orange Truck."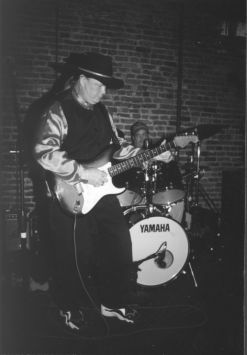 Jimmy Roberts with the Triple Crown Blues Band, Sept. 7 at Stevie Ray's. Photo by Keith Clements
At the halfway point, the intensity was ratcheted up by the Planet Blues Band. This group got the audience dancing, and offered up some crisp lead guitar by Greg Clagett and vocals by Shawn Barrier. Had the winner been chosen by audience applause, they would have taken the prize.
The guitar duo The Revelators were decked out in Blues Brothers-style zoot suits and shades. Blues fans might remember them for the Gazebo Stage at last year's Garvin Gate Festival. Of all the groups, these guys were the most "down home," with tasty slide guitar by Pogie Decker.
Harrodsburg-based trio Jimmy Roberts and the Triple Crown Blues Band were on at 10:30. JR&TCB has been making a name for itself in the region, playing a Texas-style blues at the Hot August and Blues to the Point Festivals this summer. Their new CD, Voodoo Blues, recorded this spring in Lexington, reveals Roberts' influences, from Johnny Winter to SRV and Jimi Hendrix.
There is still some country in the band's performances and it shows through on Roberts' vocals on his original tunes "Walk That Walk" and "Business Man." Roberts would have played all night if he hadn't been told that his time had run out.
The Walnut Street Blues Band hit the stage flash and polish. Marcus Tharpe and Artie Chunn shared vocals on "Tore Down" and "Something to Talk About" in front of the talented back-up of George Currie on bass, Jerry Harshaw, drums, Greg Wells, keyboards, and Dennis Williams and Michael Wells sharing guitar solos. After their inspired set, it was time for the five judges to tally their ballots. When the count was in,. the Walnut Street Blues Band came out the winner.
They did a victory set for those who wanted to stick around. The band will be going to Memphis to compete in the 14th International Blues Talent Competition at the New Daisy Theater on November 22. Good luck, and may the spirit of Foree be with you.
King Biscuit or Bust
Before the Palace stepped in to resurrect this year's Garvin Gate Blues Festival, the KSB made plans to attend the King Biscuit Festival in Helena, Ark., which is always held on the same weekend in October. Fourteen of us will be traveling in two vans to Clarksdale, MS to see four days of free blues and gospel, plus a few side trips along the way. Next month, I hope to have some good stories and a few pictures to share with you.