WEEKEND TO DIE FOR
The weekend of October 10 is huge! Lord of the Dance is already sold out (at $50 per ticket) for its Saturday, October 11 show at Freedom Hall. This is the amazing Michael Flatley's answer to Riverdance, from which he has fallen out with the producers. It is interesting to note that the acknowledged king of Irish dancing was born in America.
Another "Yank" is turning heads in the Irish music scene as well. Seamus Eagan was born in Philadelphia of Irish parents from Mayo, to which the family returned for his formative years before returning to the City of Brotherly Love. His band Solas is performing in concert on Friday, October 10 at the Kentucky Center for the Arts.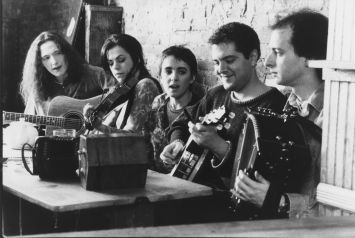 Solas
Solas is arguably the hottest Irish band on the scene today.
Eagan has won four "All-Ireland" titles (mandolin, banjo, tin whistle and flute) and now has teamed up with John Williams (button accordion), John Doyle (guitar) and Cherish the Ladies alumnus Winnie Horan (fiddle) and Karan Casey (vocals). They have two albums with a third on the way. Despite his virtuosity, Eagan sticks to ensemble playing with the band and what an ensemble it is. You absolutely must hear them. Call Kentucky Center for the Arts A.S.A.P. OK? 584-7777.
Drowsy Maggie Lives!
Rumors of her demise were greatly exaggerated. Gerry Ford doesn't hang up his bones and tipper easily. This new incarnation includes original members Gerry (bones, bodhran, recitations and songs), Paul Kinder (hammered dulcimer, concertina), Roz Carothers (fiddle) and new members: son Sean Ford (guitar) and Debbie Webb (vocals). Debbie is reputed to have a voice like the legendary Dolores Keane. Local Celtoids are keenly awaiting their first concert at the Rudyard Kipling, October 11 at 8 p.m.
Tom Lee Returns
More good news. Tom has recovered from a serious stroke and is doing well. His excellent guitar playing has not suffered.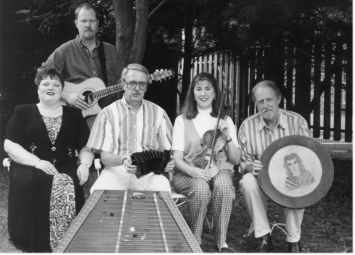 Drowsy Maggie
His versatility is amazing: from classical to bluegrass, Tom is a thoroughly accomplished musician. Most recently, he has been teaming up with Ten Penny Bit in doing a series of Civil War reenactments, which is entirely appropriate, as he is a descendant of Robert E. Lee. Wonder what color uniform Tom wears? Welcome back, Tom !!!
Wine Lovers Take Note
Louisville's Celtic wild bunch The Rashers are performing at the Thomas Winery on October 25 at 8 p.m. Call 1-800-948-8466 for details.
You can often find several of their crew jamming at the Irish Rover. Anchored by banjo meister John Woodard the group includes Larry Green on fiddle and repartee, Bernie Hanlon on bass and litigation and occasionally, Charlie Smith on mandolin, fiddle and guitar.
Celtic Halloween Party
Last year's event was so much fun that Galloglas is going to repeat its costume party gig at the Rudyard Kipling on Saturday, November 1 at 8 p.m. Prizes are awarded to the best costumes in a variety of categories. All their Rud shows have sold out in advance so make sure to call for reservations 636-1311. The Celts "invented" Halloween. Samhain (pronounced SEW-in) was the time when the gulf between the living and the dead was the shortest.
Support Your Local Pipe Band
The Louisville Pipe Band will be competing on Saturday October 4 at the Heart of Tennessee Highland Games in Murfreesboro, TN. If you can't make the trip and think you might want to learn the pipes (or pipe band drumming), stop by their rehearsals on Sundays at 6 p.m. at St. Andrews Church on Woodbourne Avenue. For more information, call 459-2001 of 634-5950.
PS Rock goofed last month. Rick Mattingly is NOT the President of the Percussion Arts Society of America but rather its publications editor. Never confuse literati with politicos.