Cowboy Corner
31st Annual CMA Award Winners
The 31st Annual Country Music Association Awards were handed out Sept. 24 at the Grand Ole Opry House in Nashville and George Strait was the big winner with two trophies, including Male Vocalist of the Year and Album of the Year for Carrying Your Love With Me. The smash single "Strawberry Wine" was the big song of the evening, earning Deana Carter the Single of the Year trophy and writers Matraca Berg and Gary Harrison the Song of the Year award. Although he wasn't present to accept the honor, Garth Brooks was named Entertainer of the Year, while Trisha Yearwood was crowned Female Vocalist of the Year and Brooks & Dunn held on to the Vocal Duo of the Year title.
During the three-hour ceremony hosted by Vince Gill, singer Brenda Lee and songwriters Cindy Walker and Harlan Howard were all inducted into the Country Music Hall of Fame.
The winners are: Entertainer of the Year: Garth Brooks; Female Vocalist of the Year: Trisha Yearwood; Male Vocalist of the Year: George Strait; Vocal Group of the Year: Diamond Rio; and Vocal Duo of the Year: Brooks & Dunn.
Horizon Award: LeAnn Rimes; Album of the Year: George Strait's Carrying Your Love With Me; Song of the Year (Songwriter's Award): Matraca Berg and Gary Harrison's "Strawberry Wine"; and Single of the Year: Deana Carter's "Strawberry Wine."
Video of the Year: Kathy Mattea's "455 Rocket"; Vocal Event of the Year: Tim McGraw & Faith Hill's "It's Your Love"; and Musician of the Year: Brent Mason.
16th Annual Canadian CMA Award Winners
The 16th Annual Canadian Country Music Association Awards were handed out last month in Hamilton, Ontario and Paul Brandt was the big winner with four trophies, including Male Vocalist and Single, Song, and Video of the Year for "I Do." Following with three awards was Terri Clark, who was honored with the CMT/Maple Leaf Foods Fans' Choice Award, Female Vocalist, and Album of the Year award for Just The Same. Shania Twain surprisingly only took home one trophy.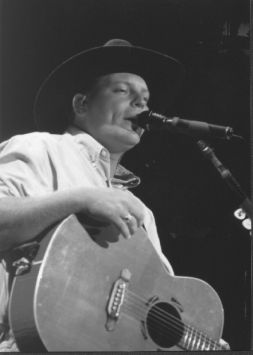 John Michael Montgomery at Ky. State Fair. Photo by Michael W. Stout
The winners are: Fans' Choice Award: Terri Clark; Female Vocalist of the Year: Terri Clark; Male Vocalist of the Year: Paul Brandt; and Vocal Duo or Group of the Year: Farmer's Daughter.
Vocal Collaboration of the Year: Duane Steele & Lisa Brokop's "Two Names On An Overpass"; Single of the Year: Paul Brandt's "I Do"; Album of the Year: Terri Clark's Just The Same; SOCAN Song of the Year: Paul Brandt's "I Do."
Video of the Year: Paul Brandt's "I Do"; Top Selling Album: Shania Twain's The Woman In Me; and Vista (Rising Star) Award: Julian Austin.
Loretta Lynn Museum Expanding
Fans visiting Loretta Lynn's Dude Ranch in Hurricane Mills, Tennessee will soon get to see twice as much as before as they tour the "Coal Miner's Daughter's" museum. In a recent article in The Nashville Banner, Loretta's daughter Cissie Lynn announced plans that her famous mother's museum will undergo an expansion which will double it's size. Cissie said, "The museum Mom has now is small. But the new one will be larger because she has a lot of things that need to be, should be, and will be in it."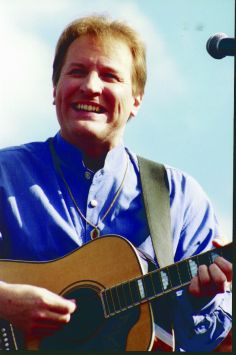 Colin Ray headlined the last free WAMZ concert of the season. Photo by Letha Marshall
Among the items to be included in Loretta's upcoming larger museum will be the tour bus from the 1980 movie "Coal Miner's Daughter," which earned Sissy Spacek an Academy Award for her portrayal of Loretta. Also included will be personal items of Loretta's late husband, Mooney.
Billy Ray Cyrus Gives Honor Away
When the Air Force Sergeants Association presented Flatwoods, Kentucky's Billy Ray Cyrus the Americanism Award for his patriotic and humanitarian contributions recently during a ceremony in Arlington, Virginia, he immediately gave the plaque away. Billy Ray surprised a group of Veterans from Cincinnati, Ohio with the honor bestowed upon him in recognition of Vietnam veterans. Not only did he present these vets with this honor, but he had also bussed them from Cincinnati to Arlington and furnished hotel rooms for the group.
Billy Ray met this group of veterans at a recent concert in Cincinnati. He later attempted to visit the Veterans Hospital where the vets worked, but was unable to due to time constraints. Since he was unable to visit, Billy Ray called and talked to hospital personnel, to invite the vets to the black-tie, invitation-only event and to express his desire to present the award to them for display in their hospital.
Barbara Mandrell Retiring From Country Music
She may have been "Country When Country Wasn't Cool," but two-time CMA Entertainer of the Year Barbara Mandrell has announced that she is retiring from country music after 38 years in the business. Barbara says that after much discussion and prayer, she has decided to turn her focus to acting. She was recently bitten by the acting bug as she starred in a recurring role as photographer Alex Mitchum on the daytime soap Sunset Beach, a role she will resume in November and December. And although she is turning her attentions to Hollywood, Barbara says she will not move to the West coast.
As could be expected, Barbara is going to go out with a bang. Her final performance, titled "Barbara Mandrell & The Do-Rites: The Final Dance," will be held Thursday evening, Oct. 23 at the Grand Ole Opry House.
Dwight Yoakam To Help Homeless
Pikeville, Kentucky native Dwight Yoakam has donated the rights to several of his songs for an album to benefit the homeless. The album, which is scheduled to hit stores this fall, will include artists such as David Ball, Los Lobos, Ricky Skaggs, and Joy Lynn White performing covers of Dwight songs. Although each of these songs has been included on one of Dwight's albums, none of them were ever released as singles.
Country Baby Boom
Superstar Alan Jackson and his wife Denise are the proud parents of a third baby girl. Dani Grace was born Aug. 28 weighing in at 7-pounds 11-ounces and measuring 21 inches long. Dani rounds out the Jackson Five along with big sisters Mattie and Ali. As of Sept. 8, "Party Crowd" singer David Lee Murphy can refer to his children as "My Three Sons." David and his wife Donna welcomed their third son into the world, weighing in at 8 pounds. And last but not least, Ricochet keyboardist and baritone singer Eddie Kilgallon and his wife Teri welcomed a son into the world just last month. Landon James Kilgallon made his debut Sept. 11, weighing in just over 8-pounds. All babies and mothers are doing fine.
Alan Jackson Top Draw At Fairs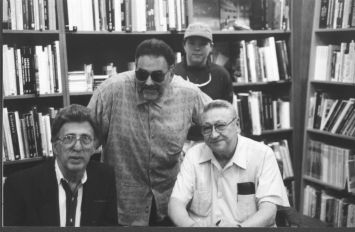 D/ J/ Fontana, left and Scotty Moore, right, posed with blues guitarist Duke Robillard, one of many musicians who brought instruments to be signed. Photo by Jean Metcalfe
With the summer fair season about to wrap up, Alan Jackson has landed on top as the biggest drawing artist on the fair circuit. Alan was the highest-grossing entertainer at five state fairs, selling-out shows in Delaware, California, Missouri, New York, and even the Bluegrass state. The long-legged Newnan, Georgia boy grossed $185,868 from 6,776 tickets in Harrington, Delaware; $310,938 from 15,744 tickets in Paso Robles, California; $339,512 from 18,352 tickets here in Louisville; $214,664 from 10,759 tickets in Sedalia, Missouri; and $391,128 from 16,623 tickets in Syracuse, New York.
Johnny Paycheck To Join Opry
Country outlaw Johnny Paycheck, best known for his 1977 #1 hit "Take This Job And Shove It," was surprised with an invitation to become a member of the legendary Grand Ole Opry Saturday, Sept. 19 by Opry manager Bob Whittaker. When asked if he would accept the invitation, Johnny eagerly stated, "In a New York minute." Johnny will be officially inducted as a member of the Grand Ole Opry on a future performance of the long-running radio and television program.
Tracy Lawrence Says "I Don't"
Hitmaker Tracy Lawrence has made a shocking announcement that he and his wife, former Dallas Cowboys cheerleader Stacie Drew, are divorcing due to irreconcilable differences. The two have been married for a mere six months and Tracy says, "We both tried very, very hard to make this relationship work...but at this point our lifestyles and our goals are incompatible. Out of respect and love for her, it's time to move on."
Mindy To Marry Superman
Belly-button clad newcomer Mindy McCready has decided to tie the knot. Beau Dean Cain, who plays the title-role in the television series Lois & Clark: The New Adventures of Superman, proposed on bended knee at his Los Angeles home last month.
Garth: Highest Paid Country Star
According to Forbes magazine's list of the 40 highest-paid entertainers, Garth Brooks is the richest country star, being ranked #21 with an estimated gross income of $55 million this year and last combined, beating out Michael Jackson, who was ranked #23. Only four singers ranked higher than Garth, those being: The Beatles at #5, The Rolling Stones at #12, Celine Dion at #15, and David Bowie at #16.
CMT Top 100 Videos
Via a call-in voting campaign, Country Music Television recently counted down viewers' all-time favorite 100 country videos. Top video artists included Garth Brooks, Clay Walker, and Bryan White with five videos in the Top 100; Tracy Lawrence, Reba McEntire, John Michael Montgomery, LeAnn Rimes, and Sawyer Brown each charted with four videos; and Paul Brandt, Deana Carter, George Strait, Travis Tritt, and Shania Twain all landed in the Top 100 three times each.
Husband and wife team Tim McGraw and Faith Hill captured the top spot with their recent smash duet, "It's Your Love." The two were followed by George Strait's "Carrying Your Love With Me," Trisha Yearwood's "How Do I Live," Bryan White's "So Much For Pretending, and rounding out the top five was LeAnn Rimes' version of "How Do I Live." Clay Walker landed at #6 with "One, Two, I Love You," followed by LeAnn Rimes' "Blue," Neal McCoy's "The Shake," Toby Keith's "We Were In Love," and Billy Ray Cyrus' "Trail Of Tears" rounded out the Top 10.
Upcoming Live Country
Hot newcomer Jack Ingram and Joy Lynn White will roll into Louisville for a performance at the Phoenix Hill Tavern Oct. 2. On Oct.28, Delbert McClinton will bring his brand of Bluesy country to Coyote's as he promotes his brand new album. Pals Billy Dean and Crystal Bernard will perform at Louisville Gardens on Nov. 28, while Trace Adkins and Tracy Lawrence will bring down the house at the Palace Theatre the following night.
Well, that's it for now. Always remember: Keep your hat on straight and your boots shined up, 'cause country music is comin' your way!